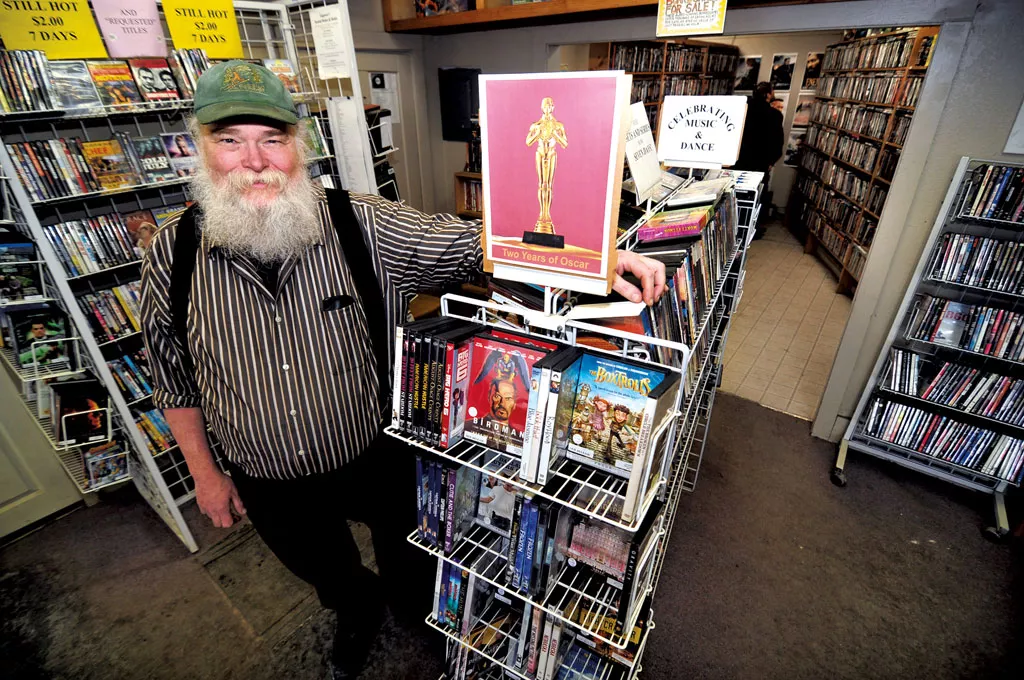 Stefan Hard
Alan Gagnon
Inside the front door of Gagnon's Video in Hardwick, DVDs pile up in a cardboard box. These are the day's rental returns, slipped through the mail slot. Later, co-owner Alan Gagnon will add the discs to several wobbly towers of DVDs that grow like stalagmites on a plastic folding table. They'll eventually get reinserted into the small store's diverse, 13,000-title collection, which Gagnon and his wife, Mary, have sorted into categories such as "R-rated dramas of the '90s" and "movie adaptations of Stephen King books."
Gagnon's is one of a small number of Vermont video stores that look for all the world like the mom-and-pop establishments that flourished in the 1980s. While DVDs have supplanted VHS tapes on their shelves, these video stores have survived the reign of now-defunct corporate dinosaurs like Blockbuster and Hollywood Video. Now they're weathering the era of Redbox, Netflix and BitTorrent.
That survival may seem surprising, especially in light of last month's closure of Montpelier's long-standing Downstairs Video. Just as the state capital now lacks a video store, so does Vermont's largest metro area. Within the past two years, Burlington's Waterfront Video, South Burlington's Hollywood Video and Williston's Passport Video all closed their doors.
While it may be inaccurate to say that Vermont's indie video stores are thriving, more of them exist than one might think — and their endurance appears linked to their low-population locations. The movies these stores rent may be made in Hollywood, but many Vermonters support their local economies when they pay to watch them.
Why hasn't the video-streaming model caught on as widely in rural Vermont as it has in the state's urban areas? One obvious factor is at work: lack of broadband access. But patrons and owners also point to the stores' community-building function and retro appeal.
If many urban cinephiles view the notion of paying a store for the short-term rental of physical media as quaint, that's because, for them, watching a movie involves selecting a title from a streaming service or downloading files from quasi-licit websites. (Technically, subscribers to Netflix, Amazon Prime and the like are still renting videos: They pay a flat monthly bill for unlimited access to the company's catalog.) But for many customers of stores such as Gagnon's, such instant-gratification "rentals" aren't a viable option.
BroadbandVT.org is a nonprofit project with the goal of keeping Vermonters informed about efforts to improve the state's internet coverage. According to its December 2013 data (the most current available), internet service in Hardwick is spotty at best. On a map of broadband coverage, about a quarter of the town's area is colored yellow to indicate "projects in process," and the rest is purportedly served by internet connections of at least .768 megabits per second (Mbps).
The minimum speed required for Netflix streaming is .5 Mbps, so portions of Hardwick just pass muster. Yet the internet giant recommends connection speeds of 1.5 Mbps — DSL speed, more or less. Netflix's thresholds for standard-definition, high-definition and ultra-high-definition picture are, respectively, 3, 5 and 25 Mbps. Hardwick's coverage doesn't even come close.
Anecdotal evidence backs up the numbers. Alan Gagnon says that speedy internet isn't available beyond "the village" of Hardwick, by which he means the cluster of shops and restaurants near the junction of Vermont routes 14 and 15. Many of his customers reside in rural areas. "People can come in 'from the fringes' to go to the bank, go grocery shopping and get a stack of movies for the week," he says. Gagnon's caters to such customers by charging just $2 for a seven-day rental.
But Gagnon, a jovial, white-bearded fellow of 58, says not all his customers are motivated by a lack of access to streaming. "We have a very loyal clientele. Some of our better customers have high-speed internet, and they will do research online, come in and request a movie, and rent from us," he says.
The Gagnons stumbled into the video-store business. In 1993, they started out as wedding DJs who also sold CDs and rented out VHS concert movies. When customers began requesting other movies, the couple obliged, and the rental business took off.
The Gagnons say they've never been in that business for profit. "Money is a secondary consideration with this store," Alan Gagnon says. "This is here for us to be part of our community and to serve our community. There was never a plan — and there still isn't — to have a video store."
That community service includes waiving fees for customers with long-term illnesses, hosting board-game nights and even posting lost-and-found notices on the store's Facebook page.
Gagnon isn't concerned about the threat posed by the internet, he says. Within the next year or so, he plans to expand the store's inventory fivefold, add a searchable title database and even reduce the rental fees. Such moves will not only make Gagnon's competitive with online alternatives, he says, but cement its place as a vital resource for people of the region.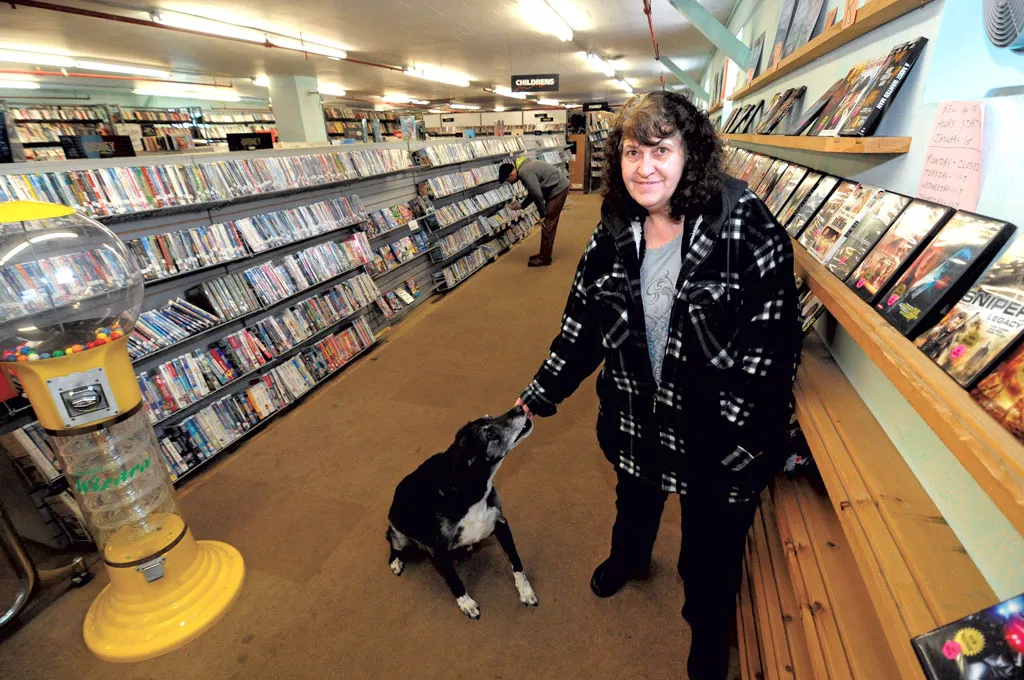 Stefan Hard
Ellie Duquette and Bud
Ellie Duquette, proprietor of Northfield's Videos & More, also enjoys the favor of her community. She greets her customers by name and chats with them all — old friends, families and the UPS delivery guy.
Videos & More is enormous, with movies of all kinds spread throughout its 1,000 square feet. Among the categorized DVDs are about a thousand relics of an earlier video age: VHS tapes, each in a hard plastic case. While most of Duquette's customers long ago embraced digital formats, she says she stills rents out the old tapes occasionally. Given the store's abundance of shelf space, they don't represent much of a liability.
Duquette, 57, founded the store in 1997 with her partner, Charlie Harper. When he died in 2009, she decided to keep the place going. Bud, her elderly, friendly dog, spends much of his time on a cushion in the office, periodically ambling out to greet customers and score treats from Duquette.
Bud has no shortage of ear scratchers. Duquette estimates that, on a Friday or Saturday, she rents out about 150 videos, many of them to customers who tell her they aren't satisfied with the selection of online movies. That's apparently true even of adult films: Despite the staggering plenitude of online pornography, Duquette's modest selection is profitable.
She attributes her store's longevity in part to being in a small town where she can get to know her customers, recommending movies based on her knowledge of their tastes. "People still want that personal touch," Duquette says. That may well be true of the couple she signs up as new members during Seven Days' visit. They go on the books as Member No. 8322.
Beloved and successful though local video stores may be, they are not immune to market forces. A boost in broadband speed or a small population decline could suffice to put them out of business. As more and more entertainment is delivered via the internet, physical media — and the stores that rent them out — teeter on the edge of irrelevance.
That's why the proprietors of the stores profiled here have begun diversifying their business models. Gagnon's sells board games, CDs, DVDs and supplies for stringed instruments, though its co-owner admits that these income sources are pretty marginal.
The "More" of Duquette's store's name refers to the thrift store that occupies the other 1,000 square feet of its first-floor space, and to the 38 storage units on the floor below that provide most of her income. "The video store [alone] would not support the mortgage," she says, even though it still does "pretty well." Duquette says that when she asked her accountant if it was time to close up shop, he replied, "'Well, you're still paying your bills. Do you really want to be working for somebody else?'"
Stefan Hard
Seth Greaves
Harry and Lloyd's in Barre has taken diversification to greater lengths. The small store stocks a healthy selection of new-release DVDs and Blu-rays but does more business in sales than in rentals. Moreover, most of Harry and Lloyd's business comes from video games.
The store bills itself as the state's "premier vintage video game stop," and the stock backs up that claim. Current titles for PS3 and Xbox share a wall with old Atari 2600 cartridges; retro gamers will be delighted to find refurbished game gear of all kinds, from Sega Genesis consoles to Nintendo Power Gloves. A recent weekday afternoon saw a steady stream of game buyers, sellers and traders.
Owner Seth Greaves, 39, a manager for 15 years at Hollywood Video in South Burlington, bucked prevailing trends by opening his store in December 2013. He estimates that disc rentals made up only about 15 percent of last year's business.
"Would I open a store today that was rentals only?" Greaves asks rhetorically. "No. Never. You might as well open a store of antique typewriters."
Yet Greaves' business model hinges on patrons' love for technologies past. The vintage video games that constitute the bulk of the store's business are platform specific; newer titles might be downloadable, but the large size of the files is a deterrent.
For the moment, stores like Harry and Lloyd's are protected from the threat of broadband internet precisely because their outmoded products still have great appeal.
Vermont's remaining indie video stores may owe their survival to tapping a similar vein of nostalgia, even as they face an uncertain future.