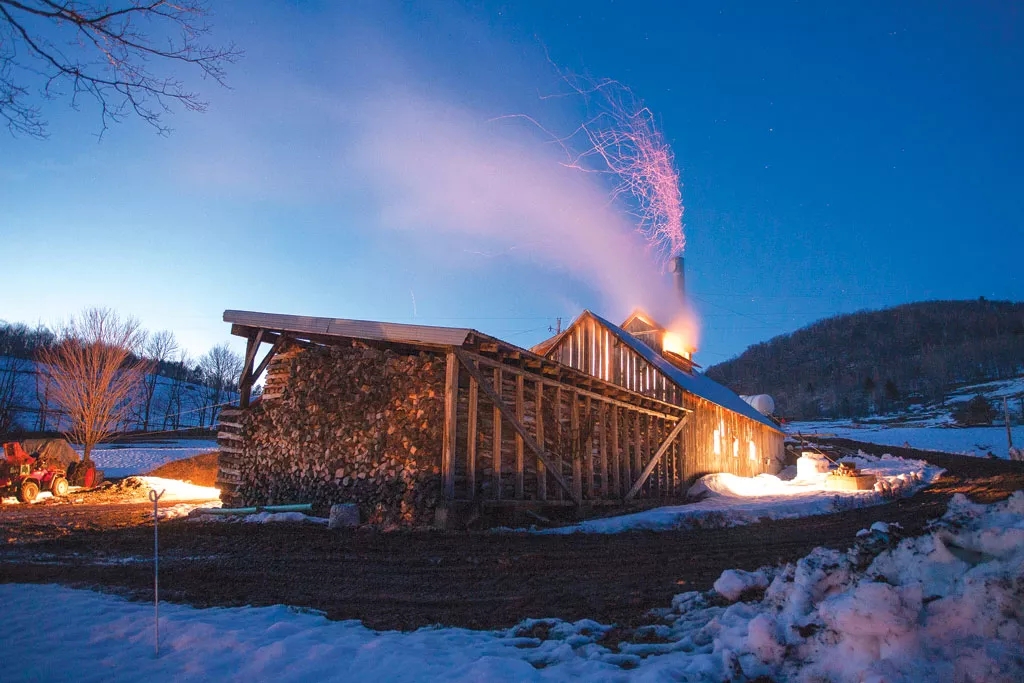 Maple syrup: It's not just for pancakes anymore. At least, that's the message that Vermont sugar makers are sending as maple production ratchets up even higher in the largest maple-producing state in the country. Sugaring has a long history in Vermont: Generations of families have taken to the forests at the start of each spring to collect the sap that eventually becomes maple syrup.
Increasingly, that beloved tradition is also big business. Last year, Vermonters produced 1.32 million gallons of maple syrup, accounting for roughly 42 percent of all maple syrup production in the United States. The state eclipses the second-largest producer, New York State, by 83 percent.
With increased production comes increased opportunity, and Vermont entrepreneurs are taking maple in innovative directions. The vast majority of syrup produced in the state — roughly 85 percent — is sold wholesale. But the rest is marketed directly to consumers, sometimes as liquid syrup but also in related products. Think maple-barbecue sauce, maple-sweetened granola, and maple spice rubs for beef or pork. There's maple cream and maple candy, maple mustard and maple beer.
Consumers are eating it up.
"There seems to be a real, growing interest in all things maple," says Matt Gordon, the director of the Vermont Sugar Makers Association. That demand is spurring more and more would-be sugar makers into the woods: The number of trees tapped each spring in Vermont has doubled in the last 10 years, to 1.4 million.
These entrepreneurs are trying to find the sweet spot — balancing the old-world tradition of sugaring with the modern marketplace.
Thirsting for Maple
For years, sixth-generation sugar maker Gene Branon watched water going down the drain at his family's sugar-house in Fairfield. Water is a by-product of the sugaring process; when sap flows from a tree, about 98 percent is crystal-clear groundwater filtered through the maple tree. The sugar maker's job is to evaporate off almost all of that water, leaving behind the golden, concentrated sap.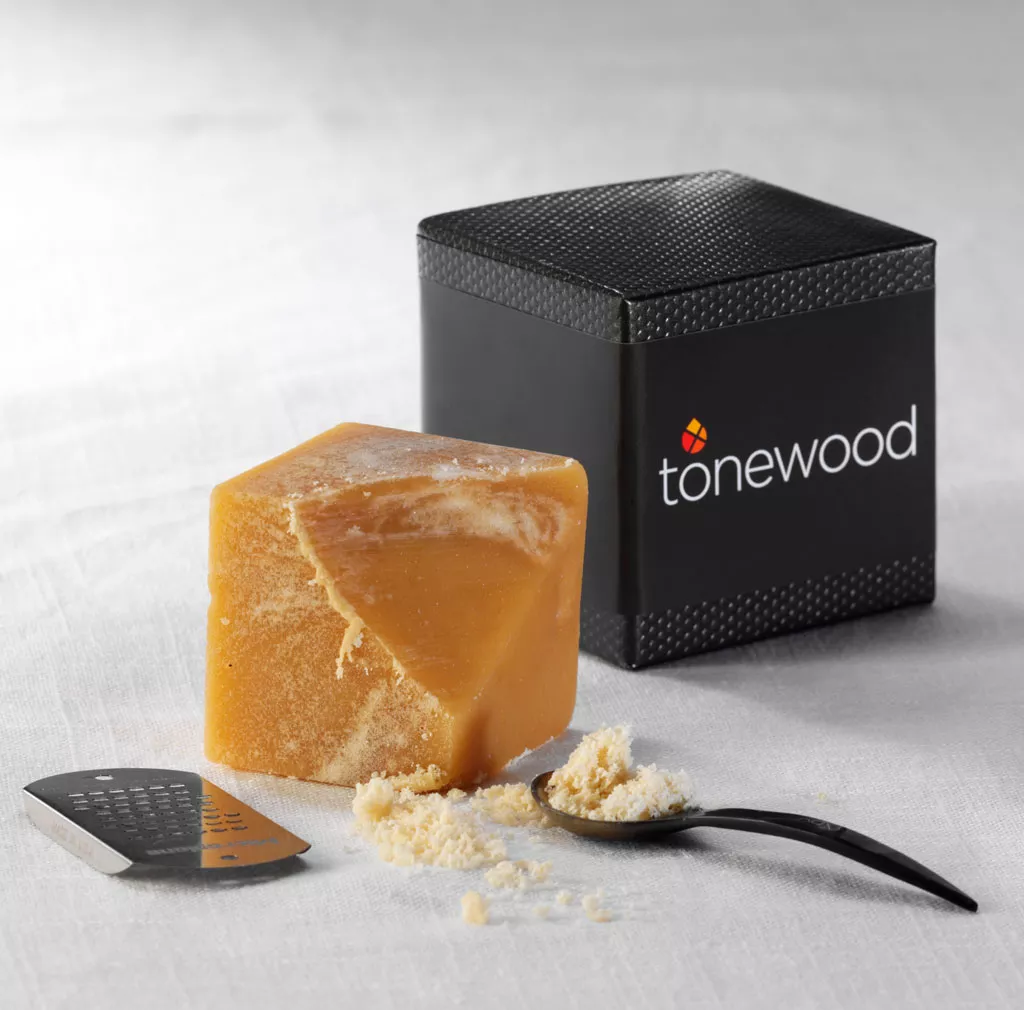 Today, most sugar makers speed along that time-consuming process by running sap through a reverse-osmosis machine, which separates out a portion of the water before boiling down the syrup. "You're sweetening your sap before you boil it," explains Branon. For the longest time, he focused on what almost all sugar makers focus on: the syrup. The water was largely forgotten.
Not so anymore. Now the Branons have teamed up with investor Aaron Harris and another local sugar-making family, the Harrisons, to produce TreTap, a sparkling water that they lightly flavor and package in cans. They're hoping that consumers will come to believe what they already hold dear: that water filtered through maple trees is among the purest in the world.
"With most beverages, you have no idea where the water comes from," says Harris. TreTap, on the other hand, can trace its water back to a specific grove of trees on a specific mountainside.
Branon hopes that if TreTap catches on, it might be a way for other sugar makers in Franklin County to diversify their businesses. Franklin County is the biggest player in Vermont's syrup industry, but most producers are susceptible to fluctuating wholesale prices.
"This is another revenue source that, if it goes as planned, can generate extra income for all the people that are throwing their water down the drain," says Branon.
Currently TreTap is available in four flavors throughout Vermont: cucumber, blueberry, cranberry and, of course, maple.
Tapping Stories
A few years ago, an acquaintance told Dori Ross about an innovative program in Italy that allowed customers to "adopt" an olive tree. In return, they'd receive that tree's portion of a farmer's olive-oil production. Upon hearing the story, Ross had an aha moment: Couldn't the same thing work in Vermont's maple sugar bushes?
Ross grew up around the maple industry in Canada, which produces 80 percent of the world's supply of maple syrup. "It's in our lifeblood," jokes Ross. When she moved to central Vermont 20 years ago, she naturally gravitated to the sugarhouses of the Mad River Valley. Among her neighbors were families whose sugaring traditions dated back five, six and seven generations.
Saxtons River Distillery's Sapling
In 2012, Ross launched Tonewood. At the heart of her business is a tree-adoption program modeled after the Italian example. She's partnered with two local families, the Hartshorns (eighth-generation sugar makers) and the Vasseurs (who have three generations at work in the same sugarhouse). A yearlong adoption, currently priced at $120, entitles the buyer to a portion of the maple syrup and maple products produced by each family in a given season.
"What I liked about it was that the story of the sugar maker, and the sugar-making family, could be brought to the forefront," says Ross. Maple may be prized for its flavor, she says, "but the real richness of maple is in the backstory."
Ross also sells a number of maple products under the Tonewood label. The most popular, and unusual, is a square maple-sugar cube that can be grated over food. The design is ultra-modern, but the concept is a throwback to times before refrigeration, when heating maple and crystalizing it into a solid form acted as a kind of preservative.
Through the innovative marketing of maple products and the adoption model, Ross hopes she can help preserve small-scale maple farming in Vermont. Marketing directly to consumers brings sugar makers a higher price point than selling their syrup wholesale, and Ross is also committed to donating some of her proceeds to the University of Vermont's Proctor Maple Research Center.
"Maple's becoming big business," she says. "My fear is that those small families will not be able to compete [with the huge operations] ... They could potentially lose the culture, and that's what I'm trying to preserve."
Catching the Maple 'Spirit'
Eight years ago, Christian Stromberg was in his barn near Saxtons River, experimenting with his family's generations-old recipe for honey cordial, which traced its roots back to Lithuania. He had a hunch: If honey could work in that recipe, he thought, why not maple?
Stromberg didn't know it at the time, but he was on the leading edge of a movement in craft distilling. His experiments yielded Sapling, the first product he created at his homegrown Saxtons River Distillery. He creates the maple liqueur by infusing corn spirits with maple syrup from local producers.
"There's good syrup, and then there's 'eh,'" says Stromberg. "I don't want 'eh.' I want good syrup. That totally translates into the liquor."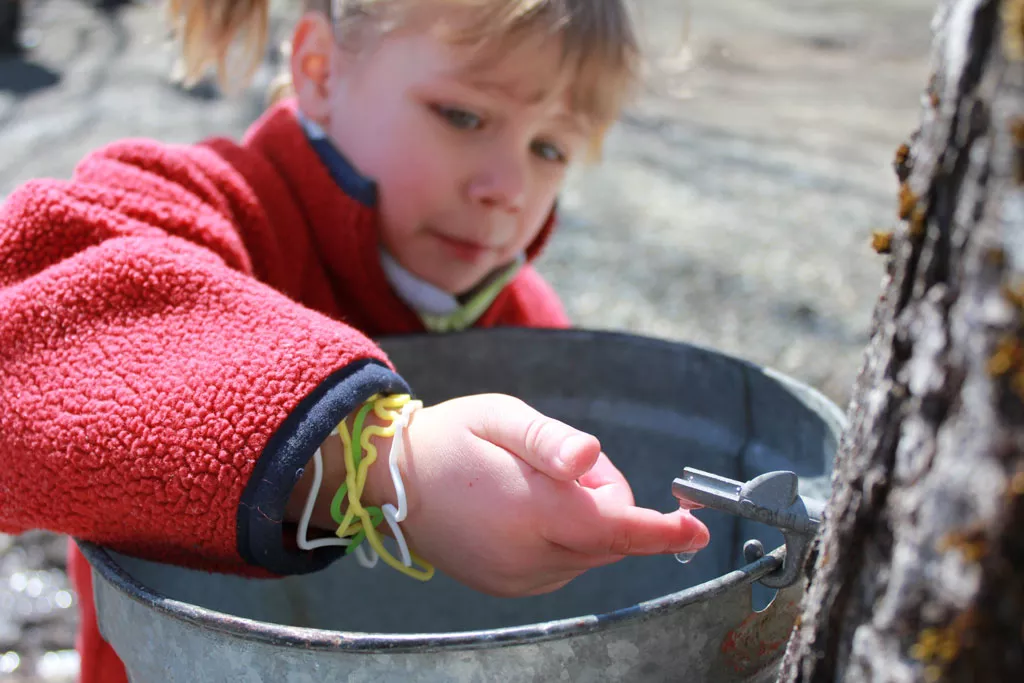 Stromberg then barrel-ages his 70-proof spirits in oak barrels for several months. The final product has what he describes as a complex sweetness; the alcohol and oak bring out maple flavors that don't come through on a breakfast platter. In the winter, he sweetens a boozy hot chocolate with a splash of the liqueur; in the summer, he'll add it to ginger beer for a Vermont twist on the Dark and Stormy.
Today, the Brattleboro-based distillery cranks out three maple products: its original liqueur as well as maple bourbon and maple rye. (The distillers also recently partnered with local coffee roasters to create a coffee liqueur.) For Stromberg, the distillery is a way to support the sugar-making industry in his neck of the woods, because he pays a premium for good syrup from longtime sugar makers.
Stromberg's also interested in preserving another kind of heritage: his own. When his great-grandparents moved to Brooklyn from Lithuania, his great-grandmother started distilling rye moonshine to help the family of 11 get by. "We've actually messed around with that recipe," says Stromberg, but he jokes that Prohibition-era Americans were "drinking for effect," not taste. These days, the distiller, like most consumers on the market, has a more discerning palate — one that's more Grade A maple than Aunt Jemima syrup.
"Vermont's known for quality," says Stromberg. "We make good cheese. We make good ice cream." And it goes without saying, he says, that the state makes good maple.
Maple Madness
Vermont's sugaring season is entirely dependent on the weather, but typically lasts four to six weeks in March and April.
For a taste of maple during your visit to Vermont, don't miss the annual Maple Open House Weekend (vermontmaple. org) on March 28 and 29. Sugarhouses host pancake breakfasts, syrup- and candy-making demonstrations, and live music. Many sugaring operations also have small retail establishments where you can purchase syrup and specialty products throughout the year.
Two major festivals celebrate the end of sugaring season. The Vermont Maple Festival in St. Albans (vtmaplefestival. org) takes place April 24 through 26 and draws as many as 50,000 visitors. The weekend includes cooking contests, an antiques show, maple tastings, carnival rides and live music.
On April 25, visitors to the Northeast Kingdom can attend the St. Johnsbury World Maple Festival (worldmaplefestival. org), which focuses on the history and heritage of sugaring. The daylong event includes a pancake breakfast, street festival and outdoor entertainment, and culminates in the crowning of the World Maple Syrup Champion.
Au Vermont, les entrepreneurs perpétuent la tradition de l'érable ... et vont plus loin
Le sirop d'érable : bien plus qu'une simple garniture à crêpes. Du moins, c'est le message qu'envoient les acériculteurs du Vermont – premier producteur de sirop d'érable aux États-Unis – en cette période où la production atteint des sommets. L'acériculture ne date pas d'hier au Vermont : depuis des générations, des familles d'ici prennent la forêt d'assaut au début du printemps afin de récolter la sève qui deviendra sirop.
De plus en plus, cette tradition à laquelle les Vermontois sont très attachés ouvre des occasions d'affaires. L'année dernière, l'État a produit quelque 5 millions de litres de sirop d'érable, soit environ 42 pour cent de toute la production aux États-Unis. Le Vermont éclipse même le deuxième producteur américain, l'État de New York, par une marge de 83 pour cent.
Cette hausse de la production multiplie les débouchés, et les entrepreneurs du Vermont ont le sens de l'innovation. La majeure partie du sirop produit dans l'État – environ 85 pour cent – est vendue à des grossistes. Le reste va directement aux consommateurs, parfois sous forme liquide, mais également dans toutes sortes de produits dérivés. Pensez à la sauce barbecue à l'érable, au granola à l'érable et aux marinades parfumées à l'érable pour le barbecue.
Les consommateurs en raffolent.
« On constate un intérêt grandissant pour tout ce qui touche à l'érable », affirme Matt Gordon, directeur de l'Association des acériculteurs du Vermont. Cette demande se traduit par une multiplication des producteurs en herbe. À preuve, le nombre d'érables entaillés chaque printemps au Vermont a presque doublé au cours des 10 dernières années, passant à 1,4 million.
Ces entrepreneurs sont à la recherche du parfait équilibre entre tradition d'antan et modernité.
D'eau et d'érable
Pendant des années, Gene Branon – sixième génération d'une famille d'acériculteurs – a regardé l'eau s'écouler dans les canalisations de la cabane à sucre familiale, à Fairfield. L'eau est un sous-produit du procédé de fabrication du sirop d'érable; la sève qu'on extrait de l'arbre se compose d'environ 98 pour cent d'eau souterraine d'une grande pureté ayant été filtrée par l'érable. Le travail de l'acériculteur consiste à faire évaporer la plus grande partie de cette eau pour ne conserver que la sève concentrée d'une belle couleur dorée.
De nos jours, la plupart des acériculteurs accélèrent ce processus en traitant la sève au moyen d'une machine d'osmose inverse, qui sépare une partie de l'eau, avant de faire réduire le sirop. « On sucre la sève avant de la faire bouillir », explique Gene. Pendant longtemps, comme tous les acériculteurs, il se concentrait sur une chose : le sirop. L'eau était essentiellement oubliée.
Plus maintenant. En effet, les Branon se sont associés à l'investisseur Aaron Harris et à une autre famille d'acériculteurs du coin, les Harrison, pour produire TreTap, une eau pétillante légèrement aromatisée vendue en canettes. Ils espèrent ainsi convaincre les consommateurs de ce qui constitue déjà une certitude à leurs yeux, c'est-à-dire que l'eau filtrée par les érables est l'une des plus pures au monde.
« Dans la plupart des boissons, dit Aaron, on n'a aucune idée d'où provient l'eau. » Par contre, avec TreTap, on peut tracer l'origine de l'eau jusqu'à une érablière précise, sur un flanc de montagne particulier.
Gene espère que l'arrivée de TreTap incitera d'autres acériculteurs du comté de Franklin à diversifier leurs activités. C'est dans ce comté qu'est concentré l'essentiel de la production de sirop d'érable au Vermont, mais la plupart des producteurs sont soumis aux fluctuations des prix de gros.
« Si tout se déroule comme prévu, affirme Gene, cette nouvelle avenue permettra aux producteurs qui avaient l'habitude de se débarrasser de l'eau de générer des revenus supplémentaires. »
Actuellement, TreTap est offert en quatre saveurs partout au Vermont : concombre, bleuet, canneberge et, bien sûr, érable.
Une histoire inspirante
Il y a quelques années, Dori Ross a entendu parler d'un programme novateur en Italie permettant aux clients « d'adopter » un olivier, en échange de la part de production d'huile d'olive issue de cet arbre. Elle s'est alors demandé s'il ne serait pas possible de faire la même chose dans les érablières du Vermont.
Dori a grandi dans le milieu de l'acériculture au Canada, où l'on produit 80 pour cent de l'approvisionnement mondial en sirop d'érable. « Le sirop coule dans nos veines », dit-elle en plaisantant. Quand elle s'est installée au centre du Vermont, il y a 20 ans, elle a naturellement été attirée par les cabanes à sucre de Mad River Valley, où elle comptait parmi ses voisins des familles pratiquant l'acériculture depuis cinq, six, voire sept générations.
En 2012, Dori a fondé Tonewood. Un programme d'adoption d'arbres inspiré du modèle italien est au cœur de son entreprise. Dans le cadre de ce projet, elle s'est associée à deux familles locales, les Hartshorn (acériculteurs depuis huit générations) et les Vasseur (qui sont trois générations à travailler dans la même cabane à sucre). L'adoption d'un an, dont le prix est actuellement fixé à 120 $, permet à l'acheteur de recevoir une partie du sirop d'érable et des produits de l'érable fabriqués par chaque famille au cours d'une saison.
« Ce qui me plaît tout particulièrement, dit Dori, c'est qu'on met en valeur l'histoire de l'acériculteur et de sa famille. Les produits de l'érable sont peut-être prisés pour leur saveur, mais leur véritable richesse réside dans leur histoire. »
Dori vend également une gamme de produits de l'érable portant la marque Tonewood. Le plus populaire – et inusité – est un cube de sucre d'érable qu'on peut râper pour rehausser des plats. Le design est ultramoderne, mais le concept remonte à l'époque où la réfrigération n'existait pas et où le fait que le sirop d'érable soit chauffé et cristallisé sous forme solide avait en quelque sorte un effet de préservation.
Grâce au marketing innovateur des produits de l'érable et au modèle de l'adoption, Dori espère contribuer à sauver les exploitations acéricoles de petite envergure au Vermont. Le fait de vendre directement aux clients permet aux producteurs d'aller chercher un prix plus élevé que s'ils vendaient en gros, et Dori s'engage à donner une partie des sommes recueillies au Proctor Maple Research Center de l'université du Vermont.
« L'industrie acéricole prend d'énormes proportions, dit-elle. Ma crainte, c'est que les petites exploitations familiales ne soient pas en mesure de concurrencer les grandes entreprises. Elles risquent de perdre leur culture, et c'est ce que j'essaie d'éviter. »
Une passion contagieuse
Il y a huit ans, Christian Stromberg se trouvait dans sa grange, près de Saxtons River, et il faisait des expériences avec la recette de liqueur au miel de sa famille, transmise de génération en génération et dont l'origine remonte en Lituanie. Si ça marche avec du miel, s'est-il dit, pourquoi pas avec du sirop d'érable?
Christian ne le savait pas à l'époque, mais il était à l'avant-garde d'un nouveau mouvement de distillation artisanale. Ses expérimentations ont débouché sur Sapling, le premier produit issu de sa propre entreprise, la Saxtons River Distillery. Cette liqueur à l'érable est faite à base de spiritueux de maïs dans lequel on infuse du sirop d'érable provenant de producteurs locaux.
« Il y a du bon sirop, dit Christian, mais aussi du moins bon. Je ne voulais pas faire de compromis sur la qualité. C'est ce qui distingue cette liqueur. »
La liqueur, qui titre 70o d'alcool, est ensuite vieillie dans des fûts de chêne pendant plusieurs mois. Selon Christian, le produit final présente une sucrosité complexe; l'alcool et le chêne font ressortir des saveurs qu'on ne retrouve pas dans le sirop à crêpes du matin. L'hiver, il en verse une larme dans son chocolat chaud, et l'été, il en ajoute à sa bière de gingembre, obtenant ainsi une sorte de Dark and Stormy style Vermont.
Aujourd'hui, la distillerie de Christian, établie à Brattleboro, offre trois produits parfumés à l'érable : la liqueur originale, ainsi qu'un bourbon et un whisky. De plus, les distillateurs ont récemment noué un partenariat avec des torréfacteurs locaux afin de créer une liqueur au café. Pour Christian, la distillerie est une façon de soutenir l'industrie acéricole dans son coin de pays, car il paie à prix fort l'excellent sirop des acériculteurs de longue date.
Christian cherche en outre à préserver un autre genre de patrimoine : le sien. Quand ses arrière-grands-parents quittèrent la Lituanie pour s'installer à Brooklyn, son aïeule se mit à fabriquer du whisky de contrebande pour subvenir aux besoins de sa famille de onze personnes. « On a pas mal transformé la recette d'origine, dit-il, mais au temps de la Prohibition, les Américains buvaient pour l'effet, et non pour le goût! » De nos jours, le distillateur – à l'instar de la plupart des consommateurs – a le palais plus fin... et il sait faire la différence entre un sirop de première catégorie et le sirop Aunt Jemima.
« Le Vermont est reconnu pour la qualité de ses produits, affirme Christian. Nous faisons de bons fromages, de bonnes crèmes glacées et, il va sans dire, du bon sirop d'érable. »
La folie de l'érable
Le temps des sucres au Vermont dépend entièrement de la météo, mais dure en général de quatre à six semaines, en mars et en avril.
Vous avez envie de vous sucrer le bec durant votre séjour au Vermont? Ne manquez pas le Maple Open House Weekend annuel (vermontmaple.org), les 28 et 29 mars. Les cabanes à sucre vous ouvrent alors leurs portes : déjeuners de crêpes, démonstrations de fabrication de sirop et de tire d'érable, musiciens, etc. De nombreuses exploitations acéricoles ont également des boutiques où vous pouvez vous procurer du sirop et des produits de spécialité tout au long de l'année.
Deux grands festivals célèbrent la fin du temps des sucres. Le Vermont Maple Festival, à St. Albans (vtmaplefestival. org), se déroule du 24 au 26 avril et attire jusqu'à 50 000 visiteurs. Au programme du week-end : concours de cuisine, salon d'antiquités, dégustations de produits de l'érable, manèges et concerts.
Le 25 avril, si vous visitez le Northeast Kingdom, allez faire un tour au St. Johnsbury World Maple Festival (worldmaplefestival.org), qui met en valeur l'histoire et le patrimoine acéricoles de la région. L'événement d'une journée comprend un déjeuner de crêpes, une fête de rue et des activités en plein air, et culmine avec le couronnement du « champion mondial du sirop d'érable ».
The original print version of this article was headlined "The Sweet Spot"