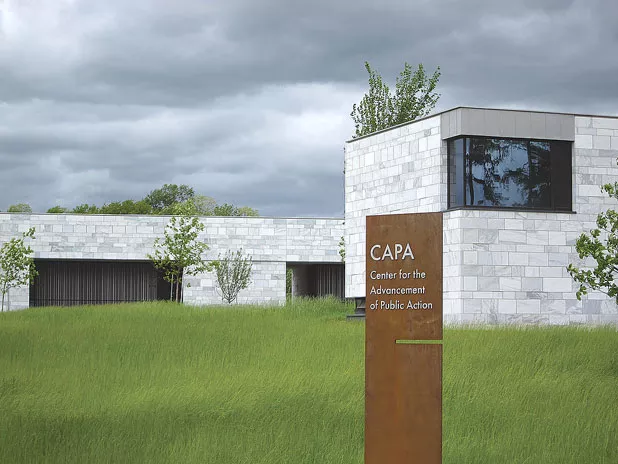 CAPA building at Bennington College
The concert hall in Middlebury College's Mahaney Center for the Arts proved an incongruous setting for a discussion last week on the state of the architecture profession in Vermont. Speaking in a space with a soaring wood-and-steel ceiling and lighting fixtures that resemble hang gliders, a panel of architects and academics lamented the lack of support in the Green Mountain State for buildings that, in moderator Aron Temkin's words, exemplify "the architecture of our own era."
The event also seemed mistitled, or at least wrongly punctuated. The Vermont chapter of the American Institute of Architects had self-referentially billed the session, "Now more than ever!" But a question mark, rather than an exclamation point, would have better reflected the panelists' expressions of doubt and discontent regarding their roles and the public's response to their work — or their wishes.
"The world is awash in ugly," proclaimed Donald Kreis, Vermont's only regularly published architectural critic — for vtdigger.org. "And most people can't tell the difference between a building that is beautiful and a building that is oppressive. Architecture is invisible."
What inspired a lawyer and former journalist to become a commentator on what its practitioners call "the mother of all arts"?
"I've spent my life in and around buildings," Kreis deadpanned.
Karolina Kawiaka, who was one of six winners in last year's National Ideas Competition for the Washington Monument Grounds, lives in White River Junction and is a senior lecturer at Dartmouth College in architectural and sustainable design. She teaches, Kawiaka said, "to support my design habit." She encapsulated the gripe session when she lamented in regard to contemporary architectural forms, "Most of my clients just don't want them."
The evening wasn't entirely an exercise in self-pity, however. The panelists offered evidence that architecture is underappreciated in Vermont, especially when it tries to depart from traditional styles. (It should be noted in this regard that the decidedly contemporary Mahaney Center, which opened in 1992, was designed by a New York firm, Hardy Holzman Pfeiffer Associates.)
Pieter Broucke, a professor in the history of art and architecture department at Middlebury, also spoke on the panel. He told the audience — a mix of students and older professionals — that he had resigned from a local architecture advisory committee because his pleas for innovation had gone unheeded. "Anything not green or brown was a problem" to his committee colleagues, Broucke said.
His own institution has sometimes been an architectural wuss, Broucke added. At the time of its 200th anniversary more than a decade ago, the college "had an opportunity to look into the future" with the design of its new science center, McCardell Bicentennial Hall, completed in 1999. "But, unfortunately, Middlebury opted for an architecture that in its form looked to the past," Broucke said. The 220,000-square-foot gray granite structure — massive by local standards — evoked the two oldest buildings on campus, both of which had drawn their own inspiration from the town's mills, he observed.
The school wasn't always so conservative in its design decisions, Broucke continued. Nearly a century ago, Middlebury commissioned a library made of marble in what was then a contemporary style.
In the 21st century, "new Vermont architecture is steeped in nostalgia" for the state's "pastoral past," Broucke said. Buildings of that sort serve to dull, rather than stimulate, a viewer's imagination, he commented, adding, "Creative ideas have to be new ideas."
Vermont isn't entirely bereft of exciting contemporary architecture, interjected moderator Temkin, dean of Norwich University's School of Architecture and Art. It's just that these examples are invisible to most Vermonters. "Many innovative buildings are private homes" in rural areas, Temkin noted.
It isn't true that the state's institutional architecture is uniformly nostalgic in its design, objected Bennington College architecture prof Donald Sherefkin. He invited northern and central Vermonters to visit his campus, which features "great modernist buildings," Sherefkin said. (Bennington was, in fact, listed among the 10 U.S. campuses with the "best architecture" in a 2011 appraisal by Architectural Digest.)
Noting that Act 250, the state's land-use law, includes an aesthetics criterion, Kreis warned the assembled architects, "The public policy of Vermont cannot afford your invisibility." He urged them to become activists in the cause of innovative design.
Kreis said he also implores his readers to become more conscious of their built surroundings. After all, they — like him — are spending their lives in and around buildings.
The original print version of this story was headlined "In Vermont Architecture, Does Nostalgia Trump New Ideas? A Panel of Professionals Considers the Evidence"