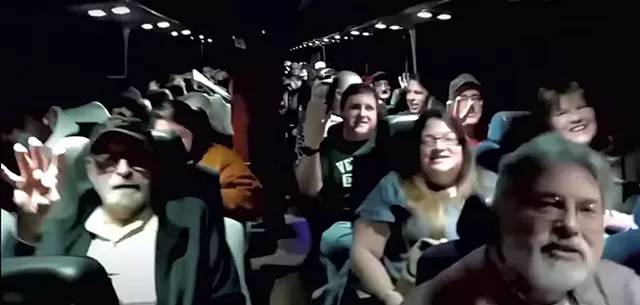 Screenshot
Vermont Trump supporters who traveled by bus last week to Washington, D.C.
John Lyddy took in the scene around him, convinced that the only way to get an honest assessment of the size of the crowd at President Donald Trump's Save America rally was to see it for himself.
The 67-year-old southern Vermont resident had traveled to Washington, D.C., for the January 6 event to protest what he and millions of other Trump supporters argue was a stolen election. He did not expect federal lawmakers to overturn the results in Trump's favor that day, as the president had demanded for weeks. Still, when Trump urged his loyal supporters to march to the U.S. Capitol and "show strength," Lyddy obliged, expecting a passionate but peaceful display.
Instead, a mob stormed the Capitol and ransacked its halls in a siege, an event unlike any other in modern American history.
Lyddy felt mixed emotions watching the riot unfold: "deep disappointment" that it had "come to this" and "extreme exhilaration" that people were "energized." He did not condone the violence, and yet he could not help but feel optimistic. Sitting with his thoughts on the drive home that night, he turned to his wife and said, "Everything has changed."
Lyddy and dozens of other Vermonters in D.C. for the rally have conflicting views about why the day devolved into mayhem. But they share the belief that they are the true victims: of a vindictive Congress, a deceitful media and shadowy anarchist forces. These self-avowed patriots represent but a sliver of Trump's following, yet their delusions exist squarely in a universe of his fomenting — a place riddled with "alternative facts," where the news media can't be trusted and everything is disputable.
As the country picks up the pieces from last week's attack, many hope it will be the death knell for this chapter of American denialism. But for Trump's most devoted, it was only the beginning.
"I'm not going to back down," Kevin Hoyt, a Vermont gun rights activist and failed gubernatorial candidate, said in a video posted to Facebook last week about what he saw while in Washington. "No matter what happens, I'm not going away, and I think there's millions and millions of brave American patriots who are going to stand right here with me."
The Capitol riot was the culmination of a yearslong assault on reality by the president and his allies. Trump has blurred the line between fact and fiction, fostering in his followers a deep distrust of the media and all others deemed disloyal. This war on truth reached new heights after his November electoral loss, with Trump and his enablers stoking a baseless conspiracy theory about voter fraud.
As court after court dismissed evidence-free lawsuits, Trump fell back on his most trusted political tools: He tweeted and scheduled a rally. "Big protest in D.C. on January 6th," he tweeted last month. "Be there, will be wild!"
At the rally, Trump again spoke of a rigged election and urged his supporters to march to the Capitol and demand that lawmakers overturn the results. "You'll never take back our country with weakness," he told the crowd. "You have to show strength, and you have to be strong."
Anthony Sabens answered the call. The Coventry resident was in the crowd as it broke through the police barricades and staked claim to the Capitol grounds. He made his way up a set of marble stairs outside the western side of the building, where, looking through a network of scaffolding, he saw a surreal scene: several thousand people standing shoulder to shoulder, Trump and American flags fluttering in the wind. In his eyes: a revolution.
"We the people are done being abused," he messaged this reporter after declining to speak on the phone about his experience. "Right down to our governor and his unconstitutional gun [bans] and the restriction of the people."
Sabens, who said he did not enter the Capitol, claimed the rushing of the building was instigated to make Trump "look like the bad guy." In one of many videos he took that day, dozens can be heard yelling "push," encouraging their compatriots to knock down a set of doors.
"I'm proud of my fellow Americans who stood their ground against the aggressive police," Sabens wrote.
Sabens did not regret heading to Washington despite what happened. Rather, he lamented that "we have allowed the government to get away with the abuse for so long."
"This is just the beginning," he wrote.
While Sabens believes Trump supporters were justified in their actions, other Vermont witnesses claim the rioters had no ties to the president at all.
Ellie Martin and Ron Lawrence — chairs of the Underhill and Essex town Republican committees, respectively — helped organize a charter bus trip that took 51 Vermonters to the rally. The riders have since come under intense scrutiny for both attending the event and appearing to flout Vermont's travel rules; a video showed the group packed tightly into the bus, no mask in sight.
In a write-up posted to right-wing Vermont media site True North Reports, Lawrence said some on the trip did march to the Capitol but that he was unaware of any who stormed the barricades or entered the building.
He claimed that those who did were actually members of the loose network of anti-fascist demonstrators known as antifa, carrying out a mission to discredit Trump supporters — a claim for which there is no evidence.
"The general consensus from those who were close enough to observe, and from the research folks did on the trip back, is that the actual break in was perpetrated by members of ANTIFA who were donning pro-Trump attire to try to mix in," Lawrence wrote.
Martin texted Seven Days, "The message I heard from the 50+ VERMONT Patriots on the bus coming home from answering the Presidents [sic] call to 'BE THERE' in DC, is that they saw and heard the truth up front and personal. The media is the liar, who refuses to tell the truth even when it hits them in the face."
"To us," she added, "your messages comes [sic] across as the opposition who supports communism and antifa."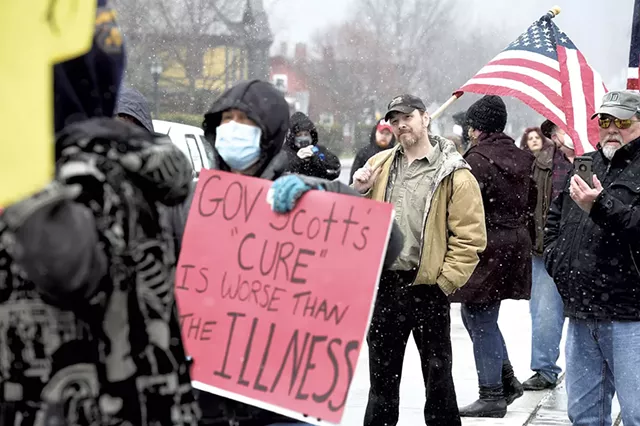 File: Jeb Wallace-brodeur
Kevin Hoyt holding a flag at a protest against quarantine lockdowns last year
Hoyt takes the antifa claim even further. In a pair of conspiracy-laced videos posted for his nearly 5,000 Facebook friends last week, Hoyt claimed to have seen police escorting buses carrying antifa members — without explaining how he knew who they were — toward the Capitol grounds and said that he knew that Trump supporters did not start the riot because they do not bring "rope or sledgehammers" to rallies.
"You know what a Trump supporter looks like, right?" he said in one video. "It's a redneck patriot like me wrapped in an American flag."
"This was all planned by the deep state," he said of the riot, "and it was part of the distraction to keep us away from elections, right, and maybe put a taint on the Trump supporters out there — the peace-loving, God-loving Americans out there who are not violent."
The Associated Press has reported that a review of more than 120 people charged in connection to the riot, or later identified through photographs and videos, shows that they were "overwhelmingly" longtime Trump supporters, "including Republican Party officials, GOP political donors, far-right militants, white supremacists, members of the military and adherents of the QAnon myth," a collection of conspiracy theories that falsely claims Satan-worshipping pedophile Democrats and bureaucrats rule the country.
Hoyt himself espouses beliefs held by QAnon followers, warning in one of his recent videos of "mass arrests" and a looming communication "blackout."
Authorities are now bracing for armed pro-Trump demonstrations at statehouses nationwide in the days leading up to president-elect Joe Biden's January 20 inauguration.
Organizers of the bus trip have faced intense backlash, while state elected leaders decried the attacks and placed blame for them at Trump's feet. Vermont Gov. Phil Scott, a Republican who has been frequently critical of Trump, went so far as to call for his removal, whether by resignation, impeachment or the 25th Amendment, which allows for the president's cabinet to wrest power from him.
"Make no mistake," Scott said in the opening remarks of his inaugural address last week, "President Trump is responsible for fanning these flames."
Trump's supporters, of course, disagree.
Lyddy, the southern Vermont resident who marched to the Capitol at Trump's urging, blames the riot on elected officials who refused to acknowledge the baseless claims of widespread voter fraud. "I was talking to people throughout the crowd," he said. "They were angry. They were furious. They saw it in their own towns. They saw it in states. They asked questions based on numbers that didn't add up. These people aren't stupid."
"Now, everybody gets to Washington, D.C., and says, 'No more. We're not gonna take it anymore,'" he said. "They've seen a very corrupt Democratic machine tie up the presidency of the United States for four years on a corrupt foundation. There was no Russia. There was only a corrupt FBI, a corrupt Justice Department and a corrupt CIA."
Lyddy claims such corruption exists in Vermont, too, pointing to the governor's refusal to offer up the state's "voting machines" for a "forensic analysis."
The Secretary of State's Office is actually the one charged with auditing elections. It has done so for every general election since 2006, randomly selecting about a half dozen towns for an independent review to confirm the totals of the voting tabulator.
Jim Condos, Vermont's secretary of state, has delayed the 2020 election audit due to the coronavirus pandemic, saying it is not currently safe to conduct one. But he has stressed that there is nothing to suggest any voter fraud occurred.
"Our local Town election officials work incredibly hard to ensure that the election results match the will of the voters, and the numerous checks and security measures in place support their work," Condos said in a statement to Seven Days. "These baseless voter fraud claims are a conspiracy theory, without a shred of evidence."
Such assurances aren't good enough for Lyddy, who said if the tabulators are not released by the end of this week, then he will find out where they are kept and take them — "one way or another."
Lyddy did not say exactly how he expected to get his hands on Vermont's voting tabulators. When asked whether he would personally break the law to carry out his mission, he went quiet for a moment.
"Hard to know," he eventually said. "Really hard to know."
"If it was for the good of the country," he later said, "and I knew that it would help solve some of the problems that exist now in this country, then I probably would."