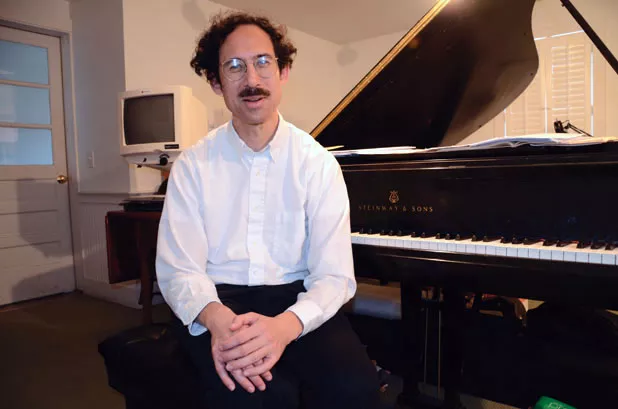 "We never dreamed we'd still be doing this 25 years later," says a bemused Leslie Gensburg in a phone conversation. She and Judy Rankin, both 72, cofounded the Northeast Kingdom Classical Series in St. Johnsbury in 1989. Ever since, the women have volunteered their time to assemble four chamber-music concerts each winter in a local church, featuring excellent musicians, purely for the enjoyment of area residents.
This Sunday, the series celebrates its silver-anniversary season with an opening concert featuring Vermont musicians. Gensburg and Rankin chose the three-part program with extra care. Pianist Michael Arnowitt, who played a solo recital for the series' inaugural concert, will return to play Mozart and Scarlatti. Violinist Mary Rowell and pianist Marcantonio Barone of the Craftsbury Chamber Players, a longstanding Northeast Kingdom summer outfit, will perform a Brahms sonata.
"Then we wanted some winds," Gensburg says, "and there was no question on that one." They secured the all-female Heliand Consort for the final third of the program. Bassoonist Rachael Elliott, the group's 36-year-old founder, is the only member who doesn't live in Vermont — she's in North Carolina — but she's from Lyndon, where Gensburg also lives. "We all watched her grow up," Gensburg explains fondly.
Heliand, also consisting of flutist Berta Frank, clarinetist Elisabeth LeBlanc and pianist Cynthia Huard for this concert, will play Telemann, Glinka and Dvo?ák.
Residents of the far-northeastern part of the state are lucky to have this series. Locals have access to plenty of live music during the summer, says Gensburg, but in the winter they would otherwise have to travel to Montpelier, Burlington or Hanover, N.H.
Before NEK Classical was founded, "There was nothing else," Gensburg recalls. She was in her forties when she approached Rankin with the idea of organizing concerts, having heard that they shared a love of classical music.
The two asked St. Johnsbury-based Catamount Arts for help. Gensburg recalls being told that if they "did the work and raised the money," Catamount would provide publicity and negotiate contracts with the musicians. The women and three other volunteers took over those jobs in 2000, when the group became an independent nonprofit.
Still the only source of live classical performances in the sparsely populated area, the NEK Classical Series has upheld quality over quantity.
"They're very discriminating," Jenness Ide, 68, marvels of the two founders. Ide, a resident of nearby Danville, has attended at least two concerts a year since the series' inception. She recalls that one pianist she suggested to the women "didn't make the cut."
"It's a remarkable series with top-flight talent. I've never been to a concert that I didn't love," says Ide.
The organizers even had 18-year-old Ignat Solzhenitsyn, then a pianist living in Cavendish, perform in 1990. Son of the famed Russian author Aleksandr Solzhenitsyn, Ignat went on to become a well-known conductor, but returned to play in the NEK Classical Series twice more. "The last time he came was six years ago, as a very well-established, world-renowned musician," Gensburg says.
This year's roster continues the emphasis on excellence. The three other concerts feature Trio Cavatina, a group of women who formed while at the Marlboro Music Festival in 2005; pianist Katherine Chi, who matriculated at the Curtis Institute of Music at the age of 10; and the phenomenal Jasper String Quartet, which performed in Colchester last spring to warm enthusiasm.
Gensburg, who finds all her acts via the internet, says musicians want to "be out in smaller places" such as St. Johnsbury because audiences "really listen; it's not old hat for them."
One especially attentive early audience member was Elliott, who credits her interest in wind ensembles to an NEK Classical Series concert.
"I grew up going to the series," the bassoonist recalls, "and the first woodwind quintet I heard was Borealis in a series concert. I was a freshman or sophomore in high school."
The wind ensemble is still an unusual animal. Along with Imani Winds, Elliott's Heliand Consort is one of few to have made a name for itself. Now in its eighth season, the group will appear at NEK Classical this year for the first time.
Gensburg ends the phone conversation with a helpful tip. "You can close it with this," she suggests, revealing the years of promotional strategizing under her belt. "It's been a labor of love."
Northeast Kingdom Classical Series 25th Anniversary Celebration Concert. Sunday, November 3, 3 p.m. at the South Congregational Church in St. Johnsbury. $6-18. nekclassicalseries.org