Brent Harrewyn
Drifters
In June 2015, Phinneus Sonin announced that he was closing the Psychedelicatessen, the funky Old North End café that had served dumplings and strange performances on a pay-as-you-please basis since early 2014. As word circulated that new owners would transform the space into a tiny taproom — the kind that serves Vermont brews and locavore comfort fare such as tacos and poutine — many of Burlington's boho-leaning radicals heaved a collective groan: Well, there goes the neighborhood.
But new owners Michael Lucey (who purchased the Burlington Hostel in 2014) and Andrew Ryan promised to keep the P-Deli's come-as-you-are spirit alive. Their new bar and café, Drifters, would be affordable, and they hoped to make space for live arts.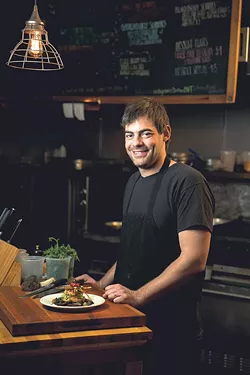 Brent Harrewyn
Andrew Ryan
Early projections had Drifters opening last fall, but, as winter came and went, the space stayed dark. The friends had to work around Lucey's hostel shifts and Ryan's job as a cook at Wake Robin in Shelburne (where he still works as a sous chef). They salvaged driftwood boards from the shores of Lake Champlain and cobbled them into tables, assembled a meandering chandelier using birch branches and light fittings, refinished floors and scrubbed the kitchen into working order.
When the restaurant opened in June this year, the menu was as promised: local beers, meads and ciders on draft; familiar, snackable fare, handmade down to the ketchup accompanying an $8 pair of local beef sliders. Visitors trickled in, but summer business was ... quiet.
"No one knows this is here," a friend told me, waiting for takeout at the bar last Wednesday. That friend, who lives two doors down from Drifters, said it took him four months to venture inside. "I wasn't ready to go through that door," he said.
Not because Drifters didn't look inviting, but because if the place was good enough, he feared, he might end up there nightly — and he's not someone who can afford a nightly bar tab in Burlington.
Or maybe he can — when the price is right. "I mean, $3 Bud Ice tall-boys!" said the friend, tipping back a 25-ounce can of fizzy Anheuser-Busch brew. "You can't get that anywhere."
Three dollars can also summon a glass of house red or white wine. Or, for $5, you can upgrade to a pint of hopped mead from Colchester's Havoc Mead or 14th Star Brewing's Tribute DIPA, among other draft pours, or to cans of Citizen Cider, or any number of other offerings, local and otherwise.
Brent Harrewyn
Fried green tomato on brisket napoleon
The modest price points carry through to the food menu. Dishes go for $5 or $8, except specials, which max out at $12. Last week, an $8 small plate brought four slices of duck-liver bruschetta that were so well composed, my date hesitated to eat them. "I feel like I'm destroying a little piece of art," he said.
The crusty baguette toast gave way with a soft, buttery crunch. On top, rosettes of duck-liver mousse tasted of earthen poultry crème, punctuated with zingy pearls of whole-grain mustard and tiny Mexican gherkins that popped like pickled grapes.
"If that was served on a piece of slate, I'd say I was at Hen of the Wood," my companion said, licking his fingers.
Next, supple bites of parsnip gnocchi ($8), tucked beneath a tangle of fried shallots and wilted brown-butter greens, were a creamy foil for crunchy pecans and chips of shaved Parmesan. As I made my way through the multilayered assembly of flavors and textures, I thought, This could easily command $12 if you ordered it somewhere on Church Street.
Around us, the restaurant's 25 seats filled with a mix of families and thirtysomething professional types. A student sat down for a meal with her parents; beside them, an older couple seemed mildly confused about how to order (from the counter by the door) and whether to bus their own table (yes, do).
Lucey brought over a flatbread ($8), which was all cracker-thin crust topped with spicy, tangy chile sauce and firm slices of seared pork belly. I crunched on the crust and watched as another couple sat down at a high top toward the back of the room. Their body language indicated mutual interest but lacked the easy fluidity one sees between established lovers.
"I wonder if that's a first date," I said, nodding their way.
"This would be a good spot for that," my friend said. Ever the analyst, he rattled off reasons why: The quick service and laid-back vibe would insulate against drag and awkwardness. And the affordable price point kept the financial risk low.
If that first date went well, he added, the couple could "splurge" on a proper sit-down meal. "Actually," he corrected himself, looking down at the $5 and $8 plates on the menu, "even if we tried to splurge, I don't think we could here."
But after three dishes shared between two people and a couple of drinks each, we left feeling full.