Courtesy of Lavender Essentials of Vermont
View from Lavender Essentials of Vermont;
Driving east on Herrick Road, where it charges up Herrick Hill less than a mile from the U.S.-Canada border, motorists pass telltale signs of the ways Vermonters make a living from the land. On one side, a network of plastic tubing weaves through a grove of maples. On the other, firewood is stacked next to a sugarhouse. Ahead are a broad cornfield, two silos and a big dairy barn. Higher up, the hill affords an expansive view of Jay Peak Resort across the valley and the glimmer of Lake Memphremagog.
At the top of the hill, a far more recent land-based endeavor is under way. It's a project that combines the agriculture and tourism industries: a 50-acre farm and event site called Lavender Essentials of Vermont.
This spring marks the third growing season for agripreneurs Pierre Capron and Michele Judd, who have been harvesting three species of lavender and selling lavender aromatherapy products. This year, for the first time, they will open their farm to the public and offer overnight camping on the land, guided day trips, and even "romantic date night" and massage packages.
The business may be new, but the land has been in Judd's family for four generations. In 2017, she and Capron decided to find a way to utilize the land that would allow them to be outside and work from home. At the time, Capron was a manager at a local car dealership; Judd was a pet groomer at Animal Kingdom, a business she launched at age 19 in Derby (it's now in Newport).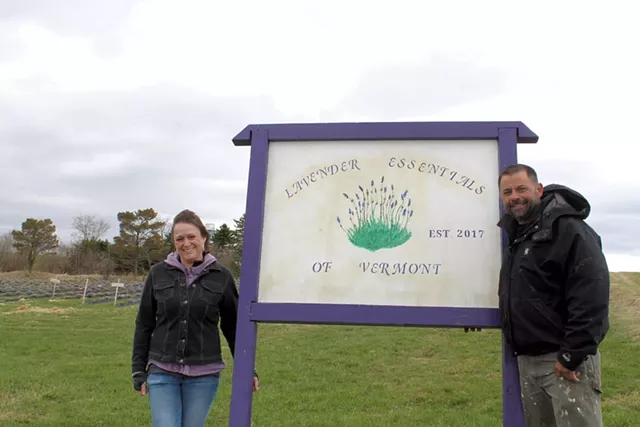 Julia Shipley
Michele Judd and Pierre Capron
Although the two had both attended North Country Union High School, they reconnected in 2016 on a memorial motorcycle ride for a mutual friend, and their relationship blossomed into love. One day while they were at a farmers market, the couple encountered a man selling a tonic out of his Subaru. Capron tried the liquid, billed as a cure-all, and thought it tasted god-awful. When he asked the man if he was making a living selling the product, the vendor explained that since he'd retired from a successful career, he was making less money but doing a lot more living.
It was a light-bulb moment for Capron and Judd.
Having both grown up on dairy farms, the pair agreed they wanted to grow a specialty crop that would net them a solid profit. And they wanted to develop a business their kids could someday inherit. They initially considered hemp but dismissed it as "too volatile" — at the time, it was federally illegal. So they went online and searched for "the highest-grossing crop you can plant in the U.S."
"Lavender was No. 4 on this list," Judd told Nest, standing in front of the house she inherited from her grandmother.
That same year, Modern Farmer magazine claimed that a one-acre planting of the fragrant purple flower could produce "about 12,000 bouquets per year, worth $10 each or more on the retail market."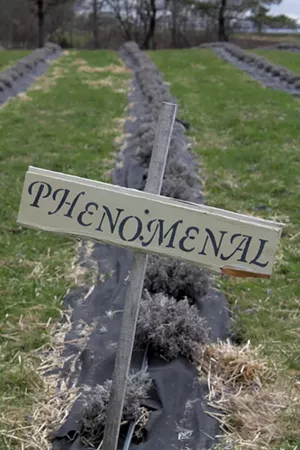 Julia Shipley
Row of Phenomenal lavender
Intrigued by the plant — which is not only aromatic but has antiseptic, antimicrobial and anti-inflammatory properties — the couple began to envision an agribusiness in which they could sell the raw product and create health and beauty merchandise from it.
But in spite of the plant's promise, they hesitated. Could lavender thrive in northern Vermont? After all, it originated in the Mediterranean and prefers a dry, temperate environment and well-drained soils.
By contrast, Judd Farm is situated at 1,500 feet between two invisible but significant lines: the 45th parallel (the midpoint between the North Pole and the equator) and the U.S. border with Canada. Both underscore how far this place is from the mild Mediterranean.
"We are in Zone 4b," Judd said — meaning the local growing season consists of 92 to 100 consecutive days and nights above freezing. Furthermore, the land's rich soil receives significant annual rainfall: about 43 inches per year.
But the couple decided to go for it when they learned that Bleu Lavande, a dozen miles north in Stanstead, Québec, claims to be the second-largest producer of lavender oil in North America.
So, in the summer of 2017, Capron and Judd planted just under an acre of three cold-tolerant lavender varieties: Phenomenal, Munstead and English. Unfortunately, a harsh winter ensued, and the following spring they discovered that they'd lost 70 percent of their 1,400 plants. They replaced the dead ones and added even more.
The summer of 2018 was hot and dry, and the lavender thrived.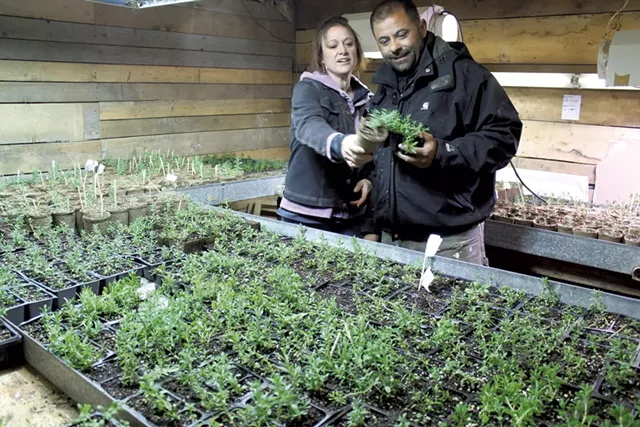 Julia Shipley
Michele Judd and Pierre Capron in their greenhouse
But the challenges weren't over. Last November, an early storm dumped two feet of snow before Judd and Capron could properly prepare their beds for the winter. To save their plants, Capron used a leaf blower to clear the beds. They hired some local teens to shovel snow off the lavender. Judd's dad, a retired dairy farmer, examined the situation and imparted this wisdom: "The impossible only takes a little longer."
After clearing the snow, Judd and Capron created an improved protective covering of straw and an impermeable blanket, which they described as a "lavender cocoon." Four months later, Judd peeked underneath it and found that her plants had survived.
But not a week after she and Capron uncovered the lavender in anticipation of this year's growing season, the temperature plunged to 38 degrees, setting off another round of panic for the farmers. Judd tuned in to a webinar with 400 other lavender growers across the country who were experiencing similar weather conditions and concerns. The webinar was called "Are my plants dead?"
As it turned out, yes and no. "Only half of our lavender in the field survived," Judd lamented.
When Nest visited Lavender Essentials on a Saturday in May — six weeks before blooming season — a flat of 100 lavender seedlings was growing next to the couple's living room window. A back bedroom had become a laboratory where Judd, a certified aromatherapist, makes lavender-based concoctions such as hand soap, body wash and pain-relieving gel. In the garage, their Harley-Davidsons shared space with more than 2,000 plants. Another thousand were en route from a specialty nursery.
Julia Shipley
View from Lavender Essentials of Vermont
Meanwhile, Capron had tilled the ground for a pumpkin patch and a lavender labyrinth, new this year. Some 30,000 bees in nearby hives were presumably gearing up for their seasonal mission: turning lavender pollen into lavender honey.
On Lavender Essentials' website, Capron and Judd acknowledge how with "a brave entrepreneurial spirit we took the leap, and fully committed ourselves." In person, Capron echoed that sentiment. He and Judd will enjoy an enormous reward, he surmised, if they can weather the storms.
This summer and fall, visitors to the sweet-smelling Derby farm won't be troubled by its growing pains. They can amble the lavender labyrinth, reserve a tent site, pick a bouquet, or simply lie in the fields and breathe.
And, said Capron with a smile, "You can't buy the view."