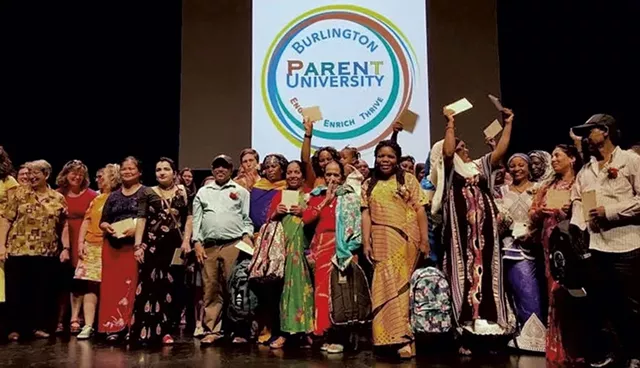 courtesy of burlington school district
On June 19, 22 Burlington parents, many clad in colorful garb that reflected their cultural backgrounds, crossed the stage of the Flynn Center for the Performing Arts in Burlington to accept certificates that declare them graduates of Parent University.
courtesy of burlington school district
A performer from Jeh Kulu
The innovative program, which serves primarily New American families, was created in 2015 by Ali Dieng, a Burlington city councilor and the Burlington School District's family outreach coordinator. It aims to engage parents with their children and the community by providing workshops and classes that teach skills, including navigating the school system, using the internet, applying for a job, and budgeting.
The latest session took place after school five days a week for 11 weeks and focused on substance-abuse prevention. With the help of community partners like the Burlington Police Department, Turning Point Center of Chittenden County and the Vermont Department of Health, the group discussed topics like marijuana legalization, how prescription medication can lead to addiction and secondhand smoke.
courtesy of burlington school district
Parent speaker Ishno Ibrahim
The graduation ceremony — featuring performances by Jeh Kulu and the Bhutanese Nepali Cultural Heritage Dance Group and a menu including samosas, dumplings and Ben & Jerry's ice cream — was meant "not only to celebrate the accomplishments of the parents, but to celebrate the diversity that we have here," said Dieng.