Robert C. Jenks
Cindy Boyd
The Vermont nonprofit Building Bright Futures announced a grim statistic two weeks ago at the Statehouse: The number of children in state custody has doubled in recent years, largely because their opiate-addicted parents can't adequately care for them. Last week, the Vermont Supreme Court created a commission to study a family court system overwhelmed by the surge in drug-related custody cases.
Neither announcement would surprise Cindy Boyd, executive director of Kingdom Recovery Center. Cocaine, heroin, marijuana, pills — there isn't a drug Boyd hasn't abused. And although she's been clean for 10 years and counting, her recovery will never be fully complete: She gave birth to four children between 1988 and 2005, but none of them calls her "Mom."
One daughter died as an infant, she said. Another perished in a car crash. Two more of her children, removed by social workers, now live with other families.
"It is my own fault. I own it," said Boyd, who is 47. "Everything that happened was because of me and the choices I made."
Boyd's candor helps her communicate and empathize with those who seek help in St. Johnsbury. "Alcoholics and addicts and criminals are bullshitters," she said. "We can get people to believe us."
That self-awareness, and a willingness to recount her struggle publicly, has made Boyd an unlikely leader in the Northeast Kingdom's fight against the opiate epidemic.
"You can't say any one thing stands out about Cindy," said Steve Kline, president of the Kingdom Recovery Center's board of directors. "Her life stands out. She's a role model."
True to form, Boyd broke the ice on a frigid afternoon at the center, where half a dozen regulars gathered to take advantage of a weekly free lunch.
A twentysomething man, "Ray" — Boyd asked that guests not be identified by their real names — followed her, recounting a recent failed attempt to get clean in Jacksonville, Fla.
It started out promisingly enough, he told the group, but then one night he and a roommate got bored and slammed an 18-pack of beer. That led to more beer, which led to snorting antidepressants. Ray woke up in a hospital with a tube in his throat. He had been saved from an opiate overdose — and not for the first time. He chuckled at the memory.
"What would have happened if you wound up a vegetable?" Boyd asked him, more concerned than peeved. "Do you think about that stuff?"
"I think about it every day," Ray said solemnly.
Boyd doesn't present herself in a way that draws attention; she's unassuming and pads around the center with just socks on her feet. But she doesn't hesitate to speak her mind or confront people whom she thinks aren't being straight with her.
Later in the day, the same young man started telling a visitor a story about how he got sent to prison for heroin use. The tale involved a relative calling his probation officer.
"My family put me in jail—" Ray began, but Boyd cut him off.
"Your family did not put you in jail," she corrected him. "Your actions did."
Ray knew better than to challenge her. In a room full of people with tales of struggle, he was well aware that hers was arguably the most painful.
Boyd grew up in the working-class town of Fitchburg, Mass., an hour west of Boston, the youngest of five siblings. Her parents were both alcoholics, she said. Her mom worked in a nearby plastics factory; her dad never earned a steady paycheck.
Eight years younger than her closest sibling, Boyd lived a lonely existence. But she still managed to follow in the footsteps of her older brothers and sisters, getting into heavy drinking and drug abuse. By the time she was 17, she had dropped out of high school, gotten addicted to cocaine and become pregnant.
She and Allen Nutting had a daughter, Stephanie, in 1988. A second daughter, Tiffany, arrived in 1989 but died of sudden infant death syndrome three months later, Boyd said.
The following years, Boyd said, were a blur of cocaine, opiates, alcohol and tragedy. Nutting moved to Barton, Vt., taking Stephanie with him. Boyd kept using. She got pregnant again by another man, but she lost custody of the child, a son who now lives in Canada.
Stephanie, a precocious A student at Lakes Region Union High School in Orleans, stayed in touch with her mom and for months tried to get her to move to Vermont. In 2004, Boyd was pregnant with her fourth child and attempting to stay clean when she agreed to relocate to the Northeast Kingdom to be closer to the girl. Two months before her scheduled arrival, though, 16-year-old Stephanie was killed in a car accident.
Boyd moved to Vermont anyway. Once her baby, Bryanna, was born, she resumed abusing cocaine and pills.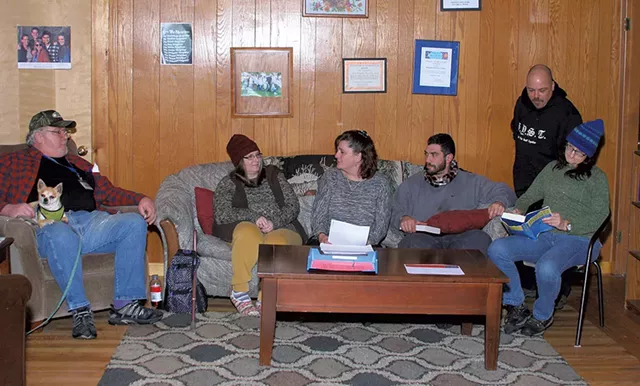 Robert C. Jenks
Cindy Boyd (center) with a group at the Kingdom Recovery Center
In January 2007, something happened that Boyd knows some people, even those who are fond of her, may never understand or forgive. Bryanna, then 2, was lethargic, not eating and throwing up. Boyd took her to an emergency room. Doctors ordered tests. Traces of cocaine were found in Bryanna's system, indicating that Boyd had smoked crack in her presence.
The Department for Children and Families took Bryanna away.
Boyd was eventually charged with misdemeanor child cruelty, she said, as well as unrelated charges for driving with a suspended license and missing a court hearing.
During an eight-month prison sentence, from her cell at the now-shuttered women's prison in Waterbury, she relinquished her parental rights to Bryanna. A local schoolteacher, Candy Palmer, was fostering the little girl and wanted to adopt her.
The seeds of Boyd's recovery were planted, improbably, during this difficult period.
She credits two factors. First, her time in prison forced her to sober up. Second, Palmer learned through social workers about the other children Boyd had lost. She sent a letter to the mother of four in prison. Boyd still keeps it in a desk drawer at home.
"I don't want you and her to lose contact," Palmer wrote, adding: "Please know that you are not forgotten and that each day I think about you and the gift you gave us when signing the paper to give up your parental rights."
After her release from prison, Boyd began volunteering at the Kingdom Recovery Center and working at the McDonald's in St. Johnsbury. One afternoon in the winter of 2009, Palmer showed up at the Railroad Street fast-food joint unannounced with Bryanna in her arms.
Boyd began to cry as soon as she saw them. She stepped out from behind the cash register, and Bryanna, then 4, extended her arms to the woman she now calls her "biological mom," or "Cindy."
Today, Bryanna is 13. She and Boyd have a good relationship, though Boyd doesn't want to overstate it. Boyd sees her daughter every month or so, often at the girl's gymnastics meets. They celebrated Bryanna's January 10 birthday — and Christmas — last Saturday.
Having Bryanna in her life, even in a limited way, has helped Boyd move on, she said. She hasn't taken a drug or had a drink since her time behind bars.
During the past few years, Boyd has become something of a minor celebrity in Vermont recovery circles. She appeared in NEK filmmaker Bess O'Brien's 2011 documentary about adoption and DCF cases, Ask Us Who We Are. In one of the film's more wrenching moments, Boyd looks into the camera and explains her decision to give Bryanna up for adoption:
"I said to myself ... I can't guarantee that I will never ever pick up a drug again, and maybe the best thing would be for me to just sign over my parental rights and let the people who have her adopt her."
Boyd has been a frequent guest speaker at meetings and conferences that address Vermont's opiate crisis and has joined several NEK community groups and organizations dedicated to helping addicts. She never hesitates to tell her story and has shared it with young mothers who are struggling with custody problems.
Susan Cherry, director of the Community Restorative Justice Center in St. Johnsbury, said Boyd's personal experiences inform her work.
For example, Cherry cited Boyd's input in an effort to build a halfway house for addicts in St. Johnsbury. Boyd argued that licensed professionals should not staff the home, in order to allow residents the freedom to solve their own problems — following the model at a similar facility, Aerie House, nearby. Cherry said that she and others who are boosting the project have come to agree with Boyd.
"She has compassion for folks going through things she has already gone through," Cherry said. "That gives her insight."
Yet Boyd's most important work occurs inside the recovery center. In 2015, she became its executive director.
Recovery centers host classes and meetings, organize community outings, and help visitors connect with social services. Kingdom Recovery Center, which runs on a $92,000 annual Department of Health grant, recently taught people to use the overdose-reversing drug Narcan.
The center's chief role is to offer a sense of community and comfort to addicts. Its vibe is a mix between a clubhouse and a highway rest stop: There are five bathrooms and several comfy couches and chairs. A pot of coffee is always on.
Appropriately, the facility occupies the white clapboard childhood home of Robert Holbrook Smith, a cofounder of Alcoholics Anonymous. Visitors can tour it. AA has an estimated 2 million members worldwide; Boyd occasionally welcomes foreign guests.
"We don't feel like we're alone here," Boyd said. "Most of us usually feel alone. We pushed away our families and friends, burned bridges. No one wants us around. Most of us feel awful. Nobody knows what it's like unless you've experienced it."
When addicts talk about their lives, Boyd said, they often say that they were once headed for "jails, institutions or death." She hopes that, in watching her rebuild her own life, the center's clients will see another option.
But she knows even a good role model has limitations.
"Some of these kids, I want to shake them, but you can't," she said. "You just hope they get it before it's too late. But it's a reality — not everyone is going to get it."