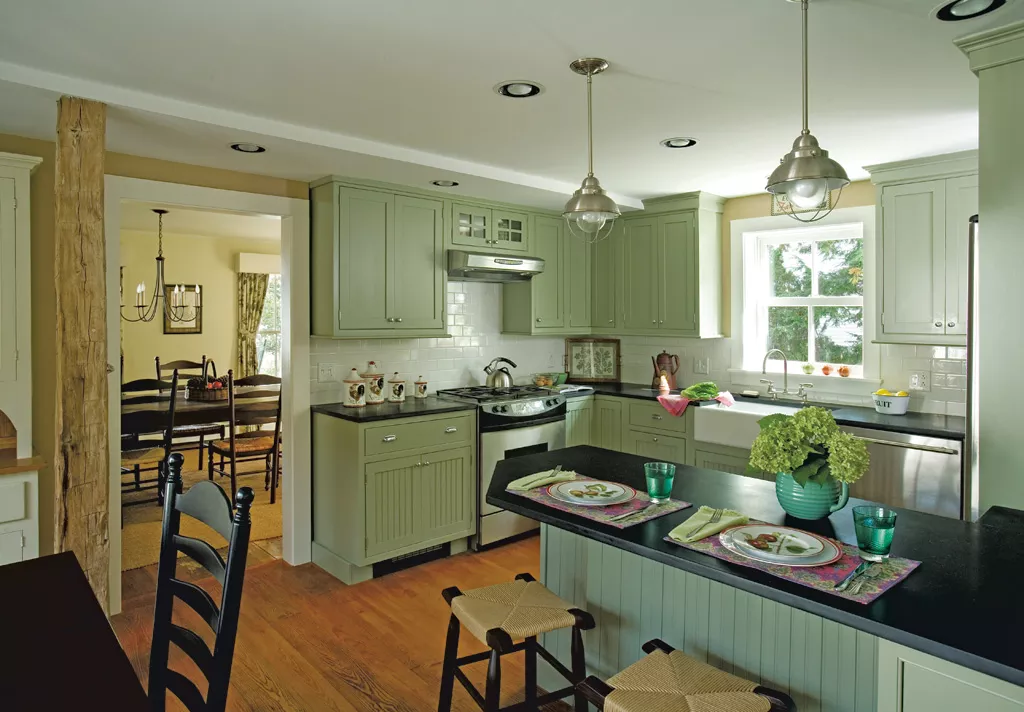 Courtesy Of Wendy Johnson, Designs For Living
A kitchen in a Dorset home built in the early 1800s
"Today's kitchens are not just kitchens," says award-winning interior designer Wendy Johnson. To be sure, that room is still where meals are prepared. But increasingly, it's also the room where family members cross paths and visitors hang out. From a designer's standpoint, it's not uncommon to imagine the kitchen with a built-in reading nook, dining area and even recreation space. "The kitchen is just the center of everything that goes on," Johnson says.
Johnson owns and operates Designs for Living, a kitchen, bath and "roomscape" design firm based in Manchester, Vt. She's helped clients artfully arrange their living spaces for more than 36 years. And she's racked up an array of industry honors, most recently the National Kitchen & Bath Association's 2013 Design Competition award for "Best Kitchen."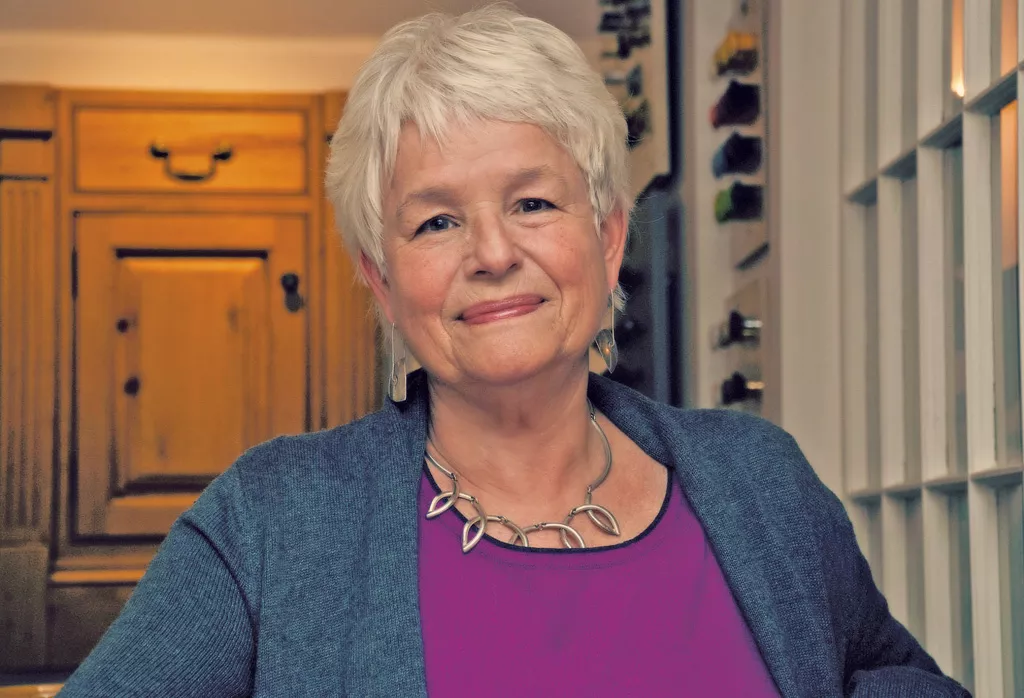 Wendy Johnson of Designs for Living
Johnson's aesthetic is eclectic and adaptable based on customer preference, though her portfolio reflects an affinity for rooms that are bathed in natural light; accented with sumptuous washes of color; and fitted with cabinets, countertops and fixtures in distinctive textures and finishes. She says she's inspired by classical design, nature and botany.
That's a product of her professional and academic background, as well as personal preference. Johnson is a former zoologist who took a break from science to raise her three children. When she reentered the workforce, she pursued her love of interior design by snagging a coveted job at a high-end kitchen design showroom in Denver, Colo., while putting herself through design school. "I've maintained my love of nature and the environment," Johnson says, "but I just love interior design, and I'm passionate about kitchen design in particular."
When she works on a kitchen, Johnson likes to "incorporate wide-open spaces and also small, cozy spaces." The result should accommodate manifold functions: meal prep, recreation and eating. "I try to think not just in terms of how it's going to work for somebody in the next few years, but also over the long term," she says. Family dynamics and generational needs change over time; a designer can be mindful of accommodating growing kids, aging in-laws and other such shifts.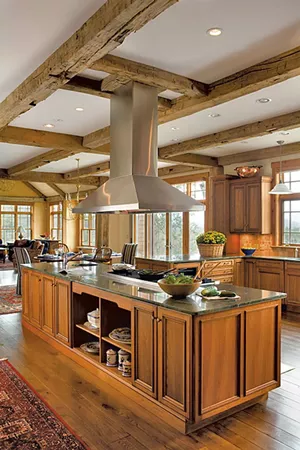 Courtesy Of Wendy Johnson, Designs For Living
A South Londonderry kitchen featuring cherry cabinetry
Johnson's golden rules for kitchen design? Bring in as much natural light as possible (a good rule of thumb for any room), and make sure there's plenty of counter space.
"A big trend we're seeing today, which I think is nice, is that people are cooking at home more often than they used to," she says. "That went away for a couple of decades. But now people want to be home more, spending time with family and cooking together."
To bring "sunlight and beauty and spaciousness and comfort" into her kitchens, Johnson likes to tackle them from multiple angles. She typically draws up several different concepts with her clients at the very beginning. "It's much, much cheaper to work out various ideas on paper rather than, years later, wonder why we didn't consider something," she says with a laugh. Sometimes an unusual approach — such as creating a new window or bumping a space into an adjoining room to accommodate the refrigerator, for example — makes all the difference.
Those who'd like a kitchen upgrade but can't invest in an interior designer need not be discouraged. Jazzing up your own kitchen, Johnson says, "does not have to be a horrendous expense."
One inexpensive and easy kitchen update is to paint the cabinets. "It's amazing the difference it makes," she says. (The cost will likely be less than $100; the hardest part is scraping off the paint that's already there.) Changing the hardware on cabinets and drawers, Johnson adds, can also freshen the look of your kitchen.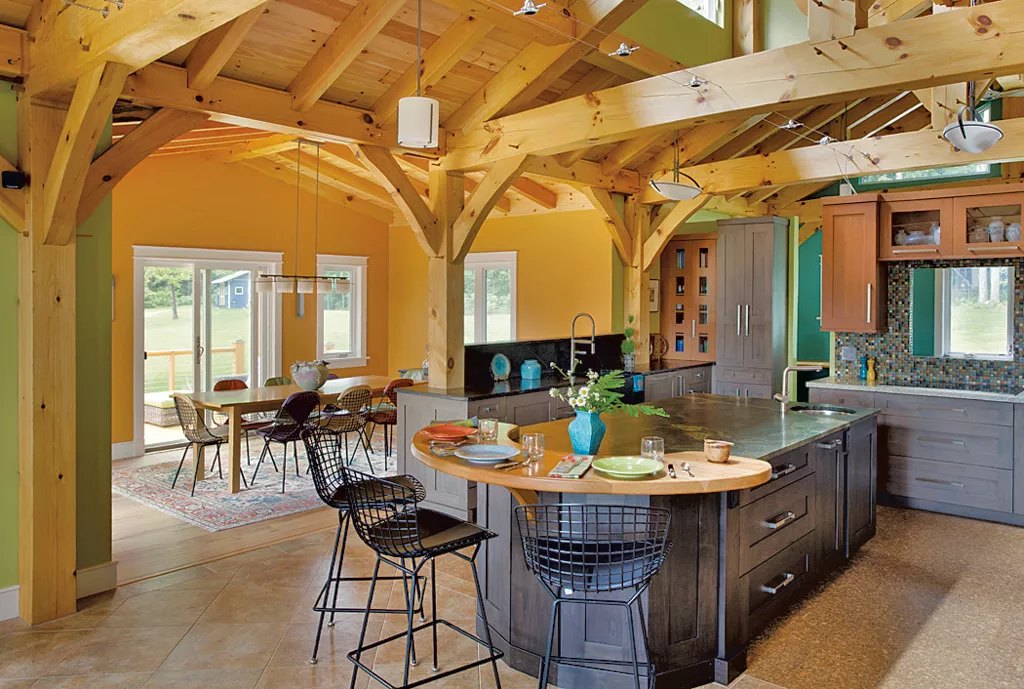 Courtesy Of Wendy Johnson, Designs For Living
A Vermont home with an eat-in kitchen and expansive food-prep area
Replacing the countertops is another instant, albeit more costly, way to update a look, and doing so can expand the workspace. Stoneware counters are aesthetically pleasing and functional, Johnson suggests. And adding more counters can present other options, such as installing a new sink or under-the-counter storage.
The highest-impact fix, she says, is great lighting. In addition to letting in as much natural light as possible, Johnson advises adding or changing indoor lights. "I jokingly tell my clients that we could have a kitchen with chicken crates for cabinets if only the lighting is fabulous!" she says. "Lighting is huge."
Fixtures With Flair
Looking for lights, faucets and all the other kitchen fixings? These Vermont-based businesses dish out unusual — and beautiful — décor.
Faucetto
Give your kitchen sink a punk-rock makeover with solid bronze skull faucets, designed by Frank DeAngelis of Close to Home in South Burlington. The fixtures come in a range of finishes and are also available as doorknobs. If skulls are not your thing, hold on. DeAngelis is currently at work on a Buddha-head prototype.
Conant Metal & Light
Courtesy Of Conant Metal & Light
The artists at this Pine Street shop churn out an eye-popping array of original lighting options, not to mention tables and other furniture items in vintage metals. For kitchens, owner Steve Conant recommends hanging pendant lights over counters to ensure a well-lit work space. Many fixtures made at Conant are unique works of art created from recycled, repurposed materials, including mixers, mason jars and former factory tools.
Anomal
This Montpelier design and fabrication company is racking up a reputation for its artisanal concrete counters. Designers Chris Kiper and Damian Taylor have made them for restaurants including Positive Pie and Kismet, as well as for private residences. Concrete has a durable surface and can be cast into virtually any shape. "We like it foremost for its versatility," says Kiper. "If there's one takeaway from concrete, it's that you can take this homemade-feeling product [and use it] with very few restrictions in terms of form, shape and appearance. It's really just up to your imagination how you cast the form."
The original print version of this article was headlined "What's Cooking?"