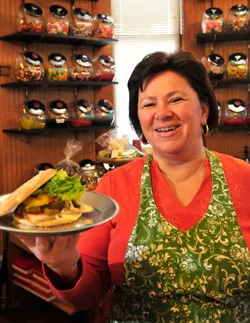 Jeb Wallace-Brodeur
Loreen Abraham
For dieting desk jockeys, lunch is a challenge — brown bagging it is a chore, but so is adding up restaurant calories. Maybe that's why so many health-conscious office workers in the Barre area stop by ... a candy store.
Sure, Ellie and Shirl's Simply Delicious offers plenty of reasons to cheat on your diet. But it's also home to Bag Ladies Express Café, where followers of Weight Watchers can find the "four-point sandwich." Customers choose the meats and veggies, and Bag Ladies owner Loreen Abraham heaps them on — keeping the whole package under 250 calories. When dieting customers aren't sure what to order, says Abraham, "I ask, 'How many points do you want to spend?' ... People appreciate it. They come in and ask, 'What can I get for this many points?'
"When I come back from the holidays, my customer base is looking for something healthier," says Abraham as she prepares a turkey Reuben for a customer.
The petite fiftysomething is a supremely welcoming figure with the brassy voice and comedic timing of Renée Taylor. "She knows 90 percent of the community, and I know the other 10," teases Chris Conti, owner of Simply Delicious, whose register and case of Birnn truffles sit across the spacious shop from Abraham's deli counter.
When Conti purchased the store three years ago, longtime tenant Abraham was one of the selling points. "Because she was so established, she had a devoted clientele," Conti says. "She had a reputation that preceded her."
The Bag Ladies brand began 13 years ago when Abraham and another mother with kids at Barre's St. Monica School, Anita Bowes, began selling bag lunches to local businesspeople. Abraham had her kitchen professionally licensed and, within months, the venture had taken up residence at Simply Delicious. Not long after, Bowes left to expand her business in Montpelier as Nini's Wrap Works with "pretty much ... the same menu we have here," Abraham says. (The former Nini's now operates without Bowes as Uncle Mike's Deli.)
Looking back, Abraham says she never planned on going into the food business: "It was somebody's plan, but it wasn't mine," she says, looking skyward.
Abraham grew up in an Italian New Hampshire household where calorie counts weren't a priority; her mother used ground salt pork to grease the pan before starting her tomato sauce. "My mother thought, if you weren't making 400 meatballs, why make any at all?" says Abraham with a laugh.
She met her husband Michael at the University of New Hampshire, where she studied special education. By the time they married in 1980, he was a helicopter pilot in the Marines and she was a full-time military wife. At monthly support gatherings of wives on the base in Jacksonville, N.C., Abraham became famous for her braided bread. Her baking turned into a business when one officer's wife asked her to prepare it for a dinner party.
Soon Abraham was preparing full Northern- or Southern-style meals for her fans. By 1985, she was making banquets for Marine balls and catering full time, as well as teaching her skills to her oft-bored fellow wives: "While their husbands were in amphibious warfare training, I'd go in and show them how to make braided bread," she recalls.
After several stops on southern bases, the Abrahams returned to their native New England in 1993 when Michael got a job at Norwich University. Abraham continued to cater parties with many of the same recipes she'd used at the Marine ball.
Though Abraham had not thought of food as her vocation, it was a lifelong avocation. "I've always measured my life by the meals we had and where we were," she says. She laughs as she admits, "I go to the gym at night with a friend, and we spend the whole time talking about recipes. I get done with one meal, and I'm thinking about the next."
It wasn't until Abraham was raising her three children (now all in their twenties) that healthy eating became more important in her life. Her motto: "You should never have to eat something you hate, even to be healthy."
Abraham knows what she's doing when she makes four-point sandwiches, because she's been a Weight Watchers member herself. She can prepare any of the Bag Ladies sandwiches as a six-point wrap in flavors such as garlic herb and spinach, on a 100-calorie Arnold's Sandwich Thin, or on Maggie's Bread from the Montpelier bakery. They can also all be served "smashed," or heated on Abraham's panini grill.
For those who don't want to load up on carbs, every specialty sandwich can also become a Bag Lady Bucket — a salad featuring all its ingredients. Specialties include The Vermonter, a combination of caramelized turkey with apple, cheddar, lettuce, carrots and Abraham's extra-sharp honey mustard. The Monument is a spicy midday meal of roast beef, onions, lettuce, tomato and feta with hot peppers and horseradish mustard.
The options are nearly endless, claims frequent customer Mary Jane Magnan, who works at nearby Richard J. Wobby Jewelers. Though Magnan does not follow the Weight Watchers plan, she says ordering the four-point sandwich ensures she will have a healthy lunch. "[Abraham] has such a variety that you can get something different and low fat every day," she says. "We go at least two or three times a week. We call every day to hear the specials, but she's very good — if she has a soup we like, she'll just give us a call and let us know."
Weight-loss diets are no longer the only ones to which Bag Ladies caters. "I'm seeing more and more people who are lactose or gluten intolerant," Abraham says. She assures celiac-suffering customers that, since she makes all her own dressings, her salads will not have a trace of the offending protein. She steers them toward her Mexican Bucket, a hearty mix of rice and black beans. As for eaters who avoid dairy, "The lactose-intolerant ladies know Thursday is squash soup," she says. "It has no cream in it, but it tastes like it does."
Though Abraham is renowned for her soups, "She hates making soup!" Conti confides. That's partly because of the prep: "Soup is an event," sighs Abraham. Though she arrives at her small kitchen in Simply Delicious at 7 each morning, she starts the soups the night before, sautéing vegetables and chopping sausages. No wonder she takes a break from the liquid grind from June to September, when soups are replaced by pasta salads.
Abraham does all her own prep work, whipping up everything from cooked chicken to spicy Buffalo ranch sauce to whole-berry cranberry relish. She uses very little salt in her sauces, replacing it with spices and fresh herbs, she says. Bag Ladies even serves freshly made hummus, in which Abraham replaces the tahini paste with sesame oil. "The fat content gets lowered by one third," she explains. "I use a lot less garlic than I would at home, because people have to go back to work!"
Abraham knows getting back to work is her customers' priority, and that's precisely why she devotes so much time to preparing food ahead. "From the time you place your order, I can have it ready in 60 seconds," she brags. "People are busy. If they want to hang around and talk to me, that's OK, but it's ready."
With the looming presence of candy so nearby, has Abraham ever seen a dieting customer splurge? She swears she has not, but adds that she's not a great believer in self-deprivation. "When people pat their stomachs and say they couldn't possibly eat dessert, I say, 'One piece of cake is not going to make you fat or give you high blood pressure,'" she remarks. "I don't think I've ever passed up a dessert. Someone's gone to all that work." In the spirit of moderation, however, Abraham keeps the desserts she offers at Bag Ladies, such as brownies and Congo bars, on the small side.
Abraham says supporting her neighbors is of enormous importance to her, both personally and in her business. "I stay as close to my community as I can," she says. "I use local products." She sends her tips to the food bank and marches for causes such as addressing autism and breast cancer, saying, "I try to change the charities I contribute to every couple of months, so everyone gets some support." In 2001, Abraham started a small Bag Ladies scholarship at Barre's Spaulding High School for a student who demonstrates an entrepreneurial bent.
Of her own entrepreneurship, Abraham says she hopes to expand her business. "If the deli got bigger, that would be nice, but not so big it's running me," she says, adding that time with her family is still the top priority.
Nonetheless, Abraham says helping Barre eat healthily is what makes her happiest. "I think everyone should do something that feeds their soul," she says with a smile. "It so feeds my soul. If you've got that, your life is complete."