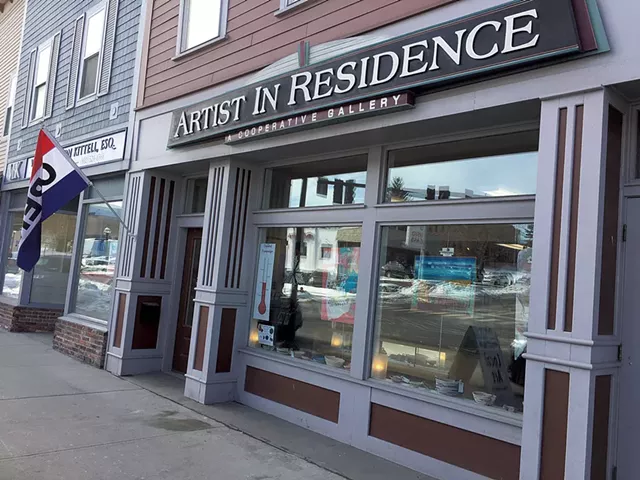 Pamela Polston
AIR Gallery in St. Albans
A classic thermometer, hand-drawn on a tall rectangle of white cardboard, is placed prominently near the front door of the Artist in Residence Gallery in St. Albans. Nearby sits a bucket filled with small artworks, handmade greeting cards and a tiny bottle of maple syrup: a raffle prize. On the wall behind the counter, columns of names printed on paper ovals are ordered into bronze, silver and gold donors.
A typical arts fundraiser? Not quite. AIR Gallery has an ambitious goal: buying the building in which it resides. The first step is to raise $29,000 for a down payment toward a $145,000 mortgage; the remainder would be paid with a loan from Peoples Trust Company.
It seems like an audacious undertaking for a gallery that's not quite 3 years old. But AIR has an impetus: The building's current owner, St. Albans City, wants to sell.
"Would you like to give us some money?" Barry Genzlinger asks cheerfully when a reporter calls. Genzlinger, who makes turned wooden bowls, is one of 45 juried member-artists at the gallery. He's also treasurer of the AIR board and president of Vermont Hand Crafters, the state's oldest craft organization. He and AIR board president Paule Gingras, a watercolorist and painting teacher, agree to meet up at the gallery on a Saturday afternoon to talk about their endeavor.
Pamela Polston
Barry Genzlinger with fundraising thermometer
The storefront, about a century old, had been empty for several years, Gingras explains. After a manure truck crashed into the building in a freak accident in 2011, the city bought the building from the previous owner and renovated it. But it withheld specific outfitting pending the requirements of a future occupant. That "open canvas" would become a boon to the gallery-to-be.
"I knew about the building because I've had a business here for 30 years," Gingras says, referring to Le Salon, which she describes as both an art and hair salon. She had been involved in a now-defunct Enosburg gallery with an artist-in-residence model and liked the idea of bringing the concept to St. Albans. So, in the fall of 2015, Gingras and another artist met with Martin Manahan, the city's director of operations and business development, to look at the empty space at 10 South Main Street.
"Marty said they'd love to have us," Gingras recalls. "He said the city would eventually want to sell the building. But they outfitted everything we needed." She gestures around the neatly organized space, which indeed has all the hallmarks of a contemporary gallery: track lighting, hanging racks, wood floors and crisp white walls. "They even put the bathroom where we wanted it," Gingras adds.
AIR Gallery set up shop in April 2016 not as a cooperative per se, Genzlinger clarifies, but as "a group of cooperating artists." Each member takes a turn minding the store; today, decoy carver Eddie Gagne sits whittling a trio of ducks as wood shavings pile up at his feet.
Three or four member-artists at a time are featured — with front-of-gallery placement — in month-long exhibitions that open with public receptions. "We get a pretty good crowd in here for those," Genzlinger remarks. The venue also hosts occasional classes and workshops.
He further notes that AIR has been pleasingly progressive on the financial front. "Our annual sales have gone up each year," Genzlinger says, though he declines to cite specific figures. "This past December was our largest month ever."
With locals "still discovering us," he says, the group was encouraged enough to consider a major investment. But to buy the 1,440-square-foot property, the artists needed to form a 501c3. So they did, creating a seven-person board.
With its nonprofit status acquired, AIR took the plunge in January. "Our goal is to have the $29,000 by the end of March," Gingras says.
"We're optimistic," adds Genzlinger.
The red ink on that thermometer reads $15,000 and counting.