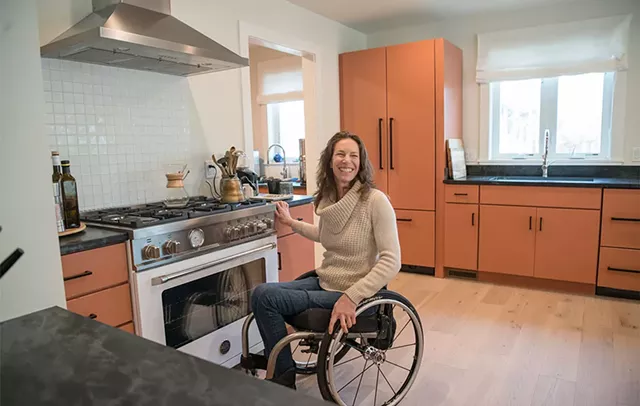 Daria Bishop
Edie Perkins in her kitchen at her South Burlington home
On a snowy winter evening, a large pot of water boiled away on a Bertazzoni range — the Steinway of stoves — in Edie Perkins' kitchen. A saucier pan heated on another burner, prepped with ingredients for a classic linguine con vongole. The extra-low soapstone countertops gleamed; appliances were carefully spaced and also lowered.
Perkins moved easily around the island-less rectangle of space in her wheelchair. With the pantry's open shelves, everything was within reach. The kitchen connected to a living room suffused with soft music and recessed lighting. There, Addie the cat lay stretched in a savasana pose before a gas fireplace ignited by a push button.
From the street, Perkins' South Burlington home is virtually indistinguishable from its brethren in the South Village development off Spear Street — except for the switchback ramp to the front door, a modification allowed by the homeowners' association. The development clusters single-family homes, condominiums and townhouses around a farm and is advertised as an "agrihood." A whiff of Stepford-like sameness is inescapable.
But Perkins' house is different. Inside, the accessible adaptations reveal themselves slowly, like clues in a good whodunit. And a whodunit is an apt analogy, for this is the work of several authors, and the finale wasn't conceived until late in the narrative.
Daria Bishop
Addie the cat lounging in the living room
Perkins' home embodies many of the principles of universal design, which provides maximum functionality for the greatest number of people, including anyone with a physical or mental disability. The house conveys a simple grace without screaming accessibility. Perkins, who hails most recently from Los Angeles, was determined that her home be stylish, she said. Her friend Patricia Pomerleau of Burlington calls it "chair chic" — a fresh, sophisticated design that comforts the inhabitant and stimulates the visitor.
You could say it's Perkins' dream house — yet it is the result of a nightmare.
An accomplished runner and cyclist, Perkins was out for a training ride in LA on the morning of April 20, 2017, when she was struck by an SUV driven by a motorist momentarily blinded by the sun. The accident caused her to be paralyzed from the chest down. Her recovery was arduous, but eventually she was on a bike again, competing on a handcycle. Burlington's Kelly Brush Foundation, which aids those who have suffered spinal injuries, took note and hired Perkins as its executive director in January 2021.
Ready to start afresh, and with two-plus decades of experience in business management, Perkins began thinking about her new residence before leaving the West Coast. Working with realty firm Coldwell Banker Hickok & Boardman led her to Sheppard Custom Homes, an Essex Junction-based developer, and discussions about a home in the South Village development. New to Vermont, Perkins thought it best to live in a neighborhood.
Project manager Peter Sheppard admitted that, as a builder of private homes, "we don't build a whole lot of handicap-accessible or ADA-compliant homes," referring to the Americans with Disabilities Act, a law that prohibits discrimination based on disability in spaces open to the general public.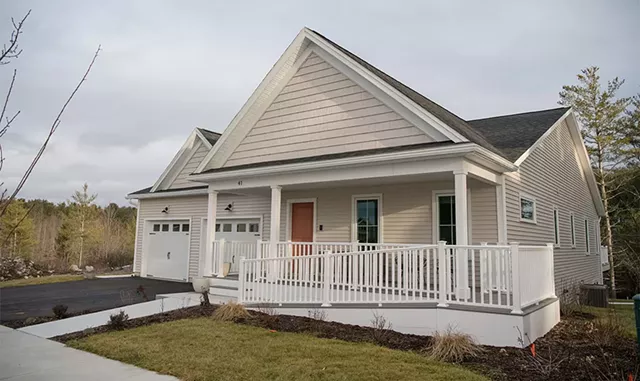 Daria Bishop
Exterior of Perkins' home
"They were brand-new to this, but they were very accommodating," Perkins added.
"She went to contract with pretty much our standard plan, with just a few tweaks to it that accommodated her situation," Sheppard said. Foundations were poured in early 2021. After Perkins shared the plan with Pomerleau — who built her own home in Burlington's Hill Section based on universal design — the latter suggested engaging an architect who could focus on accessibility and "make sure that the kitchen, at least, is going to really work," Perkins said. "And she found Mr. Buckley for me."
Cleary Buckley is a partner in Smith Buckley Architects of Burlington, a firm that specializes in commercial projects — Burlington's Farmhouse Tap & Grill, for example. As a wheelchair user himself, he understands the design challenges and emphasized the importance of weaving solutions into the entire home-building process.
Daria Bishop
Edie Perkins dropping a towel in the laundry chute
"From my standpoint, the process was not the best," Buckley said of becoming involved after construction had begun. "My role was largely coming in and trying to work with stuff that was set [and] just make the plan flow and work better for Edie."
Sheppard said he was glad for Buckley's involvement as a person who understood the demands of life in a wheelchair. The developer said he delayed framing the house for two months while changes were discussed.
Sheppard had already installed an elevator for the two-floor home that can accommodate a person in a wheelchair plus one or two standees. Built by Savaria of Brampton, Ontario, it cost approximately $25,000, he said.
The original plan required entering the home through the garage, where a ramp would lead up to the main floor. But, as Buckley pointed out, "Edie is head of a disability organization, so it's not great optics to have a house where visitors have to enter through the garage." Instead, he added an attractive ramp leading to the front door.
"Something that's interesting about designing a house for someone who's disabled is that you don't really have to follow the codes," the architect explained, referring to ADA. "There's no accessibility code that applies to a single-family residence."
Daria Bishop
The dining area and window seats
In addition to the front entrance ramp, Buckley made several other adjustments to the original plan. He redesigned a very wide entrance hallway to add closet space and enlarge the main bathroom. "I have room to transfer from my chair to the toilet," Perkins said. "And the shower is a roll-in, so I can get to my shower chair without having to get over a curb or the side of a tub."
Buckley moved the laundry room from behind the kitchen to the lower level, allowing for a pantry to be built in that space. He also added a laundry chute.
Finally, Buckley designed the kitchen as an open plan with countertops lowered three inches below the standard three feet. Cabinets were replaced with open shelving. "I can prep food at a comfortable height," Perkins explained, "and just reach into the shelves for anything I need."

Perkins said much of the design and the sense of style were the work of Candy Kavanagh of Weston Design in Shelburne. "She's been the glue, a kind of contractor who knew all the painters, electricians, plumbers — as well as handling design," Perkins said. "She's awesome."

During a tour, Buckley seemed satisfied that the house would function well for Perkins but wished he'd been involved from the groundbreaking. "It's easier to design accessibility features in an integrated way," he said.
For Perkins, the finished house was well worth the delays in the process. "Designing my house from scratch enabled me to dial in conveniences that make it easier to take care of daily tasks," she said. "All the little things make a big difference."

Updated on February 3, 2023, to include the contributions of Candy Kavanagh.