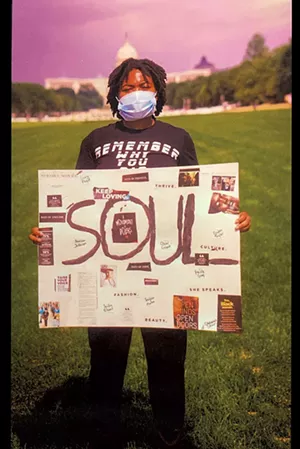 Courtesy
Soul by Devyn Thompson, Lulu Publishing, 110 pages. $16.
The 19-year-old woman whose poetry I've been reading alternately rages with political protest and coos with gender-bending sensuality and self-discovery. On the first page of her book, titled simply Soul, Devyn Thompson is photographed in black and white and is shockingly posed to look like she's hanging herself. On page 21, she wears a slinky red dress and looks over her shoulder; the continent of Africa is tattooed on her back. The page delivers one word: "Desire."
Along with the daring chameleon depicted in Jeron Hagler's photographs, I see my favorite kind of artist. Thompson is an unpretentious art maverick with a lot of nerve and earned self-reliance. In 2020, while many of us hunkered down with lots to grieve over, she took her own grief, wrote a book and published it herself.
Thompson is a sophomore at Northern Vermont University-Johnson and the point guard for the women's basketball team. The Baltimore, Md., native never expected to live in Vermont, but one of the school's assistant athletics directors, Greg Eckman, recruited her.
In a Zoom interview, I asked Thompson whether she's more writer than athlete or more athlete than writer.
"I'm a basketball player that's good with a pen, as well," she replied. "Basketball I like to think of as 'poetry in motion' because it's so precise and it's so free flowing."
Thompson grew up the only child of a single mother who made sure her daughter got good grades so she could play basketball. Thompson got serious about the sport and used it as a ticket to her future.
"From day one, it was just me and my mom," Thompson said. "I felt like it was me against the world. I did all my recruiting myself. Most of my teammates had the privilege and connections and resources to attend training and recruiting camps. I was training myself. I was putting myself on all the recruiting websites. I even had to make my own highlight videos."
She felt drawn to Eckman's invitation to NVU, was awarded an academic scholarship and moved to Vermont. But it did not turn out to be the dream year she had expected.
As one of just 25 Black students on campus, Thompson said, "I was prepared to be the super minority. You get all the jokes — the pepper in a whole bunch of salt. Vermont is a whole different world.
"Back home in Maryland, all my friends look like me," she continued. "Once you're here in Vermont, everybody doesn't understand your slang, everybody doesn't understand what you do. It's a whole culture shock."
Thompson used poetry to address the racism she experiences and also to articulate the emotions of an especially difficult year: a disappointing basketball season, the anxiety of the pandemic, the police killings of Black people, the haunting of a sexual assault in middle school, and simply growing up in a complicated world. As she puts it in her introductory remarks, "This book is my personal journey to liberation as being black, and being a woman."
Thompson said she pushed beyond the fears she had while writing Soul. "What if it doesn't do well? What if it doesn't get the reaction I want? What if it's just a waste of time?" she remembered thinking.
Though initially interested in finding a more mainstream publisher, Thompson was turned off by the waiting period to see whether her work would be accepted. She decided to publish with Amazon on a platform that put the book's creation in her hands.
Soul employs a simple table of contents that designates each chapter's theme: The Intro, Survival, Desire, Will, Air, Sound, Light and Thought. Each chapter offers a photograph of the poet taken by Hagler, her collaborator and friend from middle school. The chapter "Sound" pictures Thompson being muffled by a hand over her mouth. "Thought" shows a sullen Thompson in front of a boarded-up church.
A poem in "The Intro" section repeats the phrase "Fear is nonexistent." Thompson acknowledges that it comes from an interview with late Los Angeles Lakers basketball player Kobe Bryant, who died in a helicopter crash in January. Thompson admitted she was greatly affected by his death.
"Kobe Bryant was one of my role models when I was younger because of his work ethic. So when he passed, my heart hurt," she said. And she wondered what he meant by "Fear is nonexistent."
"I feel fear all the time — from goals in sports, or in the classroom. Fear about, am I going to make it? Am I going to be alive tomorrow?" Thompson said.
Then she explained what she got from Bryant's words: "If you prepare for everything in your life that you are afraid of, and you know what you need to do, you won't be afraid. If you know that something is inevitable, why be afraid of it?"
Fear certainly didn't stop Thompson from finishing her book, flaunting her natural hair and finding "Black joy" in a place where other Black people are scarce.
Though Soul explores the struggle and pain of Black existence, it also exhibits a great deal of Black joy. I asked her what she thinks of the term, because some readers might not be familiar with it or understand the importance of putting those words together.
"You have to say the words 'Black joy,'" Thompson said. "The best way I can explain Black joy is by the example of Creole women in the South being told they had to hide their hair. They were like, 'bet,' and they put jewels all up on that shit.
"Black joy is turning nothing into something," she continued. "It's us being able to come together in this election and get that man out of office. That's Black joy. Black joy is not having any fear about being ourselves."
So, how has she harnessed that joy on a predominantly white campus? "Trust. In Vermont, in my first year of college, the majority of students of color were on the basketball team," she said. "We all trusted each other; that's how we were just able to be our authentic selves."
Thompson referenced a special bond she had with fellow basketballer Mamadou N'Diaye, whom she met in Vermont but who was also from Maryland. "I could speak my slang to Mamadou. He could be his regular self towards me," she said. "We didn't have to pretend to be a certain way like we do around white people; we didn't have to talk a certain way or act a certain way to not come off as threatening ... We could be joyful, just being ourselves."
Thompson was devastated by N'Diaye's sudden death in July, in an accident on Lake Koocanusa in Montana. Soul had come out two weeks prior. She wished she could have dedicated the book to him.
During our interview, Thompson's Zoom room captured an orange-painted ceiling that looked like a glowing halo beyond her hair. She peered through our virtual exchange wearing square-rimmed glasses. Simultaneously, she was squinting up at me from the cover of Soul in my lap.
In the photo, Thompson wears a protective face mask and holds a hand-painted protest sign in front of the U.S. Capitol Building. "SOUL" is painted on the sign, which also bears George Floyd's name and a pastiche of magazine clippings with inspirational messages: "Raise your Voice." "Open minds, open doors." "Days of Anguish." "Days of Hope." The sign, like its bearer, is complicated, filled with anguish and hope.
Excerpt of Poem in "Survival" Chapter
The same cornrows sported for style kept
food out of sight
It was the escape map at night
Locs Were a symbol of royalty from Egypt
to Ethiopia don't you dare call them
dreadful
Black athletes
Black activists
Black artists
Why are black people so loud?
Because we're done being silenced.
Free form or micro
My hair was never ugly
The sight of hair thicker than wool defying
gravity
So triggering it's deemed unprofessional to
be ourselves
Elders meet me in each strand tightly
coiled and bound together in my scalp
Why would I be ashamed of my strength?
Black children
Black politicians
Black liberation
Why are black people so loud?
Cause we raising Hell till we reach heaven's
doors.