COURTESY OF ROBERT SANSON
Circus Smirkus
First Nights Burlington
When the clock strikes midnight on December 31, Burlington will usher in 2018 with a bang of fireworks over Lake Champlain. But that's just the final touch on the annual revelry that is First Night Burlington. Founded in 1983, the event has become Vermont's largest single-day arts celebration, a substance-free festival serving up 13 hours of eclectic entertainment in more than a dozen downtown venues. Buy a button, then crisscross the city for a classic cabaret by Burlington's Lyric Theatre, aerial artistry and general clowning around by Vermont's award-winning Circus Smirkus, high-energy funk-rock by local band Gang of Thieves, and so much more. Cheers to the New Year.
Sunday, December 31, 11 a.m.-midnight, at various locations in downtown Burlington. Info, firstnightburlington.org.
Innovation Playground
James Buck
Innovation Playground
American inventor Thomas Edison once said, "To invent, you need a good imagination and a pile of junk." Innovation Playground takes that concept and runs with it. The all-ages experiential exhibit, created in partnership with the Champlain College Emergent Media Center and Burlington's Generator maker space, fuels imaginations with play stations featuring giant foam blocks, a cardboard spaceship, a shadow-puppet light box and more. Staff-led STEM (science, technology, engineering and mathematics) programs teach tinkerers about everything from circuits to robots. Start here, and innovation knows no bounds.
Open daily (except December 24 and 25) through Monday, January 15, 10 a.m.-5 p.m., at ECHO Leahy Center for Lake Champlain in Burlington. Info, echovermont.org.
Winter is a Drag Ball
James Buck
Winter Is a Drag Ball
No matter how much Vermonters love winter, more than a few months of its cold temps and dark days can start to feel like a drag. Enter February's well-timed Winter Is a Drag Ball, an annual gala in support and celebration of Vermont's LGBTQA community. The fabulous fest attracts partygoers from all over New England for an evening of music, dancing and costumes. Burlington's House of LeMay drag troupe hosts this can't-miss social event of the season, which, over its 23-year history, has raised more than $200,000 for the Vermont People With AIDS Coalition.
Saturday, February 10, 8 p.m., at Higher Ground Ballroom and Showcase Lounge in South Burlington. Info, highergroundmusic.com.
---
COURTESY OF ROBERT SANSON
Circus Smirkus
First Nights Burlington
Sur le coup de minuit, le 31 décembre, c'est dans une pétarade de feux d'artifice au-dessus du lac Champlain que Burlington célébrera la nouvelle année. Ce sera l'apothéose de First Night Burlington, une grande fête annuelle qui dure toute une journée. Créé en 1983, cet événement est devenu la plus importante célébration des arts d'une journée au Vermont. On parle ici de 13 heures d'activités variées – sans alcool – dans une dizaine de lieux dispersés au centre-ville. Procurez-vous un macaron, puis déambulez dans les rues en vous arrêtant ici et là : spectacle de cabaret classique du Lyric Theatre de Burlington, prouesses aériennes et autres pitreries de Circus Smirkus, une troupe de cirque primée du Vermont, funk-rock vitaminé du groupe local Gang of Thieves, et beaucoup plus. Bonne année!
Le dimanche 31 décembre, de 11 h à minuit, à divers endroits au centre-ville de Burlington. Info : firstnightburlington.org.
Innovation Playground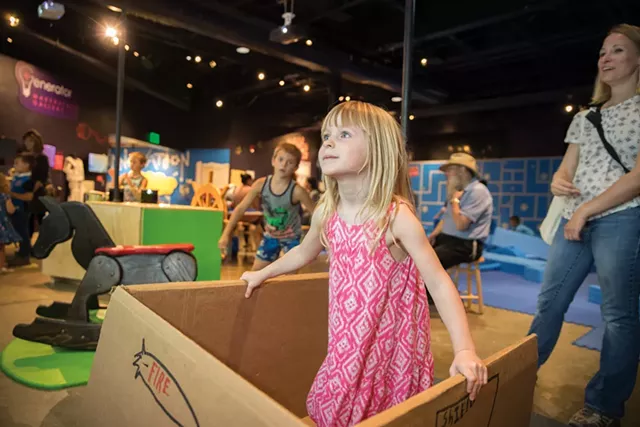 James Buck
Innovation Playground
L'inventeur américain Thomas Edison a déjà dit ceci : « Pour inventer, il faut une bonne imagination et aussi un énorme bric-à-brac ». C'est sur cette prémisse que repose l'Innovation Playground, un lieu d'apprentissage par l'expérience pour tous les âges en partenariat avec l'Emergent Media Center du Collège Champlain et l'espace de création Generator de Burlington, qui stimule l'imagination grâce à ses aires de jeu : blocs de mousse géants, vaisseau spatial en carton, théâtre d'ombres chinoises, etc. Les programmes de sciences, technologie, ingénierie et mathématiques, animés par des membres du personnel, permettent aux inventeurs en herbe de se familiariser avec une foule de sujets, des circuits jusqu'aux robots. Ici, l'innovation ne connaît pas de limite.
Ouvert tous les jours (sauf les 24 et 25 décembre) jusqu'au lundi 15 janvier, de 10 h à 17 h, à l'ECHO Leahy Center for Lake Champlain à Burlington. Info : echovermont.org.
Winter Is a Drag Ball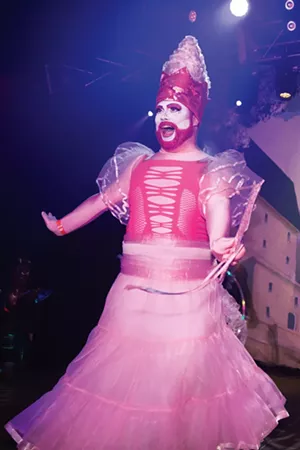 James Buck
Winter Is a Drag Ball
Certes, les Vermontois adorent l'hiver, mais comme tout le monde, après des mois de froid et d'obscurité, ils ont envie de passer à autre chose. Le bal Winter Is a Drag, un gala annuel visant à soutenir et à célébrer la communauté LGBT qui a lieu au début de février, arrive donc à point nommé. Ce fabuleux festival, où règnent musique, danse et costumes, attire des fêtards de toute la Nouvelle-Angleterre. La troupe de drag-queens House of LeMay de Burlington anime cet événement social incontournable qui, au cours de ses 23 ans d'histoire, a permis de recueillir plus de 200 000 $ au profit de la coalition Vermont People With AIDS.
Le samedi 10 février à 20 h, au Higher Ground Ballroom and Showcase Lounge, à South Burlington. Info : highergroundmusic.com.