courtesy of Grup Anwar
Grup Anwar
Vermont International Festival
In 1986, an eight-day international festival in Burlington called Interfolk-86 sowed the seeds for a celebration of world cultures that continues in Vermont to this day. For three days every winter, the Vermont International Festival brings global crafts, cuisine, music and dance to one bustling indoor marketplace, shining a spotlight on the diversity at our doorstep. Performers such as Jeh Kulu Dance and Drum Theater, Grup Anwar and Mal Maiz share traditions from West Africa, the Middle East, Colombia and beyond. Classes and demos introduce attendees to forza (samurai sword-inspired fitness), martial arts and Balkan folk dancing. Here you can wander the world without leaving the state.
Friday through Sunday, December 2 through 4, at the Champlain Valley Exposition in Essex Junction.
First Night Burlington
Courtesy of Lyric Theatre
Lyric Theatre
The New Year's Eve countdown to midnight is a long one in Burlington — it lasts a full 13 hours. That's because First Night Burlington, a citywide festival of the arts, kicks off at 11 a.m. with show tunes and continues throughout the day with classical music, Vermont-made films, Irish dancing, ghost stories and everything imaginable in between. Must-see local acts include aerial and acrobatic arts from Circus Smirkus, American folk traditions from Cricket Blue, a big-stage revue by Lyric Theatre, country and juke-joint refrains from the Starline Rhythm Boys, and original children's music from Chris Dorman. Stroll in and out of 17 downtown performance venues as you please — and then step outside as dazzling waterfront fireworks begin the New Year with a bang.
Saturday, December 31, in downtown Burlington.
Penguin Plunge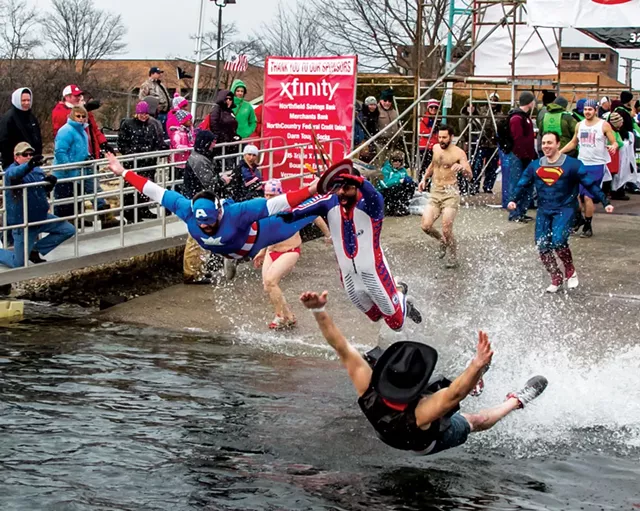 Courtesy Of Special Olympics Vermont
The Penguin Plunge
When it comes to winter workouts in Vermont, skiing, snowboarding and ice-skating spring to mind first. But another shivery sport should be added to that list: swimming. Every year, stalwart swimmers go for a chilly dip on the shores of Lake Champlain to raise money for Special Olympics Vermont, a nonprofit supporting sports training and competition for athletes with intellectual disabilities. In the decade since its inception, the Penguin Plunge has grown into the organization's largest annual fundraising event: Last year's 1,200 warmhearted participants took the ice-cold plunge to drum up $460,000. Watch it all go down at Burlington Harbor — or do the splash-and-dash yourself!
Saturday, February 4, at Waterfront Park in Burlington.
---
Vermont International Festival
courtesy of Grup Anwar
Grup Anwar
En 1986, le festival international de huit jours Interfolk-86, à Burlington, lançait une tradition de célébration des cultures du monde qui se poursuit encore aujourd'hui. Chaque hiver, pendant trois jours, le Vermont International Festival met en valeur l'artisanat, la cuisine, la musique et les danses du monde dans un marché couvert fort animé, où se reflète la diversité de notre région. Des artistes et des groupes comme Jeh Kulu Dance and Drum Theater, Grup Anwar et Mal Maiz vous feront découvrir les traditions de l›Afrique occidentale, du Moyen-Orient, de la Colombie et d›autres régions. Vous pourrez également vous familiariser avec le forza (exercice qui s'inspire du maniement du sabre de samouraï), les arts martiaux et la danse folklorique des Balkans grâce à des cours et à des démonstrations. Bref, vous ferez le tour du monde sans prendre l'avion!
Du vendredi 2 décembre au dimanche 4 décembre, à la Champlain Valley Exposition d'Essex Junction.
Courtesy of Lyric Theatre
Lyric Theatre
À Burlington, le compte à rebours jusqu'à minuit la veille du jour de l'An dure 13 heures! En effet, le festival First Night Burlington, qui s'étend sur toute la ville, débute à 11 heures le matin avec des mélodies de comédies musicales et se poursuit toute la journée avec de la musique classique, des films réalisés au Vermont, des danses irlandaises, des histoires d'épouvante et une foule d'autres activités. Parmi les prestations locales à ne pas manquer, mentionnons les prouesses aériennes et acrobatiques de Circus Smirkus, les traditions du folklore américain de Cricket Blue, la revue à grand spectacle du Lyric Theatre, les refrains country et de style cabaret des Starline Rhythm Boys et la musique originale pour enfants de Chris Dorman. Parcourez à votre guise les 17 lieux de représentation au centre-ville, sans oublier de mettre le nez dehors sur le coup de minuit pour admirer les éblouissants feux d'artifice du Nouvel An au bord de l'eau.
Le samedi 31 décembre, au centre-ville de Burlington.
Penguin Plunge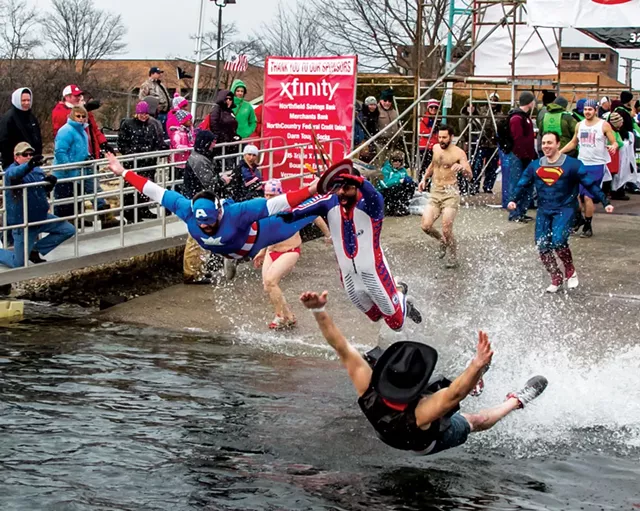 Courtesy Of Special Olympics Vermont
The Penguin Plunge
Lorsqu'on pense aux sports d'hiver au Vermont, le ski, la planche à neige et le patin viennent tout de suite à l'esprit. Vous pouvez maintenant ajouter à cette liste la baignade. Frileux s'abstenir! Chaque année, des baigneurs courageux font trempette dans les eaux du lac Champlain afin de recueillir des fonds pour Special Olympics Vermont, un organisme sans but lucratif qui soutient l'entraînement et la compétition chez les sportifs ayant une déficience intellectuelle. Le Penguin Plunge est devenu la plus importante activité de financement de cet organisme au cours de ses dix ans d'existence. L'année dernière, les 1 200 participants au cœur vaillant qui ont osé ce plongeon glacial ont amassé 460 000 $. Allez assister à leurs prouesses au port de Burlington — ou faites vous-même le grand saut!
Le samedi 4 février au Waterfront Park, à Burlington.