Courtesy of Robert Swanson
Circus Smirkus
First Night Burlington
Some New Year's Eve countdowns are short and sweet, lasting only as long as it takes for the ball to drop on the stroke of midnight. In Burlington, however, revelers observe far more than the year's final seconds. The city's First Night celebration — a substance-free tradition now in its 33rd year — commences at noon on December 31. In the 12 hours that follow, the festival of the arts spreads to more than 20 downtown venues, which host nearly 100 artists in all-ages performances.
Vermont talent shines here: Don't miss Circus Smirkus' exuberant athleticism, Kat Wright & the Indomitable Soul Band's powerhouse vocals, or Burlington cabbie Jernigan Pontiac's taste-of-place storytelling. Buy a festival button for full access to taiko drumming, cabaret revues, vaudeville shows and standup comedy. Then step into the streets for the Dancing Dragons Parade and, of course, to watch fireworks bursting over glistening Lake Champlain.
Hotel Vermont Ice Bar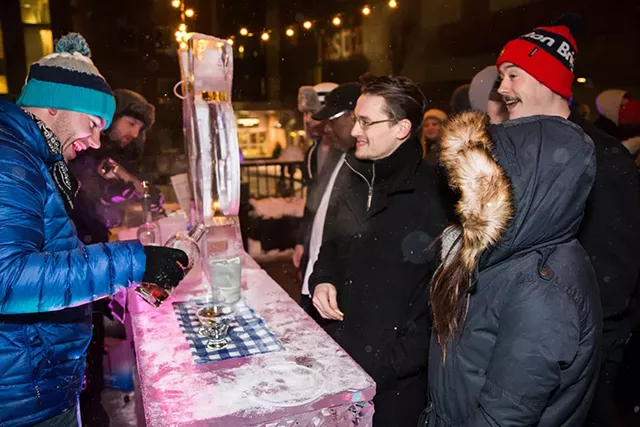 Courtesy of Joey Jones
Hotel Vermont Ice Bar
Winter lasts long in Vermont — locals like to call it the six-month season. Unless you're heading out for a snowy day on the slopes, it can be tempting to stay inside and hibernate. The Hotel Vermont Ice Bar will draw you back out into the urban tundra. This frozen fête, held in conjunction with the Burlington Winter Festival and Penguin Plunge, sets the scene for a magical outdoor evening. Behind bars made of twinkling ice, bartenders pour Vermont-made artisanal beverages; your drink may even slide down an ice luge before it hits your glass. Restaurants Juniper and Bleu Northeast Seafood serve locavore eats, and musicians and surprise performers — past years brought a flash mob and a fire-breather — entertain the crowds.
Wintervale
Stretching alongside the mighty Winooski River, Burlington's 350-acre Intervale bustles with organic farm activity in summer. When winter snow blankets those fields, they transform into a pristine playground. That's why volunteers with the Intervale Center — a farmland cooperative working to strengthen community food systems — groom three miles of trails for classic and skate skiers. Visitors can glide through the fields at any time but should certainly plan to do so at the annual Wintervale celebration, which offers free ski, snowshoe and fat-bike rentals, as well as kids' activities. Chilly out? Warm up with food-truck fare and hot cocoa from Lake Champlain Chocolates.
---
First Night Burlington
Courtesy of Robert Swanson
Circus Smirkus
La veille du jour de l'An, certaines célébrations ne durent que le temps du fameux compte à rebours jusqu'à minuit. À Burlington, cependant, les fêtards ne s'en tiennent pas seulement à ces ultimes secondes, loin de là! L'événement First Night, une fête sans consommation d'alcool organisée depuis maintenant 33 ans, commence à midi le 31 décembre. Durant les douze heures qui suivent, ce festival des arts bat son plein dans plus de 20 lieux au centre-ville, où une centaine d'artistes donnent des prestations destinées à un public de tous âges.
Les talents du Vermont y sont à l'honneur : Ne manquez pas les exubérantes prouesses athlétiques de Circus Smirkus, les puissantes envolées vocales de Kat Wright & the Indomitable, ou encore les passionnants récits du chauffeur de taxi local Jernigan Pontiac. Procurez-vous un macaron du festival pour avoir accès à toutes les activités : tambours Taiko, spectacles de variétés, vaudevilles, monologues comiques, etc. Ensuite, descendez dans les rues pour admirer le défilé des Dancing Dragons et, bien sûr, regarder les feux d'artifice au-dessus de la surface miroitante du lac Champlain.
Hotel Vermont Ice Bar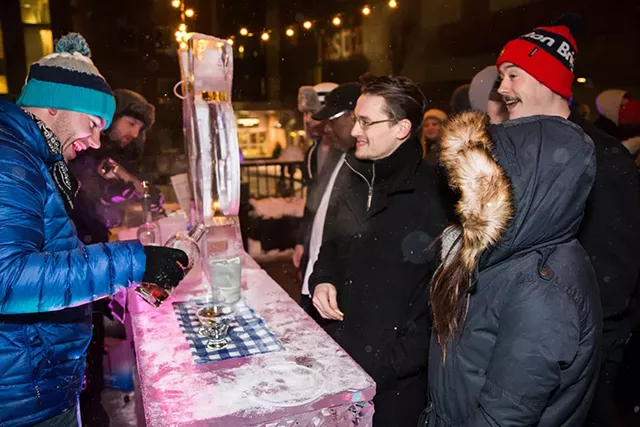 Courtesy of Joey Jones
Hotel Vermont Ice Bar
L'hiver est long au Vermont — ici, on dit même qu'il dure six mois! À moins d'être un amateur de ski et de prendre d'assaut les pentes enneigées, il peut être tentant de rester à l'intérieur et d'hiberner. Grâce au bar de glace de l'Hôtel Vermont, vous renouerez avec la toundra urbaine. Cet événement, qui a lieu parallèlement au Festival d'hiver de Burlington et au Penguin Plunge, est le décor parfait pour une soirée magique en plein air. Derrière les bars de glace scintillante, les barmans concoctent des boissons artisanales avec des produits du Vermont, et les font parfois même couler jusqu'à votre verre à l'aide d'une glissoire de glace. Les restaurants Juniper et Bleu Northeast Seafood servent des plats qui raviront les locavores, tandis que les musiciens et les numéros surprises – dans les dernières années, une mobilisation éclair et un cracheur de feu ont ravi les foules – viennent rythmer le tout.
Wintervale
La vallée de l'Intervale, qui s'étend sur 350 acres le long de l'impétueuse rivière Winooski, près de Burlington, bouillonne d'une intense activité agricole biologique en été. Quand l'hiver étend son manteau blanc, la vallée se transforme en terrain de jeu immaculé. Les bénévoles de l'Intervale Center — coopérative agricole ayant pour mission de renforcer le réseau alimentaire de la communauté — en profitent alors pour aménager près de cinq kilomètres de pistes pour les amateurs de ski classique et de ski de patinage. Les visiteurs peuvent parcourir la vallée quand bon leur semble, mais ont tout intérêt à le faire durant l'annuel Wintervale pour profiter de la location gratuite de skis, de raquettes et de vélos à pneus surdimensionnés ainsi que des activités pour les tout-petits. Vous êtes gelés jusqu'aux os? Les camions de cuisine de rue et le chocolat chaud de Lake Champlain Chocolates sauront vous réchauffer!