Macaroni and cheese is without doubt one of the best comfort foods. While this week's weather has finally warmed up a bit, the chilly early spring had me craving bowls of the carb-y goodness.
Yet mac and cheese is versatile and pairs well with all of Vermont's seasons — just look at the number of restaurants that keep it on the menu year-round. Spring? Add a handful of chopped asparagus. In summer, toss in fresh cherry tomatoes from the garden. Come fall, why not add a little pumpkin? And in winter, some braised pork or a ladle of chili will do the trick. This dinnertime staple can be simple or complex, savory or even slightly sweet.
Since dairy-rich Vermont produces a wealth of cheeses, I figured that might lead to some fantastic mac and cheese. Over three days last week, I sought out the best local versions, eating my way from Barre to Vergennes to Burlington.
I noticed two things nearly everywhere: First, the portion sizes are insane. Most registered dieticians would faint at the sight of one of these entrées. In more than one place, an order of mac and cheese could feed a small family. Don't get me wrong; I like leftovers. But as a society, we have a little problem with calorie consumption. Maybe less temptation in a single serving would be advisable.
The second thing I noticed? Almost everybody is on board with giant, bouncy cavatappi — that's Italian for "corkscrew." In English, these noodles are also known as double elbows.
What follows is by no means a comprehensive guide, just five very different options that satisfied my mac-and-cheese longing.
Barbecue Mac
Our House Bistro, 36 Main Street, Winooski, 497-1884, ourhousebistro.com
Matthew Thorsen
Barbecue mac at Our House
At Our House Bistro in Winooski, mac and cheese is king. An entire page of the menu is dedicated to the restaurant's variations. These range from peanut-butter-and-jelly mac to poutine mac (mushrooms, scallions, bacon, and the traditional gravy and cheese curds). If nothing quite appeals, you can, as the restaurant puts it, "twist your own."
A server talked us through the options, enthusiastically recommending the barbecue mac ($18) — chicken or pulled pork (we chose the latter) folded into cavatappi, onions and cheddar, and finished with fried onion strings and a drizzle of barbecue sauce. We also ordered the jambalaya mac ($19), which came with andouille sausage and Cajun seasonings; and the seasonal mac ($16), which combined asparagus, ham, a poached egg and honey mustard. If you can hold your cravings until Tuesday, you'll be rewarded with $2 off your mac and cheese.
The barbecue mac was by far our favorite, and the first to go when we divvied up the leftovers. The pork was tender and juicy, the onion strings added crunch, and the sweetness of the barbecue sauce nicely juxtaposed the sharp cheddar. In my book, this was exactly what a creative mac should be, and it was a promising start to my macaroni mission.
Bacon-Jalapeño Mac
Cornerstone Pub & Kitchen, 47 North Main Street, Barre, 476-2121, cornerstonepk.com
Melissa Haskin
Bacon-jalapeño mac at Cornerstone Pub & Kitchen
On North Main Street in Barre, Cornerstone Pub & Kitchen has been turning out excellent fare since 2012. Here, too, mac and cheese gets its own special section on the menu. Diners can choose traditional, buffalo-style, bacon-jalapeño, lobster or Sugar Shack, which contains bacon and maple.
The bacon-jalapeño ($12) was speckled with little chunks of jalapeño and packed a nice heat. The applewood-smoked bacon and the pepper added different kinds of crunch. Folded into cheddar cheese and noodles, they yielded a dish that made for a nice grown-up lunch.
I also tried the buffalo blue ($12) — fine but not life altering — and the Sugar Shack ($13), which was a bit of a letdown. Maple can be a great complement to savory dishes, but here the syrup was added with a heavy hand, turning it almost into dessert pasta. But it still had the competing, bold flavor of the cheddar. My advice? Stick with the bacon-jalapeño.
Ham-and-Tomato-Jam Mac
Bar Antidote, 35C Green Street, Vergennes, 877-2555, barantidote.com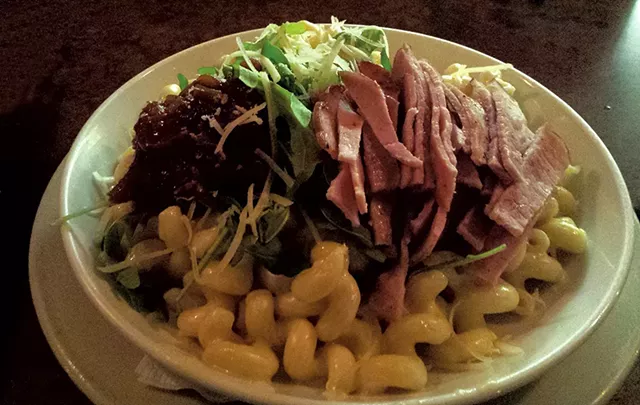 Melissa Haskin
Ham-and-tomato-jam mac at Bar Antidote
Bar Antidote in Vergennes has just one mac and cheese on the menu: the Antidote Ham 'n' Mac 'n' Cheese ($14). The pasta came doused in a cheddar-cheese sauce in a bowl that held two meals. Strips of Dakin Farm cob-smoked ham topped the mixture, as in a Cobb salad.
The salty meat was a welcome addition, but the garlic-tomato jam really made this dish. The roasted garlic played second fiddle to sweet tomato chunks, and the jam was served in a small heap on top of the noodles, along with arugula. I mixed it together so that every bite combined all the flavors and textures. Bring a companion to share this, or plan on leftovers.
Classic Mac
The Farmhouse Tap & Grill, 160 Bank Street, Burlington, 859-0888, farmhousetg.com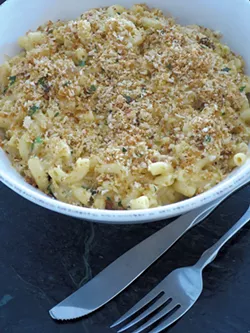 Matthew Thorsen
Classic mac at the Farmhouse Tap & Grill
The mac and cheese at the Farmhouse Tap & Grill is simple and classic ($16.95). And generous. Think elbow noodles and breadcrumbs in a portion big enough to feed you, Magic Johnson and three of his friends. If you ask, the server will bring a half-size portion ($7.95). And, unless you really want to eat mac and cheese all week long, half-size is the way to go.
Along with the several cheeses, herbed breadcrumbs and noodles, the dish is purported to include caramelized onions. I found some limp onions in my bowl, as did the diner sitting next to me at the bar who had ordered the same. None looked caramelized, and that was a shame; I would have enjoyed the sweet flavor of tender brown onions. That said, the mac tasted just fine without them.
According to Jed Davis, managing partner of the Farmhouse Group, the mix of cheese changes slightly each night. Usually it includes Cabot cheddar, Cabot clothbound cheddar and raclette. The chefs also throw in whatever usable cheese they have left from cheese boards prepared but not served. The night I ordered the mac, I thought it needed a little more punch, or maybe a sharper cheese.
Preferring a little heat, I asked for the housemade hot sauce, and I recommend it. Made with fresh cayenne peppers, it's far superior to any bottled brand. Added to the mac, it provided just the oomph I was looking for.
Cajun Mac
The Daily Planet, 15 Center Street, Burlington, 862-9647, dailyplanetvt.com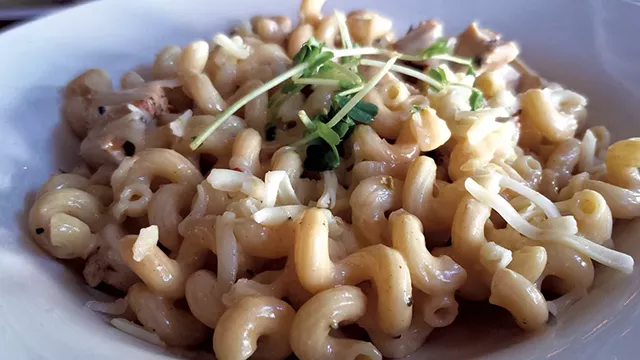 Melissa Haskin
Cajun mac at Daily Planet
At this Burlington institution, the mac ($7) is on the Bar Bites menu, but don't be fooled, it's definitely a full meal — or at least it was for me. Again, cavatappi had the starring role, this time with a variety of cheeses and Cajun spices. The creamy sauce was flavorful but not overpowering. I went for a $4 grilled chicken add-on, cut into cubes and tossed into my pasta. The char of the meat rubbed off ever so slightly, lending a little smoke to the entire dish.
This mac most resembles the one I make at home: noodles tossed with a little cream, cheese and a hefty shake of Dinosaur Bar-B-Que Cajun Foreplay Spice Rub. So now I know where to go for "home" cooking when I'm feeling too lazy to cook. For a more exotic mac and cheese, though, I'll probably make Our House my house.