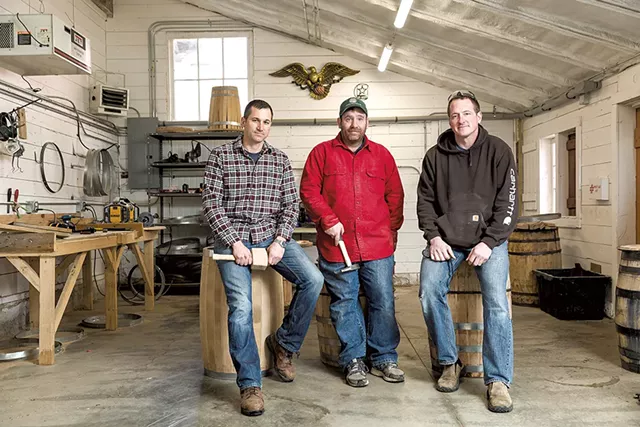 Oliver Parini
Left to right: Tony Fletcher, Josh Waterhouse and Mac Broich
Tony Fletcher aimed a large propane torch at a small pile of scrap lumber stacked inside a coffee-can-size metal container and instantly set the wood ablaze. The torch, which resembled a flamethrower, seemed like overkill for igniting such a small blaze. But soon the fire was crackling, allowing one of Fletcher's business partners, Josh Waterhouse, to position a ring of wooden staves over the flames.
Fletcher, 41, and Waterhouse, 37, were working in the "bending room" — really, just a small, unfinished alcove — in Fletcher's 1850s-era dairy barn in Richmond that's now home to Green Mountain Grain & Barrel. The cooperage, or barrel-making operation, began producing barrels about 18 months ago and is the first in Vermont in at least two decades.
The company's third partner, Mac Broich, 43, explained that the "grain" in the GMGB name refers both to the grain of the white oak they use to make the barrels and to the barley, corn, wheat and rye that go into distilled spirits.
As the wood staves slowly warmed over the flames, Waterhouse moistened them continuously with a wet rag to keep them from catching fire. This toasting process serves dual purposes, Fletcher explained: First, it makes the naturally rigid and straight oak boards pliable enough to bend into the curved barrel shape. Second, it softens the wood's tannins, allowing them to better interact with the liquid — in this case, bourbon — that will age inside the barrel for as long as two years.
After about an hour, Waterhouse used a pulley and winch attached to the wall to slowly bend and fit the staves together inside a galvanized steel hoop. Once the staves were firmly in place, he dropped another steel hoop over the barrel and hammered it snug. Later, they would char the barrel's interior, cut and custom-fit circular "heads" at either end and drill a bunghole in the center. Once the 30-gallon cask is deemed watertight, the wood will be branded with the GMGB logo and delivered to the customer.
Though the work is sometimes laborious, nothing about cooperage is mindless or mundane. If anything, the methods GMGB uses are the antithesis of mass production. The artisans use power tools to cut and sand the staves and heads, but each barrel is handcrafted and, hence, unique. Barrels were made by hand for centuries and used not just for aging liquor but also for storing dry goods. At one time, nearly every Vermont town had its own cooper.
"A bunch of math is involved in making this simple container," Broich said. "Do you remember learning trigonometry — when you were going over cones and parabolas and all that stuff? That's what this is."
Beyond getting all the geometry just right, the coopers must pay attention to many other variables. If they cut the staves from wood with hidden knots, if the moisture content is too high or if the medullary rays — the radial ribbons that extend vertically through a tree — run at the wrong angle to the growth rings, the barrel may leak, requiring hours of troubleshooting. As Fletcher put it, "Every barrel is a problem-solving exercise."
But he, Broich and Waterhouse were trained to solve problems. All three are longtime members of the Vermont National Guard and deployed together to Afghanistan in 2010. A couple of years ago, three of their Army buddies, who'd also gone to Afghanistan before founding 14th Star Brewery in St. Albans, decided to branch out and produce bourbon and maple rum, too. Their new enterprise, which officially launched last year, is called Danger Close Craft Distilling.
At the time, Fletcher recalled, the bourbon makers expressed concern about the difficulty of finding a steady supply of oak barrels. Under federal law, whiskey must be aged in new, charred-oak barrels before it can be called bourbon.
The Danger Close distillers weren't the only liquor producers facing that problem. Since about four years ago, the entire spirits industry has experienced a severe barrel shortage caused by a perfect storm: skyrocketing consumer demand for American bourbon, an explosion in new distilleries entering the market and bad weather in the region where white oak was harvested.
Oliver Parini
Barrels
Fletcher, Broich and Waterhouse, all of whom still have day jobs, offered to help out their brothers-in-arms and build barrels in their spare time.
But, as the trio quickly discovered, crafting barrels is easier said than done. Though the men are experienced woodworkers, cooperage proved far more complicated than building kitchen cabinets or custom furniture. And, unlike with most wood crafts, there were no other coopers in Vermont to teach them the trade. So they spent their first six months trying to figure out how to make a solid, watertight barrel.
Others in the industry weren't exactly keen to help them. Large-scale cooperages in other states typically keep their operations secret and are averse to sharing their methods or materials. At one point, Fletcher traveled to a large cooperage in Louisville, Ky., that was getting rid of 10 stave wheels, which are five-foot blades used to cut staves at precise angles.
Fletcher returned to Vermont and lined up the financing to purchase one. But before he could buy it, another large cooperage swooped in and bought all 10. Fletcher phoned the new owner and asked if he could buy just one. He was rebuffed.
"I said, 'Are you going to use them all?'" Fletcher recalled about the conversation. "'No, I just like to buy up this stuff so no one else can get it,'" the competitor told him.
Fletcher was powerless to do anything about it. Fortuitously, the Vermont Agency of Agriculture, Food & Markets stepped in last May and gave GMGB a $50,000 grant from its Working Lands Enterprise Initiative, which will help the company upgrade its equipment and increase production. (Currently, GMGB produces no more than half a dozen barrels per month.) The agency saw the cooperage as a long-term investment in Vermont's craft spirits industry, which has grown from just three licensed distilleries in 2004 to 28 today, according to the Vermont Department of Liquor Control.
But equipment isn't GMGB's only hurdle.
"The thing I'm most worried about is our long-term sourcing of wood," Fletcher admitted. "Right now we can say that all our barrels are made with Vermont wood. But there's not a lot of white oak in Vermont."
Indeed, several large cooperages in the region have secured exclusive, long-term contracts with Vermont log yards to buy all their white oak, which is already an uncommon species in the state. According to Paul Frederick, wood utilization and wood energy program leader at the Vermont Department of Forests, Parks and Recreation, white oak lumber represented just 0.35 percent of the state's annual hardwood harvest in 2016. And, as Frederick pointed out, finding white oak logs that are suitable for staves — that is, free of branches, knots and defects — will be an even taller order.
Still, the coopers at GMGB are prepared to soldier on. As Fletcher put it, "We've encountered a lot of speed bumps, hiccups and barriers and navigated our way through all that."
GMGB hit one such speed bump in 2016, shortly after it sold three barrels to one of its first customers, Mad River Distillers in Warren.
"They [called me and] said, 'All your barrels are leaking,'" Fletcher remembered. "I had this sick feeling in my stomach. That was everything we'd been working for."
Fletcher immediately rushed over to the distillery and was able to tighten the barrels, which had shrunk during the aging process. What could have been a costly error proved to be a valuable lesson for the new coopers. Fletcher said they now check the moisture content of all their wood throughout the process. If it exceeds 13 percent — about 10 percent is ideal — they set the wood aside to age longer.
Alex Hilton, general manager and distiller at Mad River, said the leaky barrels weren't a big deal. He's had barrels from other cooperages leak before and called it "pretty common." Hilton said he still has faith in GMGB's craftsmanship and overall mission.
"I love that they're going for it," he added. "Anything we can do to support local businesses and Vermont-made products, we're all about it."
Other local distilleries seem to agree. According to Fletcher, SILO Distillery in Windsor just bought five GMGB barrels. Danger Close bought eight and plans to buy more.
"Having GMGB produce our barrels brings great comfort, as we know the same effort and detail we put into our spirits will be the ... level they put into their barrels, which should make for a tasty combination," said Danger Close cofounder Zachariah Fike. "We also look forward to collaborating with them in the future both in the barrel- and spirit-making process, which should allow us both to refine our trades."
Thus far, the Richmond coopers have sold a few barrels to craft brewers, too, including Vitamin Sea Brewing, whose owner made the four-hour drive from Hull, Mass., to pick up just one. But, although GMGB has had numerous inquiries from out-of-state distillers, Fletcher said they've had to turn some of them away, at least for now.
"We want to support the Vermont craft beverage industry," he said. "We don't mind expanding outside the state, but not at the [expense] ... of Vermont businesses."