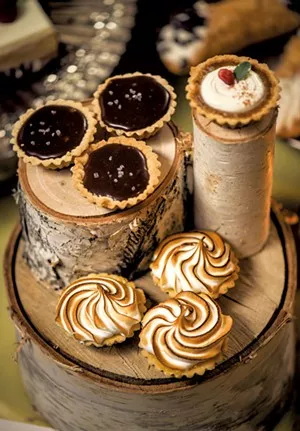 Richmond is home to plenty of restaurants. But on Monday evenings, noted Lisa Curtis, owner of Sweet Simone's at 40 Bridge Street, all but the pizza joint close, leaving locals hungry for more dinnertime options.
So Curtis, who lives in nearby Huntington, decided to do something new: Beginning on September 18, Sweet Simone's will serve family-style Monday-night meals to eat in or take out. The food, which will include dessert, "will probably be in the $20-per-person range," she said. Beer and wine will be available à la carte.
Ethan Chamberlain, a specialist in savory baking, will work with Curtis on the themed, ever-changing menus. So far, they've dreamed up meals based on Maine chowder, brisket, ramen and roasted chicken. There will always be less-expensive offerings for kids, too, such as pasta and chicken. "It will be really family friendly," Curtis noted.
The 25-seat bakery is known for Curtis' wedding cakes, coffee drinks and elegantly executed sweets, such as coconut cupcakes, fruit tarts, coconut macaroons and jellied pâte de fruit. Dinner will begin at five, with no explicit end time. "I can't imagine it being later than 10," said Curtis.
Even if things go well, Curtis has no plans to expand dinner service beyond Monday. "There are a lot of restaurants [in town]," she said, "and I don't want to compete."