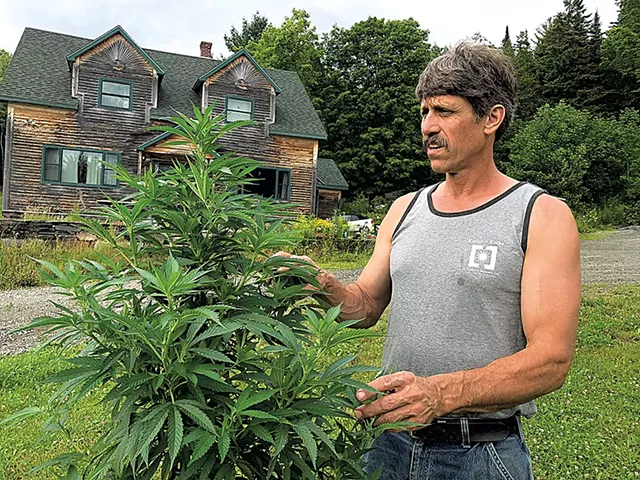 Alicia Freese
Sen. John Rodgers
With less than two weeks remaining before the August 14 primary, Democratic gubernatorial candidate John Rodgers is not scrambling for votes. He's moving stones and planting hemp.
The Northeast Kingdom state senator might have been a credible opponent against Republican Gov. Phil Scott in November's general election. As the only challenger who's served in public office, he's arguably the most qualified. But Rodgers' unorthodox approach gives him the slimmest of chances in the Democratic primary. He has chosen to run as a write-in candidate and is leaving the work of campaigning to a small group of surrogates.
A statewide write-in win would likely be unprecedented in Vermont, according to the State Archives & Records Administration, which found no evidence of such a victory in records dating back to 1789.
While the four candidates on the Democratic ballot are trying to make themselves known to as many voters as possible, Rodgers seems content to remain the standard-bearer for the rural reaches of Vermont and, in particular, gun owners enraged by Scott's embrace of firearm reforms following a February school shooting threat in Fair Haven.
"They feel like they work hard, they pay their taxes ... and all's they ask for is to be left alone," said Rodgers, who despite being a Democrat is among the most conservative members of the Senate. "It's pretty easy to vote someone else's rights away."
Rodgers, 53, looks more like a cowboy than a politician and is more apt to tout his fishing skills and plumbing prowess than his legislative achievements. He's quick to mention that he was part of the fifth generation to live and work on his family's dairy farm in Glover. Today the father of two lives just a mile and a half away, in a house he and his wife, Brenda, built on 110 boulder-strewn acres. For most of his professional career, he's run J.S. Rodgers Masonry, a one-man shop specializing in excavation and dry stonework
Partnering with his elder son, also named John, Rodgers is starting a hemp company. Head-high cannabis plants populate the senator's front lawn, and the pair has been experimenting with making cannabidiol-infused lip balm, hand cream and organic dark chocolate fudge. Derived from hemp buds, CBD is a compound used to treat various ailments; Rodgers takes it for back pain caused by years of manual labor.
Hemp, unlike its cousin, marijuana, doesn't contain enough THC to produce a high. Asked whether he was considering growing marijuana, which became legal in limited quantities in Vermont on July 1, Rodgers grinned and responded with a mischievous "maybe."
In a recent interview at his home after work, the senator appeared in a sleeveless shirt with "Rodgers Rocks" printed on it and Carhartt jeans with holes at the knees.
A tour of his house included a glimpse into his gun safe, which holds about 15 firearms, and a stop in front of an 11.4-pound trout he caught last summer, took to a taxidermist and mounted in his living room. Outside, Rodgers hopped in a camouflage-patterned four-wheeler, which he refers to as "my beast." As its motor roared and exhaust fumed, he casually drove a reporter over large rocks and up a steep incline — the vehicle tilting at gravity-defying angles — to show off a view of the Green Mountains from a nearby hilltop.
Back at the homestead, he declared, "Safari's over" and parked next to his skidder, which, he noted, "is something not many senators have."
Rodgers, who represents Essex and Orleans counties, regularly flaunts his rural bona fides by drawing contrasts with more urbane Senate colleagues. This is a deliberate and shrewd strategy, suggested Sen. Phil Baruth (D/P-Chittenden), an English professor at the University of Vermont. "Like lots of politicians, he has different personas that he uses, and one of them is the good old guy from the Kingdom, where he'll drop his Gs [and] work you into a trap of underestimating him."
Rodgers, who has a thick, gray-flecked mustache and boyish bangs, wears the requisite coat and tie when he's at the Statehouse, but even there he eschews dress shoes for cowboy boots or sneakers.
"He looks like the gunslinger in a Western movie," Baruth said.
It's not all shtick, Baruth clarified: "He is the thing, but he also knows how to sell the thing."
Rodgers is plainspoken — "granite cuts slicker than shit," he told a reporter — but he knows how to employ poetry. He began a memorable speech against gun control by saying, "The soil of the Kingdom is in my blood, and a fair amount of my blood is in that soil."
Rodgers, who served eight years in the House before winning a Senate seat in 2012, has earned the nickname "Freedom Boy" for his libertarian zeal. He supported marijuana legalization and often criticizes what he considers excessive government regulation, especially when it comes to logging and farming. Several years ago, he helped lead a fight against large-scale wind turbines.
As a conservative senator with a wayward streak, Rodgers has a complicated relationship with the Democratic majority.
"Sen. Rodgers is not an active member of the caucus," said Majority Leader Becca Balint (D-Windham). "He sometimes votes with us, he sometimes doesn't, and sometimes we don't know until we get on the floor."
"I'm not a sheep," said Rodgers, who appears perfectly comfortable with his outsider status. Growing up, he said, "The hippies thought I was a redneck and the rednecks thought I was hippie, but I got along with all of them, and it's been sort of the same in the Statehouse. Some of Democrats think I'm a Republican and some of Republicans think I'm a Democrat, and I get along with all of them."
Though he can exasperate his colleagues, "It's impossible not to like him," Baruth said. "He's roguish and charming."
When it came to the legislation that would require background checks for all gun purchases, raise the purchasing age to 21, ban bump stocks and limit the capacity of ammunition magazines, the maverick Democrat made his opposition known early and often.
Still, his fellow senators looked stunned in March when Rodgers, wearing an American flag tie, stood up to deliver a speech laced with apocalyptic threats. Conjuring up the specters of nuclear war, terrorist attacks, climate change and even a robot takeover, and describing gruesome rapes and murders in uncomfortable detail, Rodgers argued that the gun-control measures would undermine Vermonters' ability to defend themselves.
More disturbing to some was Rodgers' assertion that this was one more example of out-of-staters destroying Vermont culture. "When I was young," he said, "it seemed like the people who moved here moved here because they loved it here, and they embraced our values and our heritage and our traditions ... but it seems now that we've been overpopulated with folks who came here for different reasons and aim to take much of that away."
Rep. Kiah Morris (D-Bennington), who is black, later tweeted, "Gotta say: Sen. Rogers [sic], likening your colleagues to insects that have 'overrun' Vermont is both racist and historically violent."
Democrats in one corner of the Northeast Kingdom, Essex County, took the unusual step of issuing a public statement condemning their senator's remarks. "We were, frankly, horrified," party committee chair Laura Wilson said.
Fellow senators were more inclined to give Rodgers the benefit of the doubt. "I think he got a little bit carried away characterizing people who weren't born in Vermont as an invasive species," Baruth said, but added, "He's not the sort of person to, under any normal circumstances, signal the difference between you and him."
Rodgers dismissed the accusation of racism as "total bullshit" and later clarified that he didn't mean to universally disparage nonnative Vermonters. But he reiterated that he believes some of Vermont's newer residents are "chipping away" at a way of life that includes hunting and fishing and a "live and let live" philosophy.
For better or worse, the gun legislation Rodgers fought so hard against has considerably elevated his public profile. While his speech drew criticism, it also won him admirers outside the building.
In April, Rodgers, irate over the gun reforms, said he was considering running for governor. In May, he backed out, citing the demands of his masonry and hemp businesses.
Then, in June, Angelo Napolitano, a Waitsfield libertarian, and Richard Ley, a Republican-leaning, retired maintenance worker from Clarendon, approached Rodgers about running as a write-in candidate. Neither knew Rodgers personally, but both had been impressed by his role during the gun debate and sensed that he shared their concerns about the state.
"We're losing our farms. We're just losing our culture. We're just losing our state," said Ley, who blames this on "too much liberalism in our government."
Of Rodgers, Ley said, "He's a hardworking guy. He hunts ... He understands us."
Rodgers said he'd run but told them he wouldn't have time to campaign.
While the chances of winning as a write-in are low, this approach allows Rodgers to run for reelection to the Senate at the same time. He hopes to secure a committee chairmanship next year and said he would have been reluctant to relinquish his seat.
The "non-campaign campaign," as he described it, is also a low-risk way of testing the waters — and increasing his name recognition — for a future statewide run. Even without his name on the ballot, Rodgers scored an invite to at least one upcoming Democratic debate.
If this year's results are promising, Rodgers said, "Maybe in two years, I'll reconsider it and do it both feet in."
That attitude doesn't sit well with some. "If he's serious about it, he should have run as a candidate [and] forget running for the Senate," said Sen. Dick Mazza (D-Grand Isle), a Scott loyalist. "I don't think it's fair to the public."
Ley, who said about 10 people are leading the campaign on Rodgers' behalf, claimed that "We have a ton of support," but "we really can't say who they are." The group isn't fundraising, and the only visible signs of its work are a Facebook page, a website and a series of YouTube videos.
Voters fired up about gun rights are Rodgers' most obvious source of support, but polling suggests they're not as plentiful as he might hope. Last week, Vermont Public Radio and Vermont PBS released polling results showing that only 25 percent of the 603 residents surveyed objected to the new gun law. Among self-identified Democrats, only 11 percent opposed it.
Gun Owners of Vermont, an advocacy group, decided to support both Rodgers and Keith Stern, who's challenging Scott in the Republican primary. Since voters must choose either a Democratic ballot or a Republican one, the dual endorsement has pitted Stern supporters against Rodgers' allies and could effectively split the pro-gun vote.
The group's president, Ed Cutler, doesn't see this as a problem, noting that the candidates aren't running directly against one another, but he exhorted the two camps to stop attacking each other. "People ought to be more civil about it," he said. "I've never seen anything like this in my whole life."
The debate has unfolded on the Gun Owners of Vermont Facebook page. "Stern is all done. He's cooked. Remember I said that," wrote Rodgers supporter Rick Lafayette. Stern himself chimed in at one point, calling Rodgers arrogant.
Why does Rodgers stand by a party with which he no longer seems aligned? When asked this question, he usually points out that his grandfather was also a Glover Democrat, implying that he doesn't want to cede control of an identity and a set of values he's always considered his.
"It's not me that's changed," Rodgers said.