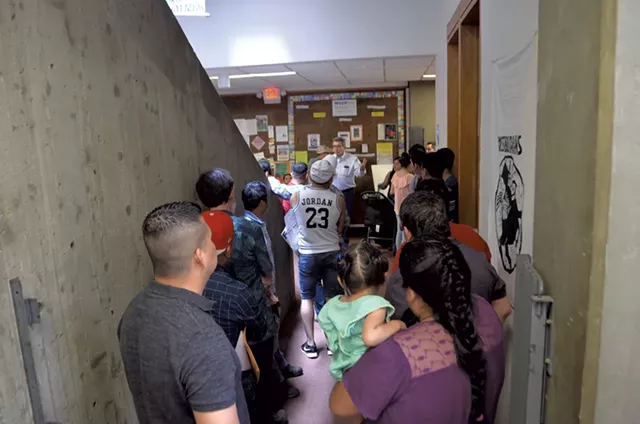 Katie Jickling
Mexican Consul General Emilio Rabasa speaking to attendees
In a drab, concrete building on the Goddard College campus in rural Plainfield, the Consulate General of Mexico set up shop Saturday to help its citizens obtain government-issued documents.
Finding the Eliot Pratt Center was no easy task. Several drivers had to double back after they failed to notice lawn signs sporting the Mexican flag with arrows pointing to the consulado movil, or mobile consulate.
But by 9 a.m., attendees were making their way inside the building, home to a library, a computer lab, administrative offices and the WGDR radio station. "Welcome, welcome," a volunteer whose name tag read "Katie K" told the arrivals.
Twice a year, the Boston-based consulate that serves much of New England comes to the Green Mountain State to give Mexicans a chance to procure passports, birth certificates and photo IDs. The documents issued during the daylong event can enable people to open a bank account or board a plane.
The guests headed downstairs and took seats in folding chairs around plastic tables. Fabric banners from Bread and Puppet Theater adorned the walls, with slogans such as "Resistance of the heart against business as usual" and "Courage."
The crowd was mostly young men who wore stiff jeans and button-up shirts. Some filled Styrofoam mugs with coffee and heaping spoonfuls of sugar and leaned against the walls to wait.
Many of the Mexicans living in Vermont are farmworkers, and some are undocumented. The consulate doesn't ask about immigration status, consulate director of communications Camila Aviña Zavala said.
The windowless basement had the bureaucratic feel of a department of motor vehicles office. In a hallway, consulate staffers manned workstations with printers, fingerprinting machines and cameras on tripods.
As the room filled, the gathering turned jovial and familiar.
"¿Qué onda?" people greeted each other. "What's up?"
Mothers passed their babies around for friends to entertain and admire.
"Everyone knows each other," explained Manuel, a 27-year-old with gelled hair from Essex Junction. He asked that Seven Days identify him by his first name only. "Vermont is like a little community."
He said he needed to renew his expired passport so that he would have a photo ID and could board a plane if he wanted.
A consulate employee handed out paperwork and hustled around with a clipboard, calling out names for appointments. Fifty-seven people had signed up with the consulate in advance; dozens more arrived without an appointment.
Manuel was among the latter. He settled in for a long wait.
Organizers occasionally made announcements, some of which included not-so-subtle references to President Donald Trump and his uncompromising immigration policies.
"I know it's hard at this time," the consulate's coordinator of community affairs, Oscar Daniel Escobar Mayorquin, told the crowd. Documents are important, he added, "so you have one less battle."
Though the pace was steady, the number of participants was down, said Joseph Gainza, who helped coordinate the volunteer effort as a member of the Central Vermont Farm Workers Coalition. Last year, 86 people had attended the Plainfield event. In 2016, 157 Mexicans had come, Gainza said.
Why the plummeting numbers?
Gainza shrugged. Some may have gotten the documents they needed in past sessions, he suggested. "Or it's just that they don't want to venture out," Gainza said, alluding to the heightened immigration enforcement under Trump.
Last year, organizers recruited "spotters" to stand watch down the road from the building in case Immigration and Customs Enforcement agents showed up. They didn't take that same precaution this year, but "it's a great concern," Gainza said.
Advocacy organizations had set up tables, job-fair style, with free pens and leaflets. The building crawled with volunteers, all handing out pamphlets or offering services. Nurses provided nutrition information, blood pressure checks and HIV testing to patients who sat on stools in semiprivate corners of the library upstairs. A dentist taught a 5-year-old girl how to floss by threading the dental tape through her fingers. She giggled.
Citizens Bank dispensed water bottles, pens and information about opening a bank account. University of Vermont Extension workers circulated, volunteering to translate. Staff from the advocacy group Migrant Justice surveyed attendees about work conditions, health and domestic abuse, marking their answers on clipboards.
For the first time, the consulate offered a financial workshop — partly to help those who are deported access their money, according to Ivan Guzman, who works at the consulate in New York. Sixteen people attended the session.
Guzman asked people with bank accounts to raise their hands. None did.
The first step, he advised: Open a bank account, so you can wire the money to a bank in Mexico if necessary.
Another must-have? "Presupuesto," he wrote on a white board: "Budget."
"Could you survive three months without work?" Guzman asked the group.
"Maximum, a week," a man muttered in the back of the room.
At lunchtime, the food truck Caja Madera arrived, and people lined up for tacos. They popped open sodas and sat on the steps of the building, legs outstretched.
Manuel chatted with Seven Days while he waited. He has been in the U.S. for five years, he said, and worked on a dairy farm in Connecticut, then on one in Vermont.
Earlier this year, tired of farming and unable to find other work without documents, he started his own business. He makes bimonthly trips to New Jersey to buy tortillas, spices and Mexican-made products that people can't find in Vermont. He gets up at 6 a.m. most days to sell the goods to workers at dairy farms.
Others, too, told Seven Days why they were there. Like Manuel, each asked to be identified only by his or her first name.
A man named Ruli wanted to open a bank account so he and his girlfriend could save some money. Martín had come from Derby Line to renew his passport. He'd been in the U.S. for nine years and hadn't seen his daughter, who was just a few months old when he left home, since. She and his wife might eventually come to Vermont, he said hopefully.
As the day wore on, sweat beaded on the faces of the six consul workers processing the paperwork. Babies fussed.
More and more people are getting documents for their children, said Aviña Zavala. Parents want to ensure that they have the papers needed to take their children to Mexico in case they are deported.
"People are very afraid," she said.
One woman brought her 7-month-old son, Matías. He had been born in the U.S. but got a Mexican birth certificate at the event. With dual citizenship and a passport, he might travel to Mexico to meet his grandparents, she explained.
As she held Matías up for the camera, a crowd gathered, shaking a stuffed animal in front of him, clapping, cooing and calling his name.
When the camera snapped, the crowd applauded. The passport photo captured the infant's wide-eyed surprise.
The event dragged past 2 p.m., when it was scheduled to conclude. At 4 p.m., Manuel sat down with a consulate staff member who took his expired passport, proof of address and driver's license. Manuel wanted a six-year passport renewal, he said. The worker reviewed his information and readied the camera. "One, two, three," she said, and the shutter clicked.
She took his fingerprints, and he signed a document. Manuel handed over the $101 fee and accepted the glossy new passport.
After six hours of waiting, it had taken all of 10 minutes.
As Manuel left, he said he wouldn't be back for a few years — assuming all goes as planned.