Gabrielle Coughenour
Guests get acquainted over cocktails and appetizers
In 2011, chef Kevin Lasko made international news when he prepared a deceptively simple dish of venison in tahini and date syrup. Topped with pine nuts and pomegranate seeds, his creation had an air of luxury enhanced by the dishes on which it was served: gold-plated china looted from Saddam Hussein's palace.
Lasko whipped up that dish at Park Avenue, the New York City restaurant where he switched not only menus but also concepts and the décor each season. His shifting moods, topicality and love of heritage table settings may seem tailor-made for the city's dining scene. Yet nearly a year ago, Lasko and partner Katie Stiles pulled up stakes and relocated to Pittsfield, Vt., where they now own the Original General Store.
Early this month, Lasko pulled out another set of historical plates — from the original Waldorf Astoria — to christen the couple's new weekend-only restaurant, the Backroom. With seating for no more than 20, it occupies a space that began as the general store's office. When Lasko and Stiles moved in, they turned that back room into the commissary kitchen for Vermont Farms Catering, their Vermont Fresh Network member company. (Lasko is the executive chef, Stiles the event director.) But the space still felt underused. "We thought about it and realized that we're only using it for catering for half the year," Lasko recalled. "We thought that the rest of the year, we might as well make something cool out of it."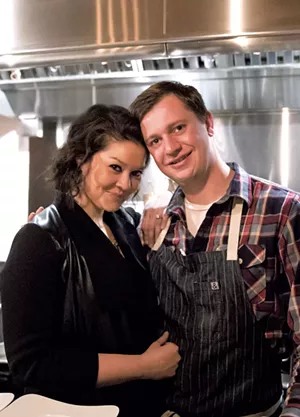 The first step was to apply their unerring eyes to decorating the small space. The dining room has wooden doors so massive they appear at first to be walls, creating a secretive, speakeasy atmosphere. A forest of bare light bulbs hangs on long, black wires over each of the two tables, while music plays from an iPod through a tinny gramophone speaker. Even the bathrooms have style to spare. Stiles and Lasko wallpapered the rooms themselves with paper from England that depicts kitchen tools such as pepper mills, scales and tongs.
It's a stark contrast to the traditional interior of the general store, with its dark wood and barrels of penny candy. Lasko and Stiles still sell cat food, DVDs of "Home Improvement" and other staples to locals who rely on the store as a community hub, but they've put their stamp on that business, too.
Since taking over ownership last March, the couple has transformed the store's perishable stock. Breads now come from Red Hen Baking Co., and most meats in the butcher shop are local. At breakfast, passersby can still pick up a bacon-egg-and-cheese sandwich or pancakes at the counter, but their options now include maple French toast with caramelized bananas and bacon marmalade, served with whole-grain avocado toast. Later in the day, the kitchen serves local-beef burgers, alongside hot sandwiches featuring Vermont Salumi sausage or slow-roasted pulled pork with plum-fennel jam.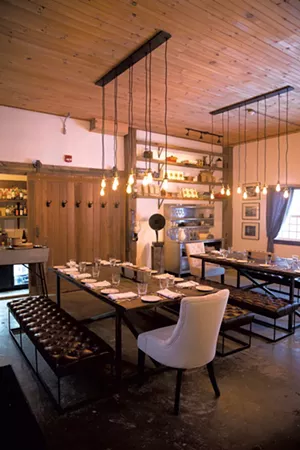 So how did Lasko, a New York Times-starred chef, and Stiles, the public relations and marketing director for the Fourth Wall Restaurants group, wind up running a general store 20 minutes from Killington? Vermonters can thank the Spartan Race.
The couple made regular stops in Vermont as they traveled throughout the Northeast competing in the grueling obstacle races. There, Lasko, a New England Culinary Institute grad, enjoyed crawling under barbed wire and leaping over flames with his lady love. And the pair got to know Spartan Race cofounder and CEO Joe De Sena in the trenches — literally. De Sena lives in Pittsfield, where his mini-empire includes the co-owned Amee Farm — a farmhouse that he and his family now run as a 15-room inn — and nearby event location Riverside Farm.
Back then, De Sena also owned the Original General Store — and was eager to sell it to the New York couple. "He was fed up with the store," said Lasko. "It was a huge pain for him. We didn't know how much work the general store would be. It turned out to be a lot more work than we were prepared for."
The endeavor might not have been all-consuming for another couple, but Spartans Stiles and Lasko clearly don't have the word "half-assed" in their vocabularies. While retaining everything charming about the circa-1888 store, they revamped it to showcase local brands. The certified-organic farm just across the street, Sweet Georgia P's at Amee Farm, provides produce — and every egg in the breakfast sandwiches.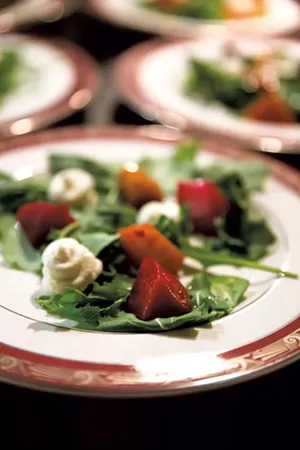 Stiles and Lasko live above the store's historic building and are rarely anywhere else. "We're basically here from 6 a.m. to eight or nine at night every day," Stiles admitted.
Last summer their already-packed schedule included catering more than 20 weddings, most of them at Amee or Riverside Farm. So why did Stiles and Lasko give their business a third prong — the restaurant — after less than a year? Stiles explained their reasoning: "Kevin's a trained chef; why not let him cook a little bit of what he's trained to do?"
The new venture seems destined to be busy, too: On the Backroom's first Saturday of dinner service, the small space sold out. Server and general store employee Jill McGrath greeted guests with glasses of sparkling wine. Lasko held court in his small kitchen — really just a slate counter facing stoves and a pantry stocked with delicacies such as quince vinegar and Italian fish sauce.
Over Thistle Hill Farm Farmstead Tarentaise fondue, diners perused the drink menu. Stiles and McGrath prepared the tipples from a well-stocked bar hidden in what looked like a coat-check area.
Lasko said he'd insisted that his favorite drink — a Negroni — be included on the menu. His version includes Barr Hill's barrel-aged Tom Cat gin and a blood-orange twist. The other cocktails were concocted by Stiles, who had restaurant jobs in college before her career in culinary marketing. One of her drinks, A Fine Mes, combined mezcal and Sugar Bob's Smoked Maple Syrup. The drink's sweet headrush promised to leave drinkers feeling just as its name assured.
The Backroom served four-course dinners in its first week, but Stiles said the couple would experiment with three for the next few weekly menus. "We'd like to evolve and do five or six courses with a different price point, then ramp it up from there," she said.
Gabrielle Coughenour
The Original General Store
After the fondue and drinks, diners tried a BLT salad featuring hydroponically grown lettuce and tomatoes with Jasper Hill Farm's Bayley Hazen Blue and homemade English-muffin croutons.
Though the salad was topped with a flavorful Green Goddess dressing and served on the Waldorf Astoria plates, it didn't prepare diners for the boldness of the next dish. Lasko had deconstructed his favorite bagel sandwich from New York's Russ & Daughters in the form of slippery chitarra pasta. Cold curls of salmon gave the warm, creamy pasta a slight puff of smoke. Dill-flecked crème fraîche took obvious inspiration from cream cheese on a bagel. But the cream was studded with tiny tobiko that popped with wasabi like spicy, fishy fireworks. It was a welcome shock that made the room vibrate with excitement.
One of the couple's stated goals in opening the Backroom was to "make friends." At the intimate tables, it was impossible not to. Meghan Sheradin, executive director of the Vermont Fresh Network, said she engaged in several unexpected conversations that night with her tablemates, who included De Sena.
"Sitting in a community-type meal can sometimes be scary for people, but once the conversation takes off, it just goes all over the place and you have an experience that's so much more than dinner. The question is, are you up for it?" Sheradin said.
Lasko himself spawned conversation with "the main event," a porcini-braised short rib over Nitty Gritty Grain Company of Vermont polenta. The entrée came with a side of kale amandine for the table. "Can anyone guess what the secret ingredient is?" Lasko asked. At the end of the course, he returned to see if anyone could name what made the braised green unique. No one figured out that its round, umami taste came from anchovy paste.
By the time dessert rolled around, diners did indeed feel like old friends, both with one another and with the Backroom's owners. There didn't need to be as much dark chocolate mousse as there was. But, dotted with intensely orange-flavored mascarpone, it was an irresistible take on an orange Milano cookie that everyone devoured.
Even once the bowls were cleared, guests seemed less than eager to leave. Many had a long way to go, having come from Montpelier or Burlington. Sheradin surmised that the Backroom will carve out its niche among just such demanding diners. "It's an amazing thing that this chef now lives in Vermont and has a restaurant that is definitely a destination," she said. "For a lot of people, you're definitely going to have to drive out of your way to get there."
Destination or not, the Backroom is sure to retain special appeal for those who discover the treasure hidden in the back of a classic Vermont general store. Some may even like its friendly atmosphere enough to stay in town for a breakfast sandwich the next day. They just shouldn't expect to see it on storied china.