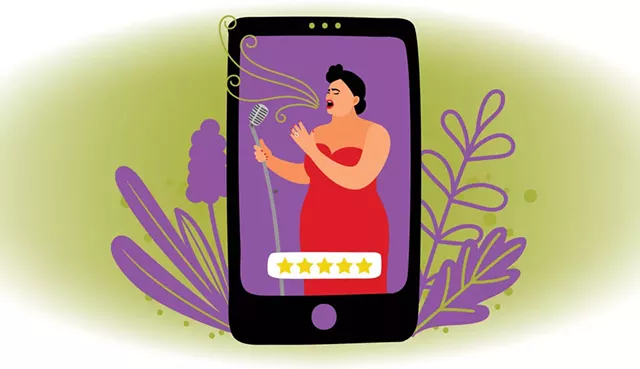 Now that Gov. Phil Scott has shut down bars, restaurants, nightclubs and every other place people typically gather en masse in Vermont, the world feels a whole lot smaller. Like, the size of one's own home. But, oddly enough, home is now the best place to stay connected with local music and comedy scenes.
Livestream concerts and other kinds of events have exploded in the last week. While broadcasting to followers in real time on Facebook, Instagram and other platforms is hardly new, the number of virtual concerts, open mics, comedy shows and music festivals available at a keystroke has increased exponentially since Vermont — and the rest of the world — shuttered its watering holes. A virtual concert might not match the gratifying energy of performing in a room with a captive, in-person audience, but it's the best way to keep the party going until things get back to normal.
For some local artists, though, producing livestream shows is a new thing, and many are figuring out how to do it on the fly. Having the right tools and following a few guidelines should help singer-songwriters, comedians and DJs succeed.
First and foremost, technical specs are everything.
"We use an ethernet cable," advises Tristan Henderson, guitarist for folk band Pete's Posse. "That's the best way to livestream."
He means that it's ill-advised to rely on Wi-Fi or 4G when broadcasting. Having a wired connection to a computer ensures minimal disruption of signal.
Pete's Posse played to more than 300 people during a recent livestream. Henderson notes that the band used a professional omnidirectional microphone and auxiliary webcam for its recent show, which provided above-average sound and picture quality. That's not to say that cameras and microphones already embedded in devices are crap. But they're certainly not the best.
Patching audio signals directly into the computer is essential for good sound quality, too. Bassist Alex Budney, of the Seth Yacovone Band and Al's Pals, is a professional musician who normally hosts a weekly open mic at the Localfolk Smokehouse in Waitsfield. With nothing but time on his hands now, Budney has taken to hosting DJ sets from his basement via social media. He feeds signals from his decks right into his computer, as well as from his bass, which he layers atop his funky selections, sometimes indistinguishably.
"A lot of people are really into it," Budney says. "I'm just trying to find the silver linings."
Choosing the right platform is important, too. If only one person is performing, Facebook, Instagram or YouTube should suffice. But groups of people banding together for a single event should consider using a service like Zoom.
Zoom allows multiple participants broadcasting from different locations to appear to viewers in a visually pleasing grid. Vermont Comedy Club opted for this service in a number of recent events. During a standup open mic, comics appeared side by side, recalling the set of the classic game show "Hollywood Squares."
OBS Studio is another similar platform. It's free and easily connects to YouTube and Facebook. Montpelier singer-songwriter Thomas Gunn opted for OBS Studio to mount an all-day virtual music festival and benefit for the Vermont Foodbank on Saturday.
"Livestreaming is so new as a mainstream thing," says Gunn. "It's something we're developing as we go." He counts himself lucky that his brother, Isaac, professionally produces live e-sports events using OBS Studio and was already familiar with the platform.
For the fest, the Gunns corralled more than a dozen Vermont-based artists, including Dave Keller, Danny & the Parts, and Julia Kate Davis, and the group turned out a professional-looking live event. Each artist appeared with an identifying graphic in the lower portion of the screen so viewers knew who was on the digital stage.
The online music marathon raised more than $2,400. Choosing a charitable cause and showing viewers how to donate has become a popular option for locals. Additionally, artists have been more adamant about monetizing themselves. Most clearly state how and where fans can drop a few dollars in the virtual hat — usually with existing services such as Venmo or PayPal. Others have embraced Patreon, a subscription platform that funnels money directly to the artist from patrons, who are then rewarded with special access to the artists' creations.
Aside from technical considerations, actually performing a livestream concert remains more or less the same as playing a live gig: Artists play their tunes; some talk a little bit about what the songs mean, others are less chatty. Audience engagement also remains a critical part of the equation. However, online-crowd etiquette doesn't follow the same established rules as a traditional in-person show.
For instance, during VCC's open mic, host Natalie Miller encouraged viewers to show support in the comments section — even when the comics engaged in a round of "@midnight"-style COVID-19 pop-cultural puns. Had the comics been riffing live onstage, this kind of audience participation could have been construed as heckling. But in the virtual space, it was necessary to keep momentum going.
"I'm actually connecting with people that I normally don't," says Budney of his comments section.
Henderson says that audience engagement during livestreams feels similar to when Pete's Posse plays house concerts, which comprise nearly half of their live appearances.
"People in the front row [at a house gig] throw out comments and spar with you," he says, adding that online commenters are similarly uninhibited. "It's surreal, and a really amazing experience, to have that conversation going."
"People are still figuring out what it means to interact with chats," says Gunn. "It's definitely a learning curve we've all been thrown into together." One lesson he's gleaned so far: "Even though we're separated physically, we still have a strong sense of community in Vermont."