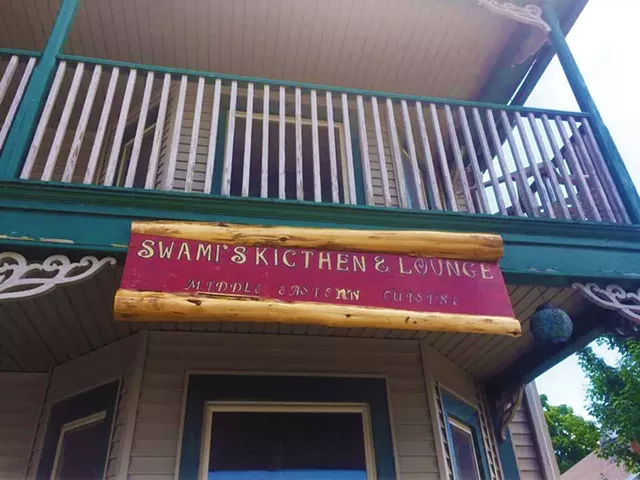 Courtesy Of Swami's Kitchen & Lounge
Swami's Kitchen & Lounge
People have long used literature to share stories and ideas across cultures. On July 2, when Swami's Kitchen & Lounge opens for weekday lunch service at 34 Pleasant Street in Morrisville, owner Dov Michael Schiller hopes to harness the unifying power of food in a similar fashion. The new Mediterranean café shares a roof with the Literary, the quirky used-books shop and café that opened at the same address last December.
The menu is inspired by food Schiller ate during childhood, when he lived for two years outside of Tel Aviv, Israel. It includes classic Israeli and Palestinian specialties such as pita sandwiches stuffed with chicken kebab or falafel; and mezze platters with hummus, baba ganoush and mujaddara, a lentil-and-rice dish. To drink? Teas and juices, including a special cardamom-honey kombucha from Hyde Park's KIS Kombucha.
Schiller has worked in the food and beverage industry most of his adult life, he said, with local experience serving at Hunger Mountain Co-op, the now-closed Swisspot and Moretown's Spice of Life Catering.
He's also an accomplished musician who teaches instrumental performance and is a member of the Greenbush Trio, the Limitless Project, and Tradewinds Improv Ensemble. In addition to serving lunch at Swami's, Schiller said, he plans to schedule live music showcases there.
"It has been a lifelong dream of mine to have something like this," the musician said, referring to his plan to blend food and beverage service with live music and cultural exchange. And, Schiller added, pointing to his broader mission, "I have lots of thoughts and concerns about that whole region and part of the world. I'm trying to help educate and bridge people and cultures, and to promote peace and awareness through food."