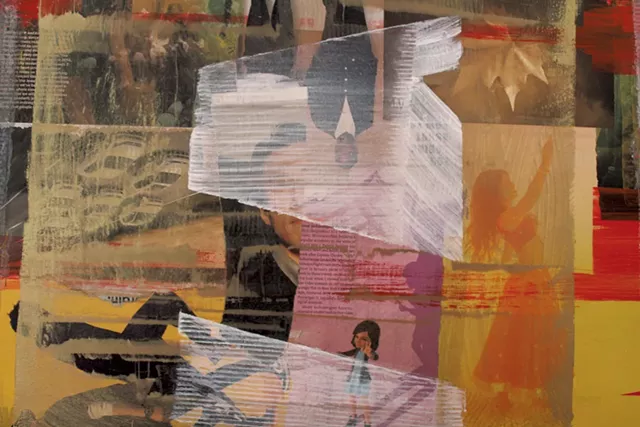 Julia Shipley
"A:V Doll" (detail) by Ted Zilius
A watercolor class, a poetry clinic, a Pilates class set to invigorating tunes: These are among the diverse activities taking place on any given night at River Arts. But on a recent evening, Morrisville's arts and community center opened its doors to a brand-new event: AMP Night. The acronym stands for art, music and poetry.
"We wanted to create an event that brought a mix of people together to celebrate creativity and experience a spectrum of artistic disciplines," said Dominique Gustin, River Arts' executive director.
Added Tamra Higgins, founder and program director of Jeffersonville-based Sundog Poetry Center, and AMP's co-curator: "Let's not sit alone in our own little farmhouses — let's come together. The arts are capable of impacting and changing people's lives."
Alejandro Angio and his catering service, El Hornero, offered attendees Argentinian empanadas before they climbed to the second floor of the 1847 former school building. There, they encountered the "A" — the walls were adorned with 20 paintings by Morrisville artist Ted Zilius in an exhibit titled "Sad and Jazz."
Event curators welcomed some two dozen audience members and introduced the night's three presentations: music by Ben Cosgrove, a reading by Vermont poet laureate Chard deNiord, and a brief talk about art by Zilius.
Clad in jeans and a plaid shirt, Cosgrove, 29, sat behind a keyboard and issued a torrent of landscape-inspired melodies to the rapt listeners. Next, deNiord read a suite of his poems, which were rich in natural imagery, as well as verses that paid homage to his late mentors and predecessors, Ruth Stone and Hayden Carruth.
Last, Zilius spoke about his acrylic works. Those with somber hues, he said, document his period of grief for a lost friend; the paintings with brilliant splashes of color illustrate his subsequent return to playfulness and joy.
River Arts and Sundog have similar missions — to offers arts experiences as a means of fostering and enriching communities. So it seemed natural for the two organizations "to synergize," as Gustin put it, and thereby potentially reach a wider audience.
Gustin and Higgins had collaborated once before, when they cohosted a publishers' fair at River Arts in 2015. In addition, Higgins had hosted a kindred series in Jeffersonville from 2013 to 2015 called Delectable Delights, which featured Vermont poets and musicians along with local food. When Gustin approached Higgins to enquire about another collaboration, the two decided to redesign and expand that program.
In 2010, another tri-genre series was founded in Franklin County called Celebration of Expressive Arts.* Founded by Becca and Bob Cummins, each event, held at the INN in Montgomery Center from April to September, showcases works by three different artists each time.
During the final interlude of the evening at River Arts, the artists took questions from the audience. Morrisville resident and fiction writer Catherine Boudreau asked them how they were influenced by other artistic disciplines. DeNiord offered his endorsement of 19th-century essayist Walter Pater's sentiment that "all art constantly aspires towards the condition of music." Zilius revealed that he dances around his canvas, listening to music, as he makes his paintings. And Cosgrove, who'd brought copies of his nonfiction chapbook, Seven Essays, to sell alongside his CDs, said that music provided a way to "think through" not just poetry and paintings but everything — from a town to a mountain range.
Zilius' paintings will be on view until May 9. In the meantime, April's AMP will bring Claire Dolan of Glover with a new cantastoria; FarmSong, a group of ag-oriented singers from the Northeast Kingdom; and Montpelier poet Kerrin McCadden, winner of the inaugural Vermont Book Award in 2015.
Gustin said she had observed that River Arts' concerts, readings and art openings often drew completely different audiences. She and Higgins expect that, with AMP Night, both event and attendance will be greater than the sum of its parts.
*
Correction, April 12, 2017:
An earlier version of this story misstated the year in which Celebration of Expressive Arts was founded. It began in 2010.