Photos Courtesy Of Sebastien Roy / Macm
"Passing Through" by George Fok
Montréal's latest official commemoration of its 375th anniversary could have been subtitled "Happy birthday, music lovers!" The Musée d'art contemporain has assembled the city's tribute to one of its most famous singer-songwriters, titled "Leonard Cohen: A Crack in Everything." The multimedia exhibition consists of visual art, installations, music, writing and performance and features 20 works by 40 artists from 10 countries. A related painting exhibition at the MAC, "That's How the Light Gets In," opens on December 15.
MAC director and chief curator John Zeppetelli explains that he and other museum staff "were actively seeking something special" for the city's anniversary, something that "was very Montréal and also very global, and Leonard Cohen came to mind."
Photos Courtesy Of Sebastien Roy / Macm
Self-portrait by Leonard Cohen
Before his death in November 2016, Zeppetelli and co-curator Victor Shiffman had contacted Cohen to ask if he would object to an exhibition about him. Cohen consented, granting the museum and the participating artists access to his considerable oeuvre. A longtime Cohen fan, Zeppetelli adds that the show was "a leap of faith, because Leonard is a poet and singer, and we're a museum."
The exhibitions' titles come from a line in Cohen's moody song "Anthem": "There is a crack, a crack in everything / That's how the light gets in." The lyrics conjure an image of something powerful breaking, of a positive force shining through the darkness — apt metaphorical guidance for these fraught political times.
Cohen died of cancer at age 82 in the same week as the U.S. presidential election. Grimly, Zeppetelli wears a button on his black sweater that reads, "Trump Killed Leonard Cohen." A mixed-media piece in the exhibition, titled "The New York Times, Friday, November 11, 2016" by American artist Taryn Simon focuses on a copy of the newspaper. Its front page features Cohen's obituary and Donald Trump's first meeting with president Barack Obama. Simon presents the paper simply, suspended in a clear box as a snapshot of a time of upheaval.
Like Cohen's music, the exhibition locates the emotionally heavy, keenly perceptive and beautifully poignant in close quarters.
Cohen grew up in Westmount, a primarily Anglophone suburb of Montréal. According to David Remnick of the New Yorker, Cohen referred to the men in his family as the "Dons" of Jewish Montréal. His grandfather was influential in helping Russian Jewish refugees resettle in Canada during Russia's pogroms.
Much of Cohen's music has a spiritual feel. The deeply evocative "Hallelujah," probably his best-known and most-covered song, took him five years to write, Remnick noted. (Kate McKinnon, dressed as Hillary Clinton, sang it as the opener for "Saturday Night Live" the weekend after the election.) While the iconic song and artist responses to it are present here, "Leonard Cohen: A Crack in Everything" wisely avoids overkill.
One notable response is "I Heard There Was a Secret Chord," created by Montréal-based design studio Daily tous les jours. Described as a "participatory humming experience," it is a sound hut that visitors can enter in which they may listen to a hummed version of "Hallelujah" and hum it back into a microphone. Their hums are blended with real-time computer-generated sounds representing individuals around the world also listening to the hummed song on asecretchord.com. These sounds are further transformed into low-frequency vibrations that resonate through the structure.
The number of current listeners worldwide is displayed in the hut. This virtual choir encourages a feeling of connectedness to a song that has become a cultural touchstone.
"Listening to Leonard" consists of 18 Cohen covers by commissioned musicians, including Feist, Moby, the National with Sufjan Stevens, Richard Reed Parry and Ragnar Kjartansson (who had his own exhibition at the MAC last year). The recorded songs are played in their entirety in a large room with comfy couches and space to spread out. Subtle light projections timed to the music appear on each of the four walls.
During a recent visit, couples and individuals lounged on the couches and sprawled on the floor, as if in the living room of a well-to-do friend with great taste in music. It was a publicly shared album experience; some fans silently mouthed the lyrics. Rarely do works of art (other than film) hold people's attention for more than a few minutes; here, many lingered for the duration of four or more songs.
Film installations are prominent in the exhibition. Montréal filmmaker Kara Blake's "The Offerings" combines archival material of Cohen musing aloud and giving interviews. "Legendary Reality" by Montréal-based Jon Rafman is a 20-minute film with an intense fictional narrator and nonlinear structure. He creates a seeming post-apocalyptic world using glitch animation, Blade Runner-esque imagery and Cohen's music.
Iraqi American artist Michael Rakowitz's piece "I'm Good at Love, I'm Good at Hate, It's in Between I Freeze" includes a short film that explores both his and Cohen's Jewish identities and complicated views of Israel, Palestine and the greater Middle East.
Photos Courtesy Of Sebastien Roy / Macm
"The Poetry Machine" by Janet Cardiff and George Bures Miller
British Columbia couple Janet Cardiff and George Bures Miller contributed "The Poetry Machine." It consists of vintage speakers, Gramophone horns and a Wurlitzer organ programmed to play Cohen reciting lines of his poetry, instead of musical notes, when visitors press the keys. "The Poetry Machine" allows museumgoers the opportunity to call up multiple recordings of Cohen's voice and combine them at will, which is a lot of agency to give to the public. The force of Cohen's spoken words is even more intense than his singing, particularly when lines of different poems are played simultaneously to cacophanous effect.
Zeppetelli says he wants those who visit the exhibition "to come away moved or troubled or otherwise transformed." He adds, "What I love about artists is, they objectify reality and consequently transform it."
It is a mark of the exhibition's success that a visitor need not be deeply acquainted with Cohen's music to appreciate it. The multisensory, multidisciplinary approach has broad appeal. But dedicated Cohen lovers will find much to appreciate.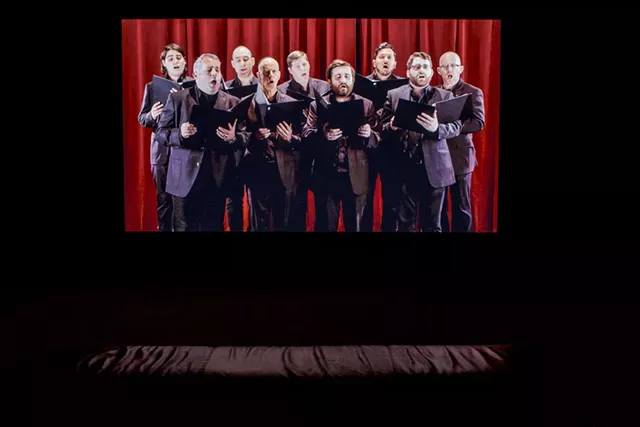 Photos Courtesy Of Sebastien Roy / Macm
"I'm Your Man (A Portrait of Leonard Cohen)" by Candace Breitz
Case in point: South African-born, Berlin-based artist Candice Breitz created a 19-channel video installation of 19 male Cohen fans singing his entire 1988 album I'm Your Man. They do not appear to be professional singers. Each video was recorded separately but all are played in sync. When the men sing "Everybody Knows," their breaths are audible, which conveys a feeling of intimacy. The album's backing vocals were recorded by the all-male Shaar Hashomayim Synagogue Choir, of which Cohen was a lifelong member.
This installation is a suitable place to end a visit. The combination of choral harmonies and singing fans' unabashed enthusiasm feels, indeed, like light penetrating the darkness.