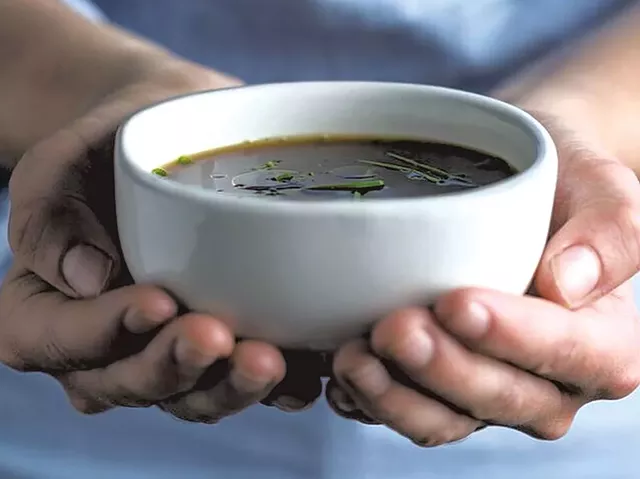 When Kismet chef-owner Crystal Maderia and butcher Jules Guillemette reopen the doors of 207 Barre Street in Montpelier later this month, they'll straddle the gap between café service, retail and takeout. Their new venture, Beau Butchery + Bar, will be at once a butcher shop, deli-market, café and bar.
"This'll be more of a classic European-style deli," Guillemette tells Seven Days. Sandwiches stuffed with local meats and seasonal vegetables will be available to go or to eat in-house. The same goes for bone-based and vegetarian broths, which guests will be able to load up with noodles, braised meats and fermented vegetables.
Guillemette's experience includes making deli meats for the Farmhouse Group's erstwhile Guild Fine Meats deli-butcher shop and managing the kitchen at Vermont Smoke & Cure. The butcher will stock Beau's meat cases with hand-cut beef, pork and poultry, purchased as whole animals or sides from Vermont farms such as LaPlatte River Angus Farm, von Trapp Farmstead and Maple Wind Farm.
To drink, the new spot will offer Prohibition-style cocktails that showcase Vermont-made spirits and build on Kismet's bar program, which Maderia has been fine-tuning for the past several years. The duo will also pour natural, organic and biodynamic wines by the glass and — once a second-class liquor license goes through — sell them in the retail section.
That shop will also offer chef-quality kitchen tools and vintage cookware, serving-ware and utensils. Maderia says to expect a constantly changing array of edibles, ingredients and implements. "So you could come three times a week and find something [new] each time," she says, adding that each day's spread will offer eats for both omnivores and vegetarians.
And, most importantly, Maderia adds, "It'll always be delicious."