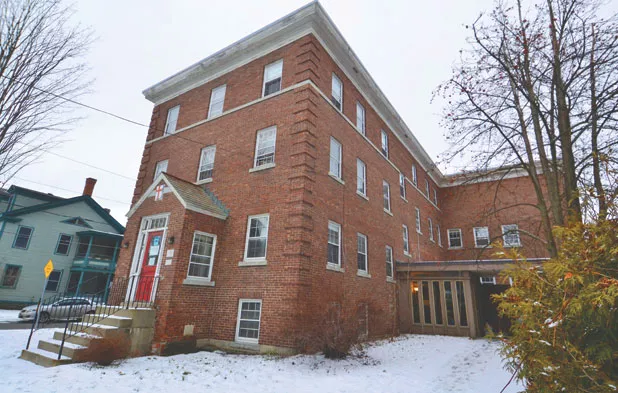 In Montpelier, another art gallery is finding it pays to hook up — with other arts nonprofits. The T.W. Wood Gallery is part of a new consortium dubbed the Center for Arts and Learning in Montpelier (CALM), which also includes the River Rock School, Monteverdi Music School and the Summit School of Traditional Music and Culture. The three schools have been ensconced for some time in the defunct St. Michael's School and convent at 46 Barre Street. The Wood, whose longtime relationship with the Vermont College of Fine Arts is changing, plans to move at least a part of its operation down the hill.
A pair of commercial realtors and property owners, Paul and Peggy Irons, are helping the consortium purchase the school and convent from the Catholic Diocese, and "will manage the building at least for the first year," says Steve Falbel, a Monteverdi board member and spokesperson for CALM. The couple "have both taken classes at the Summit School, and their son, Jesse, is a professional violinist, so they've been active in the music community a long time," Falbel continues. "So, as they begin to step back from real estate, they thought of doing something nice for the arts community."
That will be followed up with fundraising for eventual renovations to the former Catholic quarters. Falbel says those plans are just being formed. As the facility was once a school, many of its classrooms are being used as is. The second floor, he says, "will be significantly reconstructed for larger spaces — it will be a multiphase effort." There is also talk of sharing space with the senior center next door.
A purchase agreement was signed in mid-December, and the closing will occur within 120 days, "so we're looking at April," Falbel says.
The Wood, meanwhile, is on an "exhibition hiatus." It will maintain an office at VCFA and hold shows there several times a year, as well as its summer art camp, says director Joyce Mandeville. Over the years, a succession of college administrations has given space to the Wood for no or low rent, but Mandeville notes that VCFA is growing its programs and needs the space. "It's time for us to stop being the Blanche DuBois of the art world," she quips.
Some of the 800-odd items in the Wood's collection will be exhibited at Montpelier City Hall and the Statehouse, and stored at the Vermont Historical Society, while pieces not part of the "core collection" will be sold to strengthen the Wood's modest endowment.
In another brand-new venture, the Wood is launching a "satellite gallery" at Burlington College — coincidentally located in another former diocese building. Mandeville says that Montpelierite Thomas Waterman Wood reproduced many Old Masters paintings for the benefit of locals who would never be able to see the originals — this, of course, a century before Google. She estimates that 45 or 50 of these paintings — some of them huge — will soon adorn the capacious walls of BC.
Mandeville is looking forward to the Wood's new space at CALM, particularly as a place to offer year-round classes for kids and adults. She anticipates continuing to host contemporary exhibitions featuring local artists as well. CALM is "just a wonderful, wonderful idea," Mandeville says. "It will be great for the community."
Meanwhile, over in St. Johnsbury, four nonprofits — Catamount Arts, the Athenaeum, Fairbanks Museum & Planetarium and St. Johnsbury Academy — are hooking up, too. Not in a single space, but rather as an "Arts & Culture Campus" destination that will jointly market its events. "We see a geographic link amid our shared traditions of arts programming and community outreach," says Jody Fried, executive director of Catamount. The group has created a logo urging locals and visitors to "Get Inspired" … and head to the campus.
Stay tuned for more news about these evolving partnerships, which we may as well call the "strength in numbers" series.