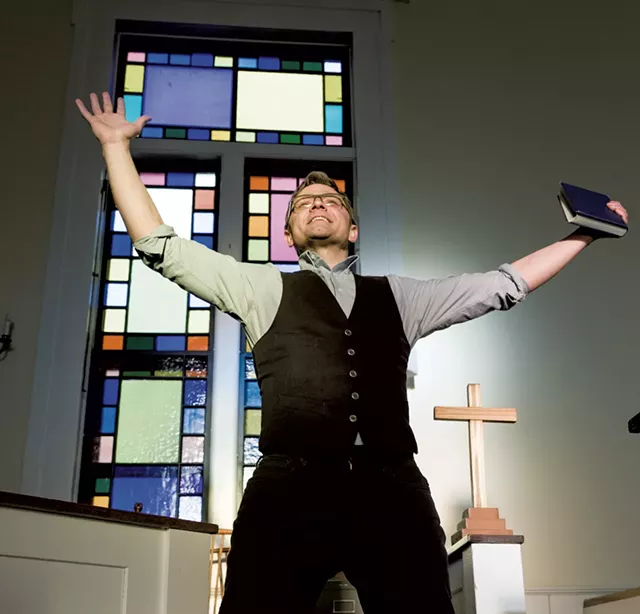 Courtesy Of Peter Lourie
Andrew Butterfield as Pastor Paul
An old axiom holds that religion and politics should be avoided in polite conversation. But, with its latest project, Middlebury Actors Workshop charges headfirst into the former and hints at the latter.
The Christians, by up-and-coming playwright Lucas Hnath, explores what happens when a charismatic pastor — who has grown his church from a modest storefront to a mega-church with a congregation of thousands — has a change of mind that fundamentally challenges the dogma of his parish. He decides there is no such thing as hell, and everyone can enjoy a blissful afterlife whether or not they believe in Christ.
"Even Hitler?" a member of his congregation asks. The debate causes a schism so deep that parishioners risk losing not just their religion but their communities and families.
The Christians was first produced in 2015, and Hnath received a Tony Award nomination, the 2016 Obie Award for excellence in playwriting and other accolades. His most recent work, A Doll's House, Part 2, will be presented at Weston Playhouse in August.
Melissa Lourie, director of The Christians and artistic director of MAW, said she was looking for a play that was "interesting, relevant, but different." Rebecca Strum, a recent Vermont transplant from New York City, had seen the show at Playwrights Horizons, where it was developed, and suggested it.
Lourie was intrigued by the structure of the play, she said, which blurs the line between church and theater by turning the audience into members of the congregation as the drama unfolds on the altar.
And it wouldn't be a mega-church without a gospel choir. That unique detail clinched the choice for Lourie, who was excited to be able to incorporate the musical talents of her community. "There are only five speaking roles, but we were able to bring in a lot of singers and get more people involved in the show," she said.
Lourie praised the skills of her actors. Andy Butterfield plays Pastor Paul. Molly Walsh plays his wife. New York City-based Nicholas Caycedo plays Joshua, an associate — and rival — pastor. Mary Krantz, who was recently featured in Doublewide at Vermont Stage, takes the role of a congregant who questions Pastor Paul's new philosophy; Gary Smith is a church elder.
Despite the play's title, its themes are not limited to religious dogma. "It's not like the play is a diatribe or a theology discussion," Lourie explained. "It examines how beliefs that people have and decisions they make impact their relationships in profound ways. It can really be applied to any institution."

It would be easy to caricature an evangelical pastor and his congregation, but The Christians excels at establishing fully fleshed-out characters with surprisingly little exposition. Their beliefs are revealed in the conflict of the moment, and their decisions will have far-reaching influence on their lives, giving the play a sense of urgency. Each character grapples in earnest with moral laws, without ulterior motives.
All the characters embroiled in the debate are sympathetic, Lourie noted, and Hnath doesn't appear to take sides. "No one's made to feel foolish, and nobody's made fun of," she observed. "Everyone has a deeply emotional and personal testimony. They're trying to get along and to reach an understanding, but can't."
Throughout the play, Pastor Paul repeats, "I have a powerful urge to communicate with you, but I find the distance between us insurmountable." He uses this as a pick-up line with his future wife, and later repeats it to explain why they cannot reconcile their beliefs. As Lourie asserted, "It's a lesson that can really be applied to both religion and even to politics in this day and age."
While her own background is not from the "deep evangelical tradition in our country," as Hnath's is, Lourie described herself as inspired by the actions of Pastor Paul.
"It takes a lot of bravery and a questioning mind to change what you have always believed and risk losing so much," she said. "It really drew me to the play."
She and Hnath are not the only ones drawn to the "pastor with a change of heart" storyline: A new Netflix movie, Come Sunday, has an uncannily similar plot. It's based on the true story of Carlton Pearson, who was pastor at one of the largest Pentecostal churches in the country before changing his mind about hell. Lourie calls The Christians "an aggregate retelling of a few true stories."
With this production, MAW is taking the opportunity to foster discussion about organized religion in its own community. Opening night features a talk-back with a Unitarian minister and a member of the local Jewish congregation. Closing night includes a discussion with Congregational and Baptist ministers.
"I've talked to a number of clergypeople," said Lourie, "and they've all been very supportive of this play and of the conversation it will generate."
*Correction, April 23, 2018: A previous version of this story misidentified the actress featured in
Doublewide
at Vermont Stage. It was Mary Krantz.