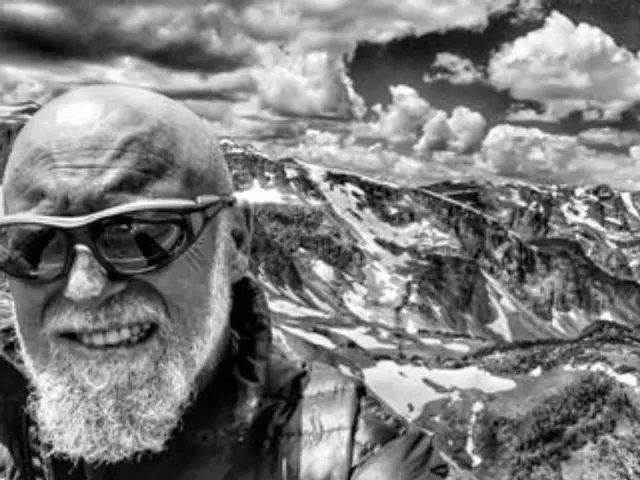 February 18, 2017 marks the 69th birthday of a truly extraordinary human being named Gary Feingold. Gary lives on in the hearts and minds of every person lucky enough to know him.
A classic renaissance man, Gary possesses many talents and a brilliant intellect. He is a photographer, a film aficionado, a patron of the arts and a lover of Shakespeare. He is a philosopher and scholar, who was awarded his Juris Doctor degree from Cardozo School of Law in New York City, then admitted and sworn as an Attorney and Counselor at Law of the Honorable Supreme Court of the State of Vermont. With an I.Q. of 160, Gary is also a member of Mensa, and a very fierce competitor at Trivial Pursuit.
Gary is an adventurer and world traveler. Born in Munich, Germany, he spent his formative years in Switzerland and France. He traveled extensively throughout Europe and Africa, and took his family on many Caribbean vacations to scuba dive, jet ski, and parasail among other fun excursions. But of all the countries Gary has been to, he loves the United States of America most of all. Some of Gary's fondest memories are of traveling to great American national parks. He whitewater rafted down the Colorado River through the Grand Canyon. He also journeyed across the country on his Victory Cross Roads Classic motorcycle, traveling through Yellowstone National Park, and earning the Iron Butt award by riding a grueling 1009 miles in just 24 hours. A true patriot, Gary loves America, values freedom, and deeply respects and appreciates those who serve, and those who, throughout history, have fought for our rights to life, liberty, and the pursuit of happiness.
As a businessman and entrepreneur, Gary is very successful. For nearly 30 years, he co-owned Howell Lanes, a thriving bowling alley in New Jersey. During his 23 years living happily in Vermont, Gary owned and invested in several prosperous local businesses, as well as orchestrated multiple lucrative real estate ventures. As a result of his business savvy and success, Gary is and always has been an outstanding provider for his family. As a father and a husband, he has no equal. His wife and his daughter are both able to live comfortably and in security because of his unwavering love, generosity, and hard work.
Gary's loving kindness extends not only to his family and friends, but also to total strangers. One of his favorite things to do is walk the dog down Church Street and strike up conversations with the locals. Because he's so full of life and quick with a joke, everyone he meets immediately falls in love with him.
Some of the most valuable friendships Gary has made in Vermont are with his beloved poker buddies. Gary is a very skilled card player, and because of his warm and likable nature, he has managed to make very close friends at the poker table even while taking everyone's money. Gary is also a longtime member of the Burlington Bridge Club, and he is certified as a Life Master by the American Contract Bridge League for his outstanding achievement in bridge competition.
Healthy competition, including watching and participating in sports, has always been one of Gary's favorite pastimes. A cheesehead forever, Gary is an avid fan of the Green Bay Packers, as well as an official stockholder. He has also been a loyal fan of the Lakers and the Dodgers for over 50 years. Throughout his life he personally enjoyed tennis, racquetball, skiing, and target shooting. An excellent golfer, Gary achieved the extremely rare and highly coveted Double Eagle. He also proudly traveled all around Vermont to watch his daughter compete in high school sports year-round, hardly ever missing a game, match, or race.
The world is a better place because of Gary Feingold's existence. We are forever grateful for his integrity, his guidance, his ideas, his contributions, and his endless capacity for loving.
Happy Birthday, Dad. You are my inspiration.