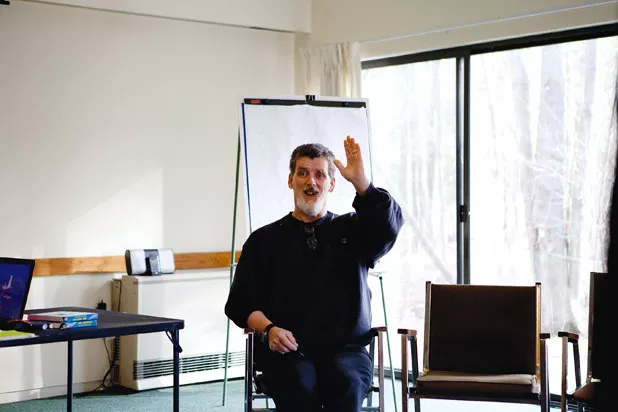 Seven Days was saddened to learn of the death last week of Bradford "Bear" Ingalls, 61. He was a kind, goodhearted and generous man with whom we had the pleasure of working on occasion. Ingalls had a long career as a technician in the entertainment industry, including at the Flynn Center for the Performing Arts, and in television at Vermont Community Access Media (VCAM) in Burlington. He was a longstanding member of IATSE Stage Local 919, and served as president of that union until his passing. Ingalls leaves behind his wife, Julie, and daughters Katrina, Monika and Ava, as well as other family members and many friends. We invited his coworkers at VCAM to share their memorial announcement with our readers.
*****
Brad "Bear" Ingalls passed away on Wednesday, March 27, 2013, after a long illness. Bear was a VCAM employee for more than 12 years and spent many of them also serving on the VCAM board of directors. An active contributor to PEG communities both locally and nationally, he maintained an unflinching commitment to the principles of public-access television, always working to uphold the values of fairness and equal access for all participants.
Bear was a firm believer in community building, and ceaselessly promoted the principles of civic engagement and government transparency. He was also a thoughtful and generous teacher, sharing his technical knowledge with countless community members over the years. Spanning many different capacities, his contributions to VCAM were immense, and the positive impact he had on our organization and our surrounding community will always carry on.
To the members of the VCAM staff and board, Bear was a beloved coworker and a great friend. He will be missed tremendously by all of us.
—VCAM STAFF