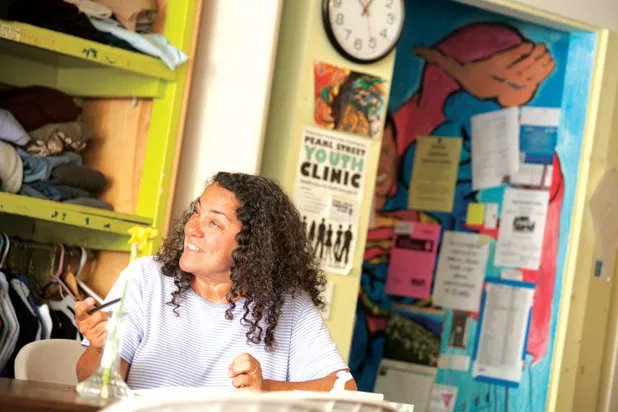 Matthew Thorsen
Josie Leavitt
It's been said that trying standup comedy for the first time is as scary as performing a high-wire act blindfolded. So imagine the courage someone needs to get on stage and tell jokes about being molested as a child, living in foster care or getting pregnant at a crack house — material that might be difficult for the comedian and the audience, or so one might assume.
Actually, those are precisely the kinds of authentic experiences that Josie Leavitt encourages her students to mine for their acts. Leavitt, who's been teaching standup comedy to aspiring comics for eight years, says that real-life misery often makes for the best humor — assuming it's done well, of course.
More importantly, she says, when people learn to make light of a personal tragedy, that's often the first step toward putting it behind them and moving on.
When Leavitt, 48, isn't running her own business, the Flying Pig Bookstore in Shelburne, she teaches standup classes at Burlington's FlynnSpace. Last August, her sister-in-law, Tiffany Bluemle, who's executive director of the nonprofit Vermont Works for Women, asked Leavitt if she'd be willing to teach a standup class to women inmates at the Chittenden Regional Correctional Facility. In August 2011, when Vermont's female prisoners were moved from Swanton to South Burlington, many of their educational programs were dropped because the new location lacked the space to accommodate them. Bluemle hoped Leavitt could help fill the gap.
Leavitt soon discovered that many of her incarcerated students were terrific storytellers.
"The women in prison are just hilarious," she reports. "You don't stop being funny because your situation is horrible."
The same, Leavitt says, holds true for the homeless teens she works with at Spectrum Youth & Family Services in Burlington. Since March, she has held two standup classes at Spectrum's teen drop-in center on Pearl Street, with a third scheduled for later this month. Like the women she met in prison, Leavitt says, the Spectrum kids have stories that can be heartbreaking but also devastatingly funny.
One homeless teen, she recalls, joked about what it's like to "wake up on the wrong side of the sidewalk." Another, when asked to describe homelessness to someone who's never experienced it, said, "It's like never, ever having toilet paper."
"The thing about teaching someone standup, especially someone who is incarcerated or homeless, is it gives them a chance to reframe an event in their life," Leavitt explains. If, for instance, you're doing time as a consequence of your drug addiction, comedy gives you a creative outlet to redefine that situation, she says, which "takes some of the sting and shame out of it. There's a real power in that."
How does Leavitt teach people to transform deeply personal and painful events into something that they, and others, will find funny? Nothing to it, she says.
"They do it themselves, because that's how they survive," Leavitt continues. "If you're homeless or incarcerated and all you focused on was what was negative about it, you'd go crazy."
One of the biggest obstacles Leavitt faces is just getting her homeless students to show up. On a recent sunny afternoon at the Spectrum drop-in center, only one teen came to Leavitt's lunchtime comedy class. As a Spectrum staffer explained, the center doesn't get as many mealtime visitors at the beginning of the month as it does at the end. Why? Their food stamps haven't run out yet.
On this day, it was just Leavitt and "Andrew" (not his real name), a husky 18-year-old with a mop of brown hair and a voice slightly more baritone than usual due to his fading chest cold. He seemed more interested in watching YouTube videos on his smartphone than working on a comedy routine.
"Andrew, just throw me a bone," Leavitt urged. "The longer I'm here, the more likely my dog is taking a dump on the floor ... Tell me, what's the worst thing about being homeless?"
"It sucks that I'm not old enough to drink," Andrew said half-heartedly.
For about 10 minutes, Leavitt nudged Andrew to talk about what he liked, and didn't like, about Spectrum. Eventually, he started riffing on being hassled to get out of bed at the shelter each morning.
"I have Sarah affective disorder," he said, referring to one of the staffers.
"See? Now that's funny!" Leavitt said, jotting down his remark in her notebook.
Writing down jokes is a crucial first step Leavitt teaches all her students. Spelling, grammar and punctuation don't matter, she says. What does is whittling down a joke to its bare essentials.
"A beginner comic starts with a half-gallon milk jug of plaster of Paris, and that's their material," she explains. "When they're done, they have a tiny little polar bear that fits in the palm of their hand. Comedy is all about economy, word choice and flow. I don't need to know every single thing that happened at the cookout with your family. What's important is that you got hammered with your grandma."
Leavitt, who grew up in New York City and on Long Island, has been polishing her own act for some time. One New Year's Eve 20 years ago, her then-partner challenged her to try standup. So Leavitt took a class — and loved it. She debuted onstage on June 4, 1993.
"There's always a moment when someone stands up for the first time, and you can tell whether they're going to keep doing [standup], or they'll never do it again," she says. "For me, the minute I walked off, I knew my life had changed."
Leavitt has been telling jokes ever since. Like most beginners, she began with topical humor before experimenting with riskier and more personal subjects. These days, her act includes material about her father's cocaine habit when she was growing up — he's been clean and sober for 25 years, she emphasizes — and how her mother smoked cigarettes and drank scotch while Leavitt was in the womb.
As she puts it, "Standup is a form of therapy, for everyone, because you wind up talking about things that you didn't even know bothered you."
In 2006, Leavitt founded a five-woman troupe called Vermont Comedy Divas. This year, the group will put on several benefit performances for local charities. The first, on May 24, is called "Divas Do Good" and will benefit Vermont Works for Women. Another, in June, will benefit a group of foster parents in Addison County. Though Leavitt was paid for teaching at the correctional facility, she donates her time at Spectrum.
Is doing good always compatible with doing comedy? Leavitt lays down a few ground rules for her students: Never make fun of any group to which you don't belong. And, if you're going to be offensive, you've got to be damn funny, because you have to make the people you're offending laugh despite themselves. For that reason, she says, she's never mean to anyone in her own act.
Occasionally, some of Leavitt's students try to joke about subjects that are still too new and raw for them and get "jammed up" onstage, she says. Other than those areas that are too sensitive for the comedian, she believes almost any subject is fair game, provided it's done right. She's taught comedy to convicted murderers and end-stage breast-cancer patients, the latter of whom made jokes about losing their hair and boobs.
The key, Leavitt says, is that if comedians can find humor in their own awful situation, chances are good their audiences will, too.
"It's like a pressure-relief valve. You either laugh or cry," she says. "Nine times out of 10, if you take someone's joke and tell the story one way, everyone is sobbing. But if you tell it right, they're all laughing their asses off."
Ultimately, Leavitt says, it's unimportant to her whether her students go on to pursue careers in standup. But several are doing so, and with some success. At the Comedy Battle IX at Higher Ground on May 5, two of Leavitt's students took first and second place.
People with traumatic pasts aren't the only ones who can find therapeutic benefits in standup, Leavitt suggests. Many people are so intimidated by the prospect of standing up and telling jokes, she says, that conquering that fear can have a "massive spillover effect" into the rest of their lives, giving them more confidence to, say, apply for a job, go to an interview or advocate for themselves.
Another of Leavitt's former students is Colin Ryan, a journalist-turned-professional-comic who now travels the state giving motivational talks and school presentations about anti-bullying and financial literacy.
"Josie's class was the first time I tried standup comedy, and I was quite literally facing my biggest fear," Ryan says. "I would have never believed that in the next few years I'd perform about 250 more times. By creating a space for us to pretend we were comedians week after week, Josie created a place for us to become real comedians."
While standup is therapeutic for some students, others use it simply to find humor in everyday situations.
"If you think, What's funny about this? instead of, This sucks! you're going to be happier every day and you're going to laugh more," Leavitt says. "And that can only be a good thing."
The original print version of this article was headlined: "Misery Loves Comedy"