"Moonrise" by Katharine Montstream
Katharine Montstream has been painting for more than 25 years, garnering both artistic and commercial success from her lovely landscapes and florals in watercolor and oil, as well as from a robust greeting-card business. Some images, such as her painting of local peak Camel's Hump, might even be called iconic, and are much in demand as reproduction prints.
But for most of her career, Montstream, now 52, worked in a studio tucked out of sight, just down the hill from downtown Burlington near the waterfront. When she moved into a downtown gallery a year ago — right across from City Hall Park and in time for Burlington's weekly farmers market — a whole new group of curious customers discovered her.
"I'll get a guy — a downtown employee on his lunch break — coming in to buy a card for his mom," Montstream says, citing an example. "So many more people have found us."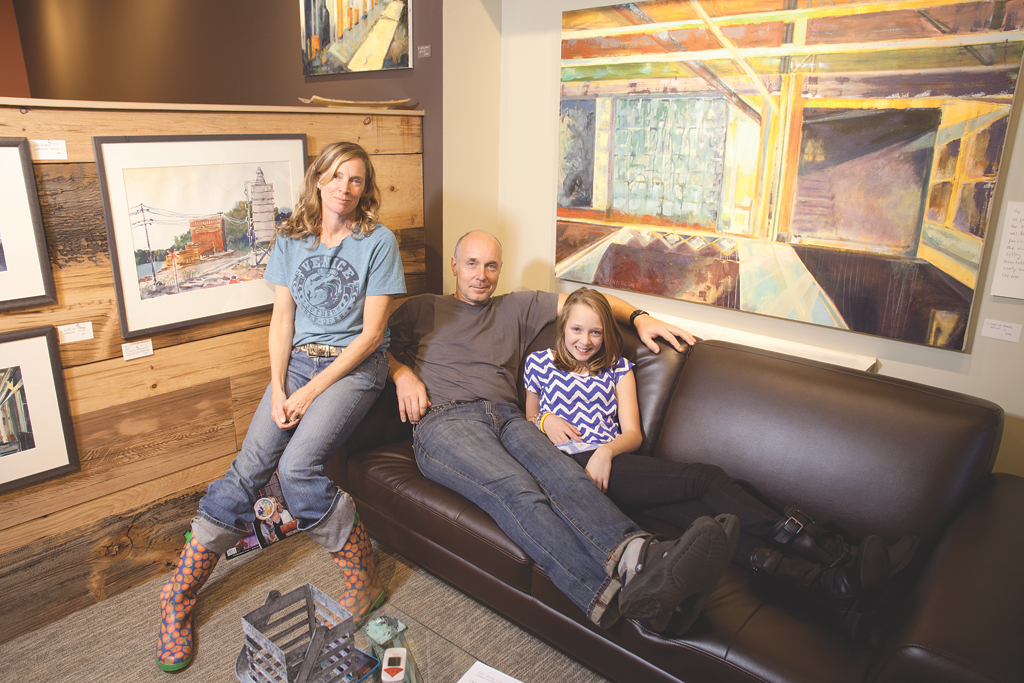 Matthew Thorsen
Katharine Montstream, Alan Dworshak and daughter Sylvie
Montstream credits her husband and business manager, Alan Dworshak, with creating the St. Paul Street gallery. Window boxes filled with flowers adorn the storefront; inside, the walls are painted chocolate brown, Tuscan gold and robin's egg blue. The space is just as pretty as the artwork on display. A comfy couch invites visitors to sit and chat, or to contemplate a purchase; in the back, rustic barnboard half-walls corral a framing area. The whole effect resembles being in one of Montstream's paintings.
While most of her images depict Vermont — and some, like the Camel's Hump painting or the Burlington skyline, are recognizable — Montstream is careful to leave something to the viewer's imagination. The flowers in her loosely rendered and brilliantly hued watercolors, for example, could have originated anywhere in the world. "I like it to be murky and mysterious," she says. "It's artistic license."
Montstream Studio seems destined to succeed in Burlington, where, with some notable exceptions, commercial galleries have come and gone over the years. Just across the park, Burlington City Arts operates the BCA Center, which focuses on contemporary art by both local and national artists. Those two, along with Frog Hollow Vermont State Craft Center just up Church Street, anchor the downtown scene in a city that celebrates visual art — and a state that allegedly has more artists per capita than any other.
If you're an art collector or just like to browse, those venues — and others listed here — are must-see stops in Burlington. You'll also find works by local artists in nearly every restaurant, coffee shop, hotel, hair salon and bank in town. Have a look.
Dans son studio du centre-ville, Katharine Montstream nous explique sa démarche artistique
Katharine Montstream peint depuis plus de 25 ans, accumulant les succès artistiques et commerciaux grâce à ses jolis paysages et ses fleurs à l'aquarelle et à l'huile, et à sa solide entreprise de cartes de souhaits. Certaines de ses œuvres sont même considérées comme emblématiques et leurs reproductions font l'objet d'une forte demande, notamment sa peinture de Camel's Hump, une montagne du Vermont.
Katharine, qui a maintenant 52 ans, a passé la plus grande partie de sa carrière à travailler à l'abri des regards, dans un studio situé non loin du centre de Burlington, près du lac. Il y a un an, lorsqu'elle a déménagé dans une galerie du centre-ville, en face du parc City Hall – juste à temps pour le marché hebdomadaire des producteurs agricoles –, de nouveaux clients curieux ont découvert son travail.
« Un homme qui travaille au centre-ville profite de sa pause du midi pour venir acheter une carte pour sa mère, dit Katharine pour donner un exemple. Beaucoup plus de gens savent maintenant que nous existons. »
Katharine attribue le mérite de la réussite de sa galerie de la rue St. Paul à son mari et directeur commercial, Alan Dworshak. Des jardinières remplies de fleurs ornent la façade de l'établissement. À l'intérieur, les murs sont peints en marron, or et bleu. L'espace est tout aussi joli que les œuvres exposées. Les visiteurs peuvent s'asseoir confortablement pour discuter ou pour contempler une éventuelle acquisition; à l'arrière, des demi-murs fabriqués à partir de planches de grange rustiques révèlent une zone d'encadrement. On se croirait presque dans une peinture de Katharine.
Bien que la plupart des tableaux de l'artiste illustrent des scènes du Vermont – certains sites sont carrément reconnaissables, comme Camel's Hump ou la silhouette de Burlington –, celle-ci souhaite que le spectateur laisse libre cours à son imagination. Ainsi, ses fleurs à l'aquarelle, peintes sans contrainte de forme et dans des couleurs lumineuses, auraient pu pousser n'importe où dans le monde. « J'aime cultiver un certain mystère, dit-elle. C'est un peu mon privilège d'artiste. »
Le Montstream Studio semble promis à un bel avenir à Burlington, où – à part quelques exceptions notables – les galeries commerciales vont et viennent au fil des ans. De l'autre côté du parc, Burlington City Arts exploite le BCA Center, spécialisé dans l'art contemporain local et national. Ces établissements, ainsi que le Frog Hollow Vermont State Craft Center, situé tout près, sur la rue Church, occupent le centre de la scène d'une ville qui accorde une place de choix aux arts visuels et d'un État qui compterait plus d'artistes par habitant que n'importe quel autre aux États-Unis.
Que vous soyez collectionneur d'art ou adepte du « lèche-vitrine », faites-vous un point d'honneur de visiter ces galeries, et celles qui sont mentionnées ci-après, durant votre séjour à Burlington. Vous pourrez aussi admirer le travail d'artistes locaux dans presque tous les restaurants, cafés, hôtels, salons de coiffure et banques de la ville. N'y manquez pas!