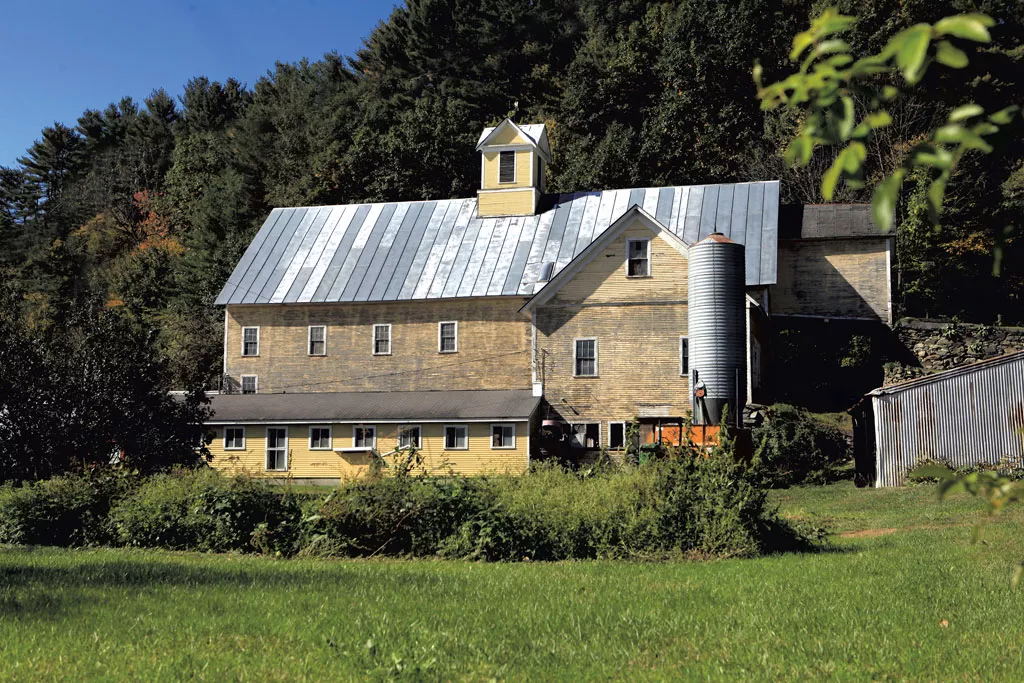 Photos: Ariana Van Den Akker
Three generations of Meachams at the farm.
Whether you drive into North Hartland or whiz past on Interstate 91, there's no missing the Lemax Farm with its big bright-yellow barns towering over a bustling farmyard.
"It's an iconic structure in the town," Matt Dunne, a former state senator from Hartland, said of the grouping of barns that was built over the course of two centuries.
Now, that beloved confluence of agricultural enterprise is falling apart.
The endangered barn complex is made up of eight buildings, many of which are interconnected. The oldest section dates back to 1790. The largest section, a massive four-story barn, is about a hundred years younger — but still historic. That barn's paint is chipped and faded. Its windows are missing panes. Its sill plates bow out at the foundation. There isn't a straight line in sight.
All told, the Lemax Farm barns need about $160,000 in restoration work — far more than its dairy-farming owners Ed and Kelly Meacham can afford.
A group of Upper Valley residents has come to the rescue. Friends of Lemax Farm has already raised $40,000 toward barn repairs and is now looking to the state, as well as institutional donors, to drum up more cash to save one of Hartland's five remaining dairy farms.
"They're magnificent structures that give you a sense of place as well as engineering and architecture," said Dunne of the Lemax Farm barns. "They're part of who we are."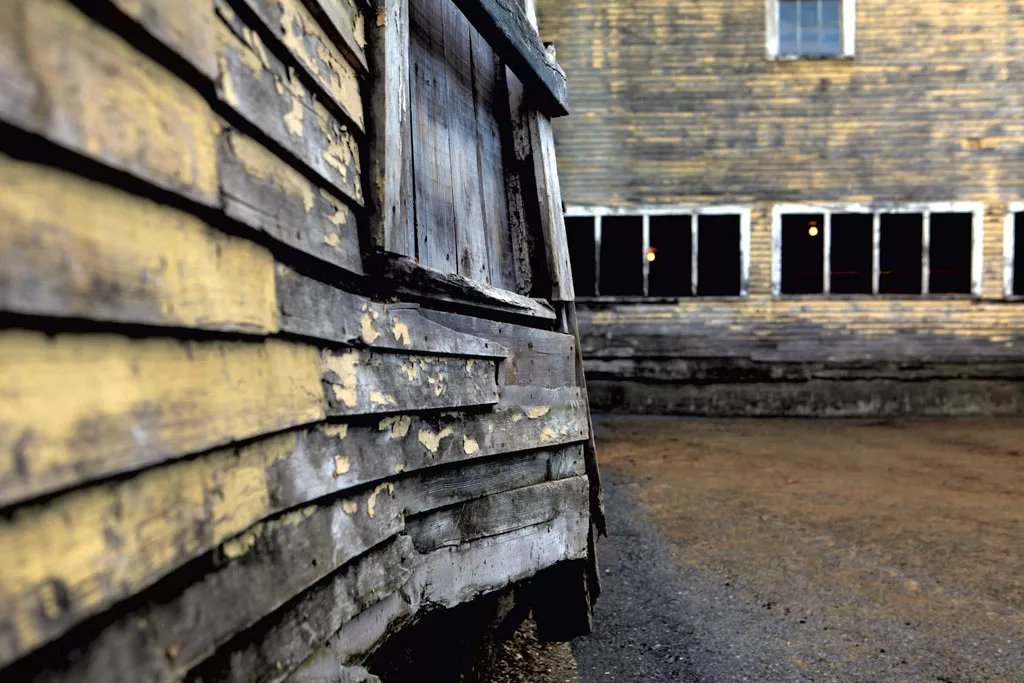 ariana van den akker
From left: Logan, Kelly, Ed, John, Tyler and Calista
Keeping historic barns standing is a struggle — for the Meachams and other farmers across the state, for whom time and money are scarce. State efforts such as the Barn Preservation Grant program offer some assistance to rehabilitate barns that are at least 50 years old, but those require matching funds. Currently, the state invests $225,000 each year to preserve historic farm structures.
Even farmers who want to go that route can't always come up with the cash. "They understand that if they don't do something, the barn is going to further deteriorate or even potentially collapse," said Caitlin Corkins, a tax credits and grants coordinator with the Agency of Commerce and Community Development, "but pulling together the resources to even meet the matching requirements is difficult sometimes."
Corkins said the rally around the Lemax Farm is unusual. While it's not uncommon for communities to come together to save public buildings, such as old town halls or theaters, she said, privately owned agricultural structures don't often inspire such philanthropic efforts.
State architectural historian Devin Colman agreed. The more prominent the farm, he said, the more likely the community is to invest in its upkeep; he pointed to the highly visible Monitor barns in Richmond as an example.
"Others that are off on a hill farm, on a dirt road — then it really is up to that landowner to decide if they want to invest in keeping that building in shape," said Colman.
Photos: Ariana Van Den Akker
Doing so is not only expensive, it can be logistically challenging. Construction season coincides with the busiest time of year for farmers. If an old barn is still in use — particularly if it houses animals — farmers have to figure out how to accommodate repairs without disrupting operations.
Farmers also have to ask themselves if saving an old barn is practical. Agriculture has changed considerably in recent decades, and older barns aren't always conducive to newer methods. For instance, at the Lemax Farm, the Meachams have to use old-fashioned square bales of hay instead of larger round bales, because the bigger bales don't fit in the barn. They have to shovel out the barn by hand, since a tractor can't fit down the aisle between milkers.
"They are not the most efficient and practical structures for today's dairy operation," agreed Dunne. In fact, when the Meachams reached out to financial advisers for recommendations about how to make their farm more profitable, Dunne said, "the pure financial advice was to tear them down and put up a more modern structure that is easier to maintain."
Why save buildings that might not be ideal for modern agriculture? Some landowners rent them out for storage. Others convert them into event spaces for weddings. Fans of old barns say they're part of the Vermont landscape that natives and visitors alike know and love. "It's so cliché," said Corkins, "but it's part of our brand."
"They're visual landmarks to understand Vermont's history," said Colman. "Without these physical reminders, you start to lose track of the history and development of the state."
Colman has been overseeing an effort to compile a "barn census" — a record of notable agricultural buildings in the state. The state relies on volunteers to provide that information, and, three years in, the census has 2,700 records on file. "Certainly a lot more out there" have not yet been documented, Colman said.
And plenty of questions still loom. How many barns are there in the state? In what kind of condition do they stand? How many are lost each year, and are restoration efforts keeping up with the inevitable wear and tear of time and the elements?
One for the legislature: Is the state doing enough to help preserve these old structures?
"As a recovering state senator, I would not presume to say there aren't other budget priorities," said Dunne. But he's worried. "I do think that we are at risk every year that goes by of these structures falling into such disrepair that they can't be recovered. That ticking clock is real."
In North Hartland, Kelly Meacham said she hears it loud and clear — but for the 16 years the family has owned the farm, it's had enough to do milking cows and keeping up with minor repairs. Today, the Meachams run the farm with their 27-year-old son, John, and his wife, Calista. They have 100 milkers and 90 young stock; the large, black-and-white Holsteins reside in a tie-stall barn on the ground floor of the barn complex.
When the farmers, now in their early fifties, moved to the farm, they didn't know much about barn maintenance. After running this and other dairy farms in the region for other owners, though, they were simply excited to own their own farm.
"Maybe we were young, or maybe we were naïve," said Meacham. "We didn't realize how much upkeep there was going to be to the buildings. We also didn't know that it was going to be such a struggle to keep our heads above water."
Milk prices have yo-yoed for Vermont dairy farmers during the years the Meachams have been in the business. They've been fairly lucky, breaking even or even getting ahead a little bit — until last year, when some costly trouble with breeding stock put the family in the red. To bring in more cash, Kelly Meacham works off-farm as a paraeducator and runs the farm-to-school program at Hartland Elementary School. The kids come to Lemax to learn about dairy farming and to plant vegetables in the garden.
"We have very much of an open-door policy," Meacham said.
In fact, a group of coworkers at the school was the first to bring up the idea of restoring the old barn. They planned to raise money to repaint the buildings, but quickly realized the job was more involved.
As Meacham put it: "It doesn't do any good to paint if the buildings are falling down."
That's when Dunne and other volunteers stepped in. Soon the group had a name — Friends of Lemax Farm — and a goal: to raise $40,000 by October 1.
The group hit that target in late September, after a cheery, well-attended gathering and silent auction at the farm. Now it plans to approach the state with a $15,000 funding request through the barn-grant program.
And there's more fundraising ahead. The group hopes to hit its final goal of $160,000 by next April.
On a sunny afternoon several weeks ago, the Lemax Farm hummed with activity. Calista Meacham urged cows through the milking parlor, cleaning their udders before hooking the animals up to the milking machine. Outside in the farmyard, tractors rumbled past with load after load of field-fresh corn.
Meanwhile, Dunne appeared, in Carhartts and flannel, to show the barn to another visitor: Gaye Symington, the former speaker of the Vermont House and now the president of the Middlebury-based philanthropic High Meadows Fund.
Dunne, Symington and Kelly Meacham ascended through the four-story barn. Narrow wooden stairs led from the ground-floor level — where the Holsteins looked on — to the hayloft. They walked down the high drive, the sloping earthen ramp that leads to the top floor, to look at the barn from the north. The very same view was captured by 1930s Works Progress Administration photographer Arthur Rothstein. That photograph can be found in the Library of Congress archives, and in Roy Stryker's 1973 book showcasing the work of WPA photographers.
"Can I steal an apple, Kelly?" Dunne asked, reaching up to a decades-old tree.
"Sure, hon," Meacham replied.
Finding herself on the receiving end of so much community assistance has been awkward at times. "Ed and I are both ones that like to give," Meacham said.
Out in the barnyard, her bearded, suspender-wearing husband hopped down from the cab of a John Deere tractor for a quick break and chat with his wife. But then it was back to work. Kelly Meacham estimated the family still had to haul in 50 truckloads of corn before calling it a season.
The Meachams aren't the only ones thinking ahead to the coming winter; Corkins and Colman said the season is a death sentence for some of the state's oldest, most imperiled barns.
Every winter, "when we get a heavy snow," Corkins said, more Vermont barns collapse.
The original print version of this article was headlined "Barn Again"