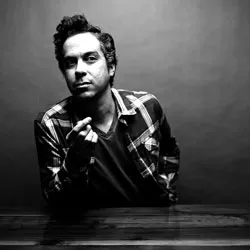 M. Ward's music feels timeless. His weary croon is evocative, his nimble guitar work transporting, whether he's performing solo, in She & Him with actress and singer Zooey Deschanel, or with Monsters of Folk — his all-star side project with Conor Oberst and Mike Mogis of Bright Eyes and Jim James of My Morning Jacket. With gentle subtlety and an intoxicating whorl of blues, folk and country, Ward carries listeners to places they've never been but that feel familiar just the same. On his latest solo album, A Wasteland Companion, Ward muses on a life of travel and attempts to reconcile with what he necessarily leaves at home.
Seven Days spoke with Ward by phone in advance of his show at the Higher Ground Ballroom this Sunday, May 6.
SEVEN DAYS: You were at Coachella this year. Did you catch hologram Tupac?
M. WARD: I did not. I was not playing that day. I played Friday.
SD: Any thoughts on the phenomenon?
MW: I've heard it's a very expensive idea. And I don't think music needs more million-dollar ideas. It's the same thing with film. You don't need multimillion-dollar effects to tell a story, at least not the stories I enjoy. But if people enjoyed it, that's great.
SD: Your album has a provocative title. Is there an explicit statement you're making, or do you prefer to leave it open to interpretation?
MW: I think the best titles are the ones that people are able to put together on their own. So I'm open to interpretation.
SD: I know it's a T.S. Eliot reference. And this is probably just my being weird, but for some reason every time I look at the title I think of Garrison Keillor.
MW: Right, right. Well, I like that angle, too. [Laughs.] And I had not heard that interpretation, that the title was some kind of response to "A Prairie Home Companion." But I really like that. I think you hit the nail on the head.
SD: [Laughs.] You're very kind. Much of the record was inspired by your travels and centers around the things you leave behind when you're away from home. Do you ever wish your touring schedule were less demanding?
MW: I think I'm the same as everyone. A lot of times when you're at home, you wish that you were somewhere far away. And sometimes when you're far away, you wish you were at home. I think that's just a very human emotion. It's just a fact of life. But I do believe that music is able to bridge gaps, whether we're talking about geographic space or moments in time. That's an element of music that I'm a little bit obsessed with and I keep going back to, for some reason. Especially music's power to reconstruct time, whether we're talking about hearing a song and it taking you back to when you were 6 years old, or hearing a song on the radio that in some real way connects you to the 18th century. I'm fascinated. It's very mysterious. I'll never know exactly how that works. It has something to do with the brain, and it bears investigation.
And that's what a lot of the record-making process is for me, delving deeper into these mysteries and realizing that you'll never get to the bottom of it and still stay fascinated by the idea, and stay inspired. It ends up rearing its head on a lot of these records that I produce.
SD: You dedicated the track "Clean Slate" to the late Alex Chilton of Big Star. What did his music mean to you?
MW: His records have been a big inspiration for a long time. And I'm constantly surprised by how few people are familiar with his catalog. When I am talking to journalists or acquaintances or friends, I recommend a song called "The Ballad of El Goodo." That's a great place to start. Check it out on YouTube.
SD: I usually suggest "13," but that's a good one, too. Have you spent any time with New Multitudes, the Woody Guthrie tribute that Jim James was involved in?
MW: I have not. But I'd like to hear it.
SD: Have you given any thought to doing that kind of project, not necessarily Guthrie, but exploring the "lost" songbooks of someone?
MW: You know, between making my own records and working with She & Him, that's a good amount of record production. I'm not exactly pounding the pavement for new projects.
SD: Lee Ranaldo from Sonic Youth is touring with you. What do you think of his new band?
MW: Well, Sonic Youth has been a huge influence since high school. And over the years I've become acquainted with Steve Shelley, who plays on my record. And Lee Ranaldo has a new solo record that I'm really excited about. But we've never shared a stage, so I'm excited to see what happens.
SD: I imagine, just as a fan, it must be pretty special to tour with one of your idols from high school.
MW: Absolutely. We just finished a West Coast tour with fIREHOSE, and it completely blew my mind. Sonic Youth and fIREHOSE were really the first live experiences of music I ever had. So to be able to share a stage with them was an honor.
SD: I really don't mean this as a backhanded compliment, but some of my favorite moments on your records are your covers. How do you reinterpret something like, say, "Let's Dance" by David Bowie and genuinely make it your own?
MW: You deconstruct it. You start off with just guitar and vocals and see where that takes you. And when you deconstruct a song to that level, it's like designing a building from the ground up. It's no longer some preprogrammed production. It's all of a sudden a new beginning.
M. Ward plays at the Higher Ground Ballroom in South Burlington on Sunday, May 6, 7:30 p.m. $22/25. AA. The Lee Ranaldo Band open.