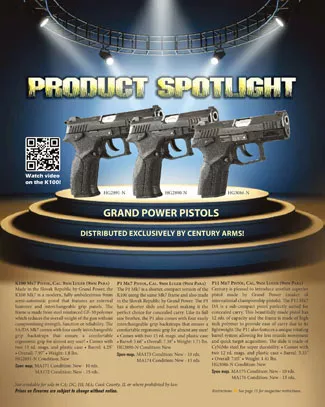 For more than 60 years, one of the world's largest dealers of surplus military weapons has been operating under the radar in northwest Vermont. Housed in an industrial park warehouse off Route 104A in Georgia, Century International Arms manufactures and imports a huge volume of military-style assault weapons and other firearms. Some are sold locally at three licensed dealers: Powderhorn Outdoor Sports Center in Williston, Alder Run Guns and Ammo in Franklin and Bob's Gun Shop in Georgia.
But Century's global reach extends well beyond Vermont. Its online catalogue features a dizzying array of pistols, rifles and shooting accessories, offered for sale to law enforcement and the public. They include the M16, M60, RPK and numerous variants of the iconic Russian Kalashnikov. Century's C93 semiautomatic rifle — featured on Ted Nugent's July 2011 "Spirit of the Wild" TV show on the Outdoor Channel — comes equipped with two 40-round magazines and a bayonet "while supplies last," the catalog reads.
Evidently, talk of outlawing assault weapons in the wake of the Sandy Hook school massacre has Century's Vermont employees working around the clock to meet what the company's website describes as "unprecedented order volume."
All of this is news to many residents of Franklin County, including some local politicians. Sen. Don Collins (D-Franklin) didn't even know there was a gun manufacturer in his district. Sen. Norm McAllister (R-Franklin) has heard of the company but admits, "I'm not 100 percent sure what they do. I think they refurbish rifles."
Neighbors also seem largely unaware of the controversy that has followed Century, whose corporate headquarters are in Delray Beach, Florida. Over the years, news investigations have linked Century-imported weapons to Mexican drug lords, the Nicaraguan Contras and other less-than-scrupulous actors.
Century's manufacturing and assembly plant is nestled in the northeast corner of the Arrowhead Industrial Park. The one-story, 80,000 square-foot warehouse is surrounded by a chain-link fence and barbed wire. The corrugated steel building sports no outdoor signage, except for a small listing on the industrial park's outdoor directory and a flag bearing Century's corporate logo: a world map in the crosshairs of a rifle scope.
Locally, the company is known as a good employer. "Folks in my hometown of Georgia were very pleased to have Century Arms locate in the Georgia industrial park," says Rep. Carolyn Branagan (R- Georgia), "because they were known to be such a stable, reliable employer and producer of a good product."
Those sentiments are echoed by Deb Woodward, a lifelong Georgia resident who served on the Georgia selectboard for 10 years before resigning in October to take her current job as Georgia town administrator. Woodward's husband briefly worked at Century, which she describes as a "very responsible local business." The company treats its employees well, pays its property taxes on time — $47,539 in 2012 — and keeps its property immaculate.
"They've always been quite private," Woodward adds. "Because of that, they're the kind of company that you don't realize how many people they employ until those people hit the unemployment line."
Last Wednesday found a half dozen workers smoking on break outside the Georgia plant, approximately 24 hours after Senate Majority Leader Phil Baruth (D-Chittenden) introduced legislation to prohibit the "manufacture, possession or transfer" of semiautomatic assault weapons and high-capacity magazines in Vermont — a law that surely would have affected Century and its roughly 180 employees. Less than a week later, Baruth withdrew the bill.
One worker, who didn't identify himself, said he's been at Century for about two years and really likes working there. He confirmed that "with everything that's been going on," the staff has been "extremely busy" assembling and shipping firearms. Asked what kind of weapons, he responded, "You name it."
Century's stealth presence in Vermont appears to be deliberate. Numerous phone calls and emails to both its Vermont and Florida facilities were not returned. The company doesn't maintain a lobbyist in the Statehouse nor has it made any political campaign contributions large enough to trigger state or federal reporting requirements. Century isn't a member of the Franklin County Regional Chamber of Commerce nor is there any record of it receiving economic development funds from the state. Tim Smith, executive director of the Franklin County Industrial Development Corp., says he's had only minimal dealings with Century, mostly on staffing and human resources issues.
Much of what's known about Century comes from national news stories. A 2011 investigative report in the Palm Beach Post said that William Sucher founded the company in Montréal in 1961. Sucher got his start hawking used office equipment but graduated to selling surplus military hardware imported from Eastern Europe and Asia. With help from his brother-in-law and business partner, Manny Weigensberg, the company quickly grew to become the largest importer of surplus firearms and accessories in North America. Sucher died in 1976; Weigensberg in 2004.
The company's presence in Vermont dates back at least to 1964, when Century Arms, as the company was formerly known, was located on Federal Street in St. Albans. It moved to its current location about a decade ago. A recent Dun and Bradstreet report estimated its net sales at $30 million annually. Based on the frequency of its employment ads, which the company runs almost weekly in several Vermont newspapers, including Seven Days, Century appears to be growing quickly. Those ads vary seasonally and feature different characters in the crosshairs, including a shamrock for St. Patrick's Day, a bunny for Easter and a party hat and confetti for New Year's Eve.
Federal law requires Century to report how many weapons it manufactures each year to the Bureau of Alcohol, Tobacco, Firearms and Explosives. In 2005, the company produced just 2657 rifles but in 2009 — the year President Barack Obama was first inaugurated — Century manufactured 42,876, according to ATF reports. In 2011, the latest year for which figures are available, Century produced 18,987 rifles.
Imported, foreign-made firearms are another matter. For decades, Century has exploited a loophole to get around a federal law banning the importation of military-style rifles, according to a February 2011 investigative report jointly produced by the Center for Public Integrity and PBS's "Frontline." It does so by importing "slimmed down, 'sporting' versions of their foreign rifles" that can clear federal importation restrictions, then retrofitting them with U.S.-made parts, including bayonets and high-capacity clips.
In the late 1980s and early '90s, Century became one of the largest importers of SKS rifles from China and Russia, a military-style, semiautomatic precursor of the AK-47. One of its more infamous deals, according to the CPI/"Frontline" report, was a shipment of weapons Weigensberg procured for the Nicaraguan Contras in the 1980s. Such transactions were illegal at the time.
After the fall of the Soviet Union, Century began buying up stockpiles of guns and ammo, including AK-47s, from former Warsaw Pact countries. According to the 2011 Palm Beach Post report, Century's deals are often brokered by an international arms dealer and former Israeli special-forces soldier by the name of Ori Zoller. In 1999, the Post reported, Zoller purchased 3000 AK-47s for Century, but, when the deal soured, Zoller resold those weapons to AUC, a right-wing paramilitary group known for arming Colombian death squads. At the time, an attorney for the company said only that Century had committed no wrongdoing and abided by all federal laws.
In 2004, Century again made headlines when it tried shipping 7500 Romanian AK-47s — fully automatic machine guns, which were illegal for importation into the U.S. — on a Turkish ship bound for New York. Federal authorities seized the shipment in an Italian port. As the New York Post reported in an April 22, 2004 story, "The AK-47s were apparently bound for Vermont."
More recently, Oscar Ramiro Ortega-Hernandez, the Idaho man who fired nine rounds at the White House in 2011, used a Romanian knock-off of the Russian AK-47 that was imported into the U.S. by Century International Arms.
The Century name also turned up in secret diplomatic cables obtained and made public by WikiLeaks in 2011, the Palm Beach Post reported. Those cables reveal that a shipping container of M-1 rifles, which the U.S. government donated to the Guatemalan government during the Cold War, were later delivered to Century's Delray facility in 2007 and offered for general sale in the United States.
Century firearms have also turned up south of the border, where federal authorities say they've become the weapons of choice for Mexican drug cartels. The WASR-10 — the official name for the weapon Ramiro Ortega-Hernandez fired at the White House — has become the most commonly seized weapon in the Mexican drug wars. Over a four-year period, more than 500 Century-imported WASR-10s turned up in Mexico, according to the CPI/ "Frontline" report. Most of those weapons had been upgraded with military-style capabilities.
How many of those guns moved through Vermont is impossible to say. Spokespeople for ATF and the Vermont State Police cannot comment on Century other than to confirm that the company holds a federal firearms license as a "manufacturer of firearms" and "importer of destructive devices."
The original version of this story misstated the size of the Century Arms warehouse.