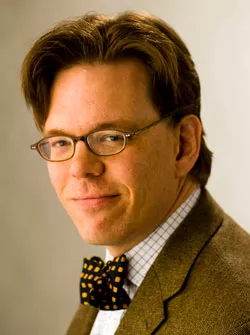 Robert Schlesinger is his father's son; he's got the bow ties to prove it. More importantly, he also inherited Arthur Schlesinger's insight into American presidents and how they govern.
Robert was born nine years after the assassination of John F. Kennedy, the president for whom his father was an advisor, speechwriter and "court historian." The elder Schlesinger, who died last year at age 89, was himself the son of a prominent social historian and Harvard professor.
Given that lineage, it's no surprise that Robert Schlesinger, a 1994 graduate of Middlebury College, earns his living as an observer of the American political scene. He is the deputy assistant managing editor for opinion at U.S. News & World Report and a blogger for the Huffington Post. His first book, White House Ghosts: Presidents and Their Speechwriters, is a carefully researched account of how presidents, from FDR to George W. Bush, used the words of others to craft the messages they delivered to the American people.
Schlesinger will be discussing his book October 3 at Middlebury's Robert A. Jones Conference Room. The event is sold out.
In a telephone interview from his home in Washington's Virginia suburbs, Schlesinger rated the speechmaking abilities of past presidents and discussed the rhetorical skills of the current candidates, Barack Obama and John McCain. He also offered a critique of the press's coverage of the presidential race and how today's politicians manipulate the mainstream media.
Seven Days: How would you rate the current president's ability as a speechmaker?
Robert Schlesinger: President Bush is capable of both good speeches and mind-blowing gaffes. I know some of his speechwriters from his first term — I covered him then [for The Boston Globe] — and those guys did write some effective speeches. In particular was Bush's speech at the National Cathedral, a couple of days after the September 11 attacks, in which he spoke of Americans being "in the middle hour of our grief."
Michael Gerson, who writes a column now for The Washington Post, got most of the publicity as Bush's speechwriter, and he does have an interest in fine phrasing. But he was really part of a team. Another of those writers, Matthew Scully, did a scathing piece for The Atlantic [challenging] Gerson as the lone genius laboring on a yellow pad in his local Starbucks.
SD: Who do you think were the best presidential speechmakers since World War II? Ronald Reagan would be one, right?
RS: Yes, Reagan and, of course, JFK. They both had not simply the ability to give a good speech but a sense of the occasion as well.
SD: How about speechwriters themselves? Who are the best?
RS: It's interesting that two guys with big careers in journalism — Rick Hertzberg and Chris Matthews — wrote speeches for Jimmy Carter, who was one of the least effective presidential speechmakers. Those two were certainly not minor-league speechwriters.
One of the best was Ted Sorenson, who wrote for JFK, as did my father and Dick Goodwin. One reason Sorenson was so good was the chemistry between him and Kennedy. He could finish Kennedy's sentences.
Reagan, on the other hand, was at a remove from his speech-writers. And they were often at war with senior staffers in Reagan's White House. The speechwriters were hard-core conservatives who came up with the "evil empire" and other such lines that horrified the staffers. They were against that stuff for policy reasons. They didn't view it as helpful.
For JFK, the speechwriters were advisors themselves.
SD: What about FDR?
RS: He was one of the three best presidential speechmakers of the 20th century. Roosevelt wasn't the first president with full-time speechwriters, but he was the president under whom it all flourished. He grasped the importance of mass media, understood he was speaking not just to whatever audience might be in front of him but really to the whole nation. He knew he was in effect speaking to people in their living rooms.
SD: What do you think of McCain's and Obama's speechmaking?
RS: McCain's principal speechwriter is Mark Salter, and he knows McCain quite well. He can presumably write in McCain's voice, but McCain's speeches are hamstrung by the fact that he can't deliver them very well.
The Republican Party in the Reagan years was fully aware of the importance of the staging of events. I don't know what's happened, but the staging of McCain's speeches has been so appallingly bad. There were those random weird pictures behind him [at the GOP convention] and a set that made him look like a green man. I'm not a McCain supporter, but I do think of him as a genuine American hero. He deserves better than this.
Obama is obviously a whole other story. He writes a lot of his own stuff.
A striking difference between McCain and Obama, in addition to their speechmaking skills, is that Obama clearly gets the importance of this role. He knows it's a critical tool of being a president. He sees you have to use the whole tool set.
With McCain, you have to wonder if he shares the belief of George H.W. Bush in substance triumphing over style. The first Bush I'd rate as one of the least effective presidential speechmakers of recent times — him and Carter and Gerald Ford. It's interesting that the presidents who were not very good in office were also not very good at giving speeches.
SD: Aren't speeches less important now because our culture is so visual, so multimedia?
RS: No, speeches are still really important. They can have a huge impact.
It is harder now to penetrate the clutter of media, but a president still has what Roosevelt called the bully pulpit. The president's got the ability to cut through all the clutter.
What a president says is actually so much more important now than in earlier times, even if he's only delivering what's called Rose Garden rubbish. Maybe he's just welcoming a Boy Scout troop to the Rose Garden but there are still cameras trained on him that will pick it up if he says something stupid. It's like Obama at that fundraiser, where he spoke about Americans "clinging" to guns and religion. Someone's going to have a camera and whatever you say is going to be on YouTube.
SD: What do you think of the media's coverage of this campaign? There's a lot of discussion about the need to point out stuff that isn't true or accurate, to not insist on remaining "objective."
RS: The media as a whole should strive to achieve objectivity, by which I mean being fair and presenting both sides. But politicians will take advantage of this presumption of seriousness on the part of the media. If a campaign says something — no matter how inane or inaccurate — much of the media feels an obligation to report it as though it were a serious statement.
The danger of challenging this is that you can go too far in the other direction and end up as Fox News or MSNBC. I think MSNBC was quite right, by the way, to get rid of Chris Matthews and Keith Olbermann as anchors. The distinction between reporting and commentary is disappearing, and that's dangerous.