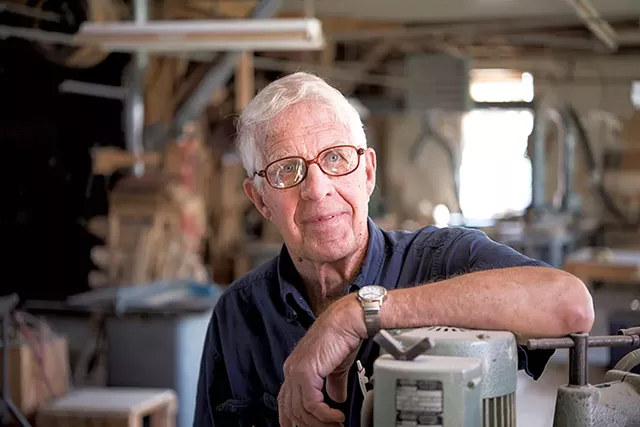 Caleb Kenna
Jack Brown
Behind Otter Creek Engineering in East Middlebury, a six-acre chunk of property stretches down to the bank of the Middlebury River. Blink and you might miss it from the road, but this was once a place where water from the juncture of river and millpond breathed life into a raucous assemblage of heavy metal machinery.
Jack Brown, the 80-year-old owner of Brown Novelty, grew up on this land, playing with wooden scraps left over from the millions of paintbrush handles and thousands of toy pianos his father and uncle's company made every year. For eight decades, Brown Novelty specialized in creating custom woodworking projects, most of which were contracted out from toy companies.
These days, the majority of the property is quiet, save for the radio that plays in the paint room and the occasional chainsaw whir from one of Jack's renters. The staff room at Brown Novelty holds a punch clock with room for 25 cards, evidence that the place once buzzed with activity. Today, just one card remains — that of part-time employee David Tier.
Jack is preparing to retire and sell the property, effectively discontinuing the company's manufacturing operations. The town recently appraised the place at $269,000, and he's looking for potential buyers.
In high school, Jack worked his first job at Brown Novelty, with his old man watching over his shoulder. In 1962, he returned there after earning a degree in management engineering from the University of Vermont, though he still commuted to Burlington on weekends to serve with the Vermont Air National Guard.
Three years after Jack graduated, his father died. He bought his half of the company from his uncle and became an owner. That tenure has lasted more than a half century and anchored him within 500 yards of his childhood home.
"It was just a good opportunity. You stay in your hometown," Jack said of his decision to buy the business. "This was my playground as I grew up. I worked in my playground every day."
When Jack's uncle died, he bought his half, too, and became the company's sole owner. He was often up to his elbows in business, and his workdays frequently bled into weekends and nights, which became more taxing as he grew older. No one volunteered to take over when Jack stepped down, so he's been easing the company out of production in preparation for complete closure.
"It's a bit of a relief not to have to worry about customers," he said. "But it's been here in the family for 80-some-odd years, this piece of property. I've personally pounded nails on the additions to these buildings."
A member of the East Middlebury Historical Society, Jack knows the story of 406 East Main Street well. The Tupper family, one of the earliest to settle in East Middlebury, built the property in 1827 as a window-sash factory. Patriarch Norman Tupper harnessed the power of the Middlebury River to mechanize the sash-making process via a water wheel, which powered a drill and circular saw, and a gristmill down the street, which he used as a tannery.
After Tupper came John Bryant, a manufacturer of wooden lock-corner boxes. In 1935, Bryant was approached by Jack's uncle, Roy "Myrle" Brown, who worked for toy-making mogul Louis Marx in New York City. He persuaded Bryant to manufacture wooden parts for Marx's toys at his factory. Myrle and his brother Floyd, Jack's father, bought the place in 1937 and gave Brown Novelty its name.
Myrle had the contacts from his toy-making job, but Floyd, a semipro baseball player who went to chiropractor school in Davenport, Iowa, had the people skills. He ran the manufacturing facility.
"It fit my father well," Jack said. "He's a people person. A schmoozer. He could get you to do anything."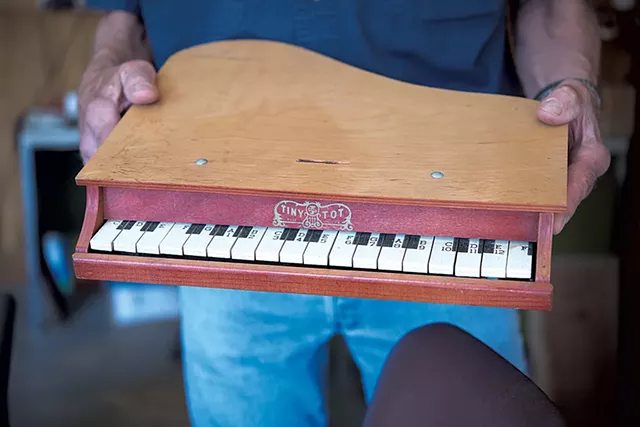 Caleb Kenna
Jack Brown holds a toy piano
The new business worked well for the Browns. According to a 1940 Burlington Free Press article, the brothers "bought their establishment during a depression year and turned it into a $40,000 business, giving year-round employment to 25 persons." They sold boxes, as Bryant had, while diversifying into products such as children's skis and poles; paddleball games decorated with scenes from Popeye cartoons, the rights to which Brown Novelty then owned; and loose-jointed "limberjack" dolls. Along with rocking horses, those dolls are one of two toys the company still makes today as it depletes its inventories.
The Browns also specialized in making parts for small wooden toy pianos, which Marx assembled and retailed. When the toy piano business went under in the '90s, Jack had to look elsewhere for customers.
Through advertising and cold-calling potential clients, Brown Novelty forayed into making smaller quantities of more advanced custom projects, such as wooden displays for liquor companies, pull toys and Autoharps. These sales increased the company's profit margins, and Jack always enjoyed puzzling over possible designs for new requests.
"That was the most fun of all," he said. "Sometimes we just couldn't do it. But I think for the most part we could figure them out."
Other aspects of production changed, too. In the early 2000s, the company stopped producing paintbrush handles. Noted Tier, "You could buy 'em from China cheaper."
Tier, 68, said that small batches of high-quality products were Jack's "niche" when computer-driven technology was just beginning to take hold. Back in those days, it was inefficient to program automated machines to make minute quantities of one product. Now, newer generations of computer-operated equipment can easily be reprogrammed repeatedly for smaller odd jobs, taking away the edge that companies like Jack's once had.
Tier is Jack's last employee. He began working at Brown Novelty in 1995, when he still owned the Bike Center — now Frog Hollow Bikes — in Middlebury. For years he helped Jack with production, a job that fulfilled him more than retail.
"The satisfaction is in making a useful product, or at least a product that's fun," he said, pointing to a miniature blue and green wooden sailboat he built last year. "I've never met a person who had a negative reaction to one of those guys." The boat is from the last batch he ever made.
Now, Tier is helping to get Brown Novelty ready to sell, fixing up loose doors and repainting the 10 red-and-white-trimmed buildings. The biggest edifice is the mill itself, a high-ceilinged structure housing dozens of machines that could chomp a person's fingers off. Among them is the 100-plus-year-old band saw; the shaper, which workers used to cut wood into stenciled shapes; and the cyclone, which separated air from the wood shavings and expelled them out through the roof.
One of the mill's newest contraptions is a secondhand screenless computer numerical control machine, or CNC, which Tier thinks dates back to the '70s. It might be the closest Brown Novelty has come to computer automation, though it's still a far cry. When the machine was in use, operators had to stay nearby to feed it pieces of wood.
Also part of the physical plant are two boiler houses, a sawmill and a handful of sheds. A patch of tall grass hides the shell of a channel that once carried water from the now-drained millpond to the hydraulic turbine, which lies inert under the mill's wooden floorboards.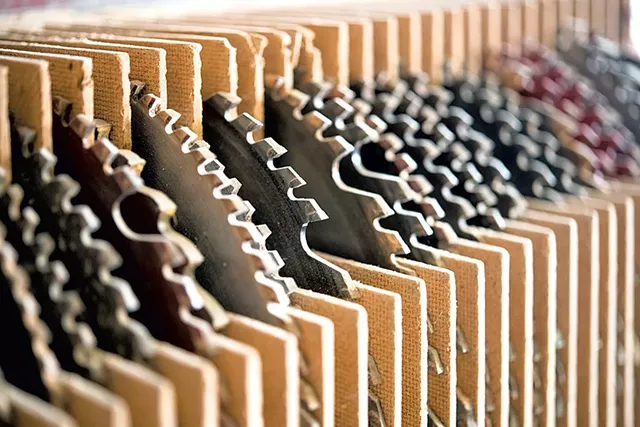 Caleb Kenna
Saw blades
Brown Novelty hasn't powered its machines with water in decades, and the river is much lower than it used to be. It's difficult to believe that the waterway quietly gurgling on the edges of the property once heaved enough water into the mill to power its many machines. Since the 1970s, those still in use have been powered electrically.
The depopulated staff room seems like it could get lonely, but Tier likes being able to report to Jack without going through a middleman. Deferring to someone else for decisions and performing assigned tasks are things he's always liked about the job, he said. Which is convenient, because Jack has always enjoyed working for himself.
"I don't think I could have ever worked if I hadn't been my own boss," he observed, laughing.
When he retires, Jack hopes to spend more time with his grandkids, two of whom live across the street from the mill in his childhood home. They love the company's wooden toys but also play computer games such as Minecraft. One has a cellphone. "It's a different lifestyle," Jack said.
Jack and his wife, Margot, a retired nurse from St. Johnsbury who worked as the company's secretary-treasurer for years, live down the street on Grist Mill Road. They built the house in the '60s, when Jack was a year out of college and "wanted something more to do," he said. Jack and Margot moved in five years later.
It's hard to imagine a man with this much energy and enterprise kicking back in an armchair at home. But Jack has plans to supplement his family time with a slew of other activities — playing tennis, talking history with his friends, working in his at-home woodshop.
And he'd be thrilled to come back and use the machinery in the old factory from time to time, new owner permitting.
"I would love to sell it to somebody who wanted to use it as a woodworking plant," he said.