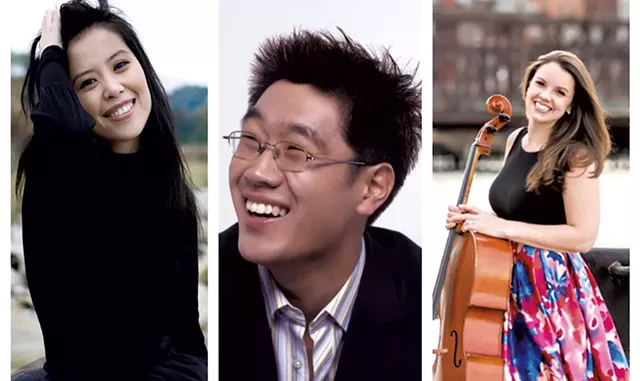 Photos Courtesy Of Lisa-marie Mazzucco (chien & Kim), And Kate Lemmon (taubl)
From left: Gloria Chien, Soovin Kim and Emily Taubl
Cellist Emily Taubl moved to Vermont in 2014 just after completing her graduate diploma in cello performance at the New England Conservatory in Boston. One of the first invitations she received was to perform in the Resident Ensemble Program in that summer's Lake Champlain Chamber Music Festival, whose co-artistic directors are renowned musicians Soovin Kim, a violinist and the festival's founder, and his wife, Gloria Chien, a pianist. The next invitation? To join the festival's board. She was 29 years old.
In the short time since, Taubl, who lives in Burlington, has established herself as one of the state's most admired cellists. She teaches at the University of Vermont and in her home studio, subs in the Vermont Symphony Orchestra and commutes to Massachusetts to play in the Springfield Symphony Orchestra, where she landed the principal cello position in April.
Now Taubl is reuniting with her original Vermont connections for her UVM faculty recital on Saturday, December 7: She'll play in a trio with Kim and Chien.
The recital, titled "Beethoven's Birthday Bash," features an all-Beethoven program in honor of the 250th birthday of the German composer (1770-1827). The concert will open with the 14 variations in E-flat major for piano trio. Duets with Taubl and Kim (Duet No.1 in C major, originally for bassoon and clarinet but transcribed for violin and cello) and Taubl and Chien (12 variations on a theme from George Frideric Handel's Judas Maccabaeus) will follow. The concert will culminate with the Archduke Trio (aka Piano Trio No. 7 in B-flat major), a piece Taubl calls "the crown jewel."
To their many performing and administrative commitments, Kim and Chien are adding co-artistic directorship of Chamber Music Northwest in Portland, Ore. — one of the country's oldest chamber music festivals — beginning in September 2020. The two also play in a trio with Emerson String Quartet cellist Paul Watkins, which is scheduled to perform the complete Beethoven trios next year.
Kim and Chien, who live outside of Boston with their two children, are happy to take a break from their busy schedules to perform with Taubl.
"We're big fans of Emily's ever since we first met her," says Kim in a phone call. "She's just such an impressive person — likable, responsible, sensible, always looking for musical projects to create that will engage people around her."
Kim calls Taubl a "consistent cellist": "Her music making is so dependable. You know she's going to be there with you in the ensemble, which is what you want in a chamber player." And, he adds, "She has a very striking sound — warm, full, rich; all the qualities that make us love the cello."
The cellist and violinist collaborated once before, on a Burlington Chamber Orchestra concert guest-conducted by Kim in which Taubl played Beethoven. "She played her solos beautifully," Kim recalls. (The BCO dissolved last spring after 12 years due to financial difficulties.)
Taubl, who has given previous faculty recitals with pianists Paul Orgel and David Kaplan, began organizing the upcoming concert long ago. "Thankfully, I pitched it to [Kim and Chien] a long time in advance, knowing this would be difficult," she says.
Her own schedule is just as busy. Taubl rattles off upcoming engagements from memory: concerts with both the Springfield Symphony and its chamber music series; the VSO's January and May concerts; UVM's Festival of New Music in late March; and Capital City Concerts in April.
"I make long charts of when I have to start practicing each piece," she says, explaining how she manages her schedule.
It seems that knack for preparedness underlies Taubl's career thus far. A precocious musician, she entered the Juilliard School's pre-college division in eighth grade and stayed for three years. Then, over the next three years, she earned the equivalent of a master's degree in cello performance at the Yale School of Music's certificate program. After a break from training, Taubl enrolled in the New England Conservatory and earned both her bachelor's and a graduate diploma ("a kind of post-master's degree," she explains) in four years.
Taubl says she doesn't regret her "convoluted" education route but concedes, "The pressure of playing at a master's-degree level as a 16- or 17-year-old is difficult."
After all of those auditions for high-level conservatories, Taubl had a certain skill set. While teaching one of her private students — she currently has 21 — she realized the young cellist could benefit from some coaching and spent three hours sharing her knowledge.
"I was struck by how little my student knew about the application process," Taubl recalls. "I casually said to my husband, 'Someone should really design a workshop to help kids do this.' He said — he was laughing — 'Why don't you?'"
So Taubl founded the Conservatory Audition Workshop, which runs for two one-week sessions in the summer on the Champlain College campus. Taubl is program director; she coordinates visits from faculty of top conservatories around the country. This summer will be the workshop's fifth year.
The cellist also gives faculty concerts both for her own enjoyment and with her students in mind. "I love to perform. It's a fun process to choose what you're playing and who you play with," she says. "And for my students, I like to set an example of high-quality playing for them, because I demand it of them.
"It's hard to get college students to go to concerts," Taubl continues. "They don't have cars; they're busy. So bringing a concert to them is a priority.
"But," she adds, "I'm doing it as more than just a faculty concert. It's morphed into something I want to present to the community."