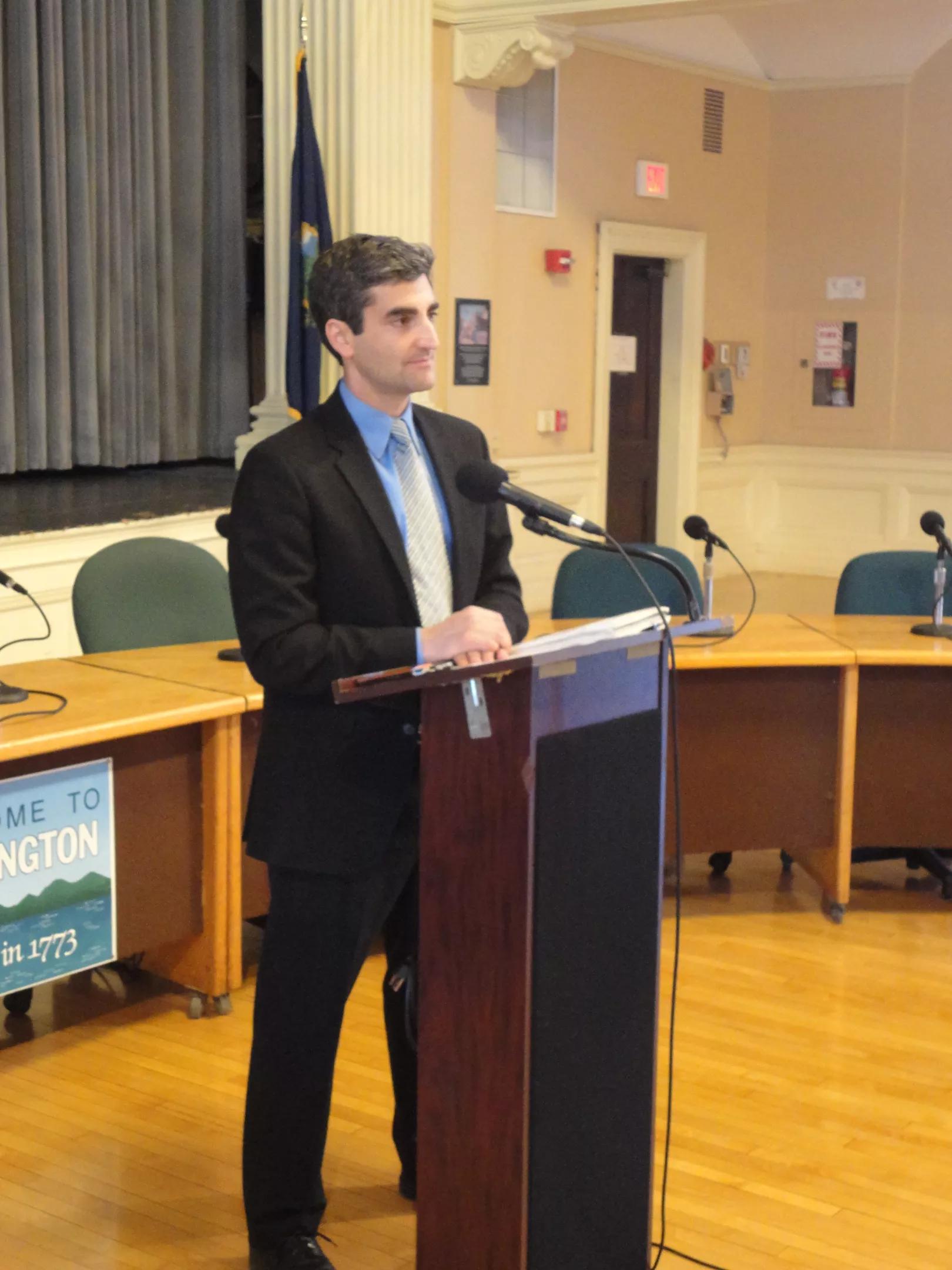 As part of a proposed reorganization of his office, Burlington Mayor Miro Weinberger plans to ask the city council to increase his staff from two to three, arguing that he needs another staffer to get the job done.
"After two months on the job, I'm convinced I need additional capacity in the mayor's office to deliver on these commitments," Weinberger said Monday, referring to campaign pledges.
At a Board of Finance meeting tonight, Weinberger plans to unveil his proposed office revamp, which would add a new position called assistant to the mayor for open government, innovation and mayoral initiatives.
Weinberger says the reorg is budget neutral, because it would eliminate a position in the chief administrative officer's department and decrease the pay grade of the mayor's executive assistant — transforming that position into office assistant. An existing mayoral assistant position temporarily filled by former campaign spokesman Mike Kanarick would be renamed assistant to the mayor for operations and communications.
So committed to transparency is Weinberger that he's already filled the yet-to-be-created "open government" job. He hired former city councilor and state representative Carina Driscoll last Monday to temporarily perform the duties of the job until it's created and she can be formally appointed.
That left at least one city councilor — Progressive Max Tracy — miffed when he learned about the hiring during a budget work session last Thursday.
"It seems a little ironic that it would be an open-government position, but that it wouldn't be fully vetted or announced or anything," Tracy says. "I'm not opposed to him making the necessary reorganization to be successful, but I just think if he's going to be changing the structure of city government, he should be justifying it publicly."
It's not the first time Weinberger has used his temporary hiring powers to bolster the mayor's office with political advisers. Shortly after taking office, he filled a vacant human resources department position with former campaign manager Jessica Nordhaus — though she worked out of the mayor's office. Nordhaus has since left city hall. 
Similarly, Driscoll is currently filling the vacant assistant to the CAO position — though Weinberger says she's working out of the mayor's office and performing the duties of the assistant to the mayor position. Weinberger attempted to bring on another former campaign adviser, Ian Carleton, as city attorney, but the city council scuttled that nomination.
Asked whether he has more on his plate than did redecessor Bob Kiss, who got by with one assistant, Weinberger said, "Given my sense of what the city needs right now and the change we need to make and the challenges we're facing, this is the structure of the mayor's office I need.
"I do not think it's unreasonable to have two people in a 650-person city government that are directly accountable to the mayor and no one else," Weinberger added, saying Kanarick's and Driscoll's work would be "very substantive and meaningful."
The additional political appointee comes as Weinberger is working to plug a $1.2 million gap in the city's fiscal year 2013 budget. Weinberger said last month the budget could be balanced without resorting to an increase in property taxes.
"I think we've exceeded expectations in some ways to make the FY13 budget as tight as it is and to avoid a property tax increase," the mayor said Monday. "I made good on my commitment that I made during the campaign to do what I did to avoid a property tax increase."
Given that success, Weinberger added, he felt comfortable increasing his staff to help him "succeed on [his] other commitments."