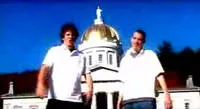 Colin Arishan & Luke Martin
On April 27, a couple of young Vermonters, Colin Arisman and Luke Martin, posted a YouTube video eloquently entitled "802 music video." In it, the Montpelier residents hang in front of the Statehouse and rap about what it's like to be young in Vermont. In their coverage of the popular clip, which has been viewed 52,133 times to date, local media focused on the trendy phenomenon of kids getting famous via Web 2.0.
What did they totally miss? Arisman and Martin appear to be budding food critics. The clever teenaged lyricists peppered their rap with comments on local ag, and even used it as a forum to review a couple of local restaurants. Overall, food is mentioned eight times, not including a reference to hunting.
Here's the rappers' quick-and-dirty assessment of the Capital City's pizza scene: "We've got seven different places to buy a pizza slice, / but don't go to Village, 'cause that dude ain't nice. / Cross off Angeleno's 'cause their pie is overpriced. / What about Girasole? Yeah, that'll suffice!"
Other fav foodie lines: "Cellphone service is questionable. / Farmers' market is our biggest festival." "Our eggs are jumbo 'cause our chickens are free-rangin'." They also talk up the state's creamy milk, Ben & Jerry's and Cabot sharp cheddar.
Here's a link to the video, via Cathy Resmer's blog, 802 Online.