Courtesy Of Margot Whitcomb
People Fish and Drowning Sailor rehearsing 'Mad as the Wind & Sea'
Literature, stage and screen are filled with comeback stories. In fact, the United States of America is the land of second chances — or was before the current administration's immigration policies. Next week in Vermont, an intimate theatrical production in a very small town will pack in no fewer than three starting-over stories. Mad as the Wind & Sea: A Buccaneers' Fantabulous Rollicking Tragic Opera, written by Chris Colt and directed by Margo Whitcomb, will be staged Wednesday through Sunday, June 20 to 24, at the Gospel Hollow Town Hall in Calais.
The most dramatic comeback is that of Colt himself. Five years ago in May, he suffered a stroke on the very day he and Whitcomb had planned to meet and discuss producing another of his plays. Instead, Colt was rushed to the hospital; he spent a month and a half there, fighting first for life and then, in rehab, for a return to functionality.
Today Colt, 57, remains essentially paralyzed on his right side — he walks with the help of a cane and a leg brace — and experiences aphasia when he speaks. In conversation, he is lucid; a word sometimes gets stuck, but then a sentence will burst through.
Colt's creativity is completely intact. He wrote this musical, which Whitcomb calls "enchanting and slapstick," using only his left hand and the composing platform Garage Band. He also sings in Vermont's Aphasia Choir, whose members are stroke victims; the group recently performed at Saint Michael's College.
"It's so uncanny how music affects people," observes Whitcomb in an interview at the Calais Town Hall-cum-performance space. She notes that friends came and played music for Colt in his hospital room.
"It's been slow, but I've come a long way in five years," Colt says.
His neighbor Bob Hannan "wrote the music for five or six of the songs; I wrote lyrics, and he composed and tweaked," Colt says. Hannan also plays the Windman, a sort of MC, in Mad as the Wind & Sea.
That collaboration is one of many in this tightly knit community of less than 2,000 souls. Colt moved with his family from New York City to Calais — his wife, Sam Colt, is a native — in 2008. In New York, he had written, directed and acted with various institutions, then taught at the performing-arts-focused Talent Unlimited High School "for his thirties and half of his forties," Whitcomb says.
Courtesy Of Margot Whitcomb
Chris Colt
In Calais, Colt's property includes the locally famous 19th-century Blue Barn, a former dairy barn, landmark and community center. He proceeded to stage theatrical productions there until a fire marshal put a stop to it.
In 2012, Colt directed and performed in a raucous stage adaptation of The Blues Brothers at the Barre Opera House and other venues. It was a benefit show for the Blue Barn in which Colt and neighbor/sculptor Chris Miller played Elwood and Jake Blues, respectively.
Colt has also penned several other plays, including 2016's Elgin Mann, the Musical!!, a "historically inaccurate" tale of an earlier owner of the Blue Barn. Though still recovering from the stroke, he was able to introduce the show.
Whitcomb, who also moved to Vermont in 2008, is a theater artist with an arm's-length résumé of directing, development, education and administrative credits on both coasts, including a former position as associate artistic director of the American Conservatory Theater in San Francisco. She says she had heard of Colt and his theatrical background well before Kim Bent, cofounder of Lost Nation Theater in Montpelier, introduced them.
Whitcomb has established herself in the Vermont theater community, working with Lost Nation, Vermont Stage, the Chandler Center for the Arts and, for a production this fall, the Vermont Shakespeare Festival. She calls Mad as the Wind & Sea an "original Vermont musical and a miraculous comeback for a beloved member of the arts and broader community."
Another second-chance story is represented by the venue. The former Calais Town Hall, also called Gospel Hollow Town Hall, was built in 1866. Though the two-story structure boasts a spectacular chandelier on the upper level, the historic building had fallen into disrepair. At Town Meeting last spring, Calais residents unanimously supported borrowing up to $200,000 to pay for its revival. The work, temporarily halted for Colt's play, is scheduled to finish up in the late fall, according to zoning administrator John McCullough.
And the third comeback? It might be a bit of a stretch to call the afterlife a second chance. But Mad as the Wind & Sea contains characters called People Fish, human beings who have been lost at sea and whose spirits live on with, apparently, the ability to breathe underwater.
That motif is no more preposterous than setting a show featuring ships — with rollicking buccaneers! — and an ocean in a 19th-century clapboard relic in the middle of rural Vermont. And somehow fitting in 18 performers, a seven-piece band and a few rows of wooden folding chairs for the audience. This hall has never seen the likes of Mad as the Wind & Sea, despite many decades of spirited town meetings.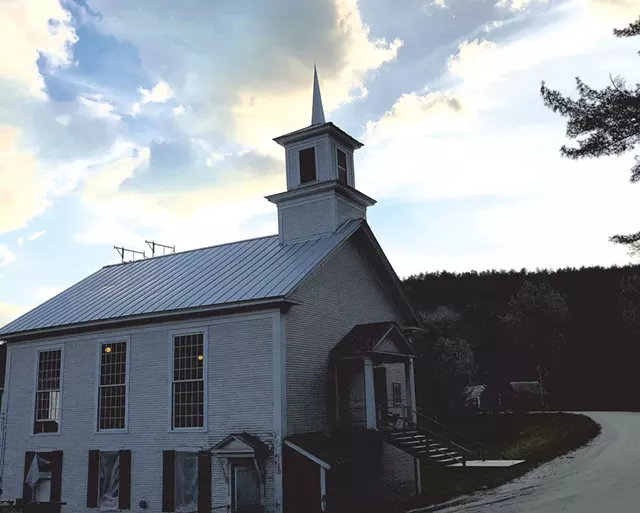 Courtesy Of Margot Whitcomb
Calais Town Hall
"There's a lot of movement," Whitcomb relates. "Sailors fall overboard and float around for some time before they meet the [underwater] creatures."
She enlisted choreographer Noah Witke-Mele, a U-32 High School senior, to train the actors playing these creatures to simulate being in water. The cast members — locals that include some stage veterans — span ages 12 to 75.
Colt points out that Mad as the Wind & Sea is, at heart, a love story. Without spoiling too much, let's say there's a buccaneer and a maiden/girlfriend who becomes a People Fish and sings to him.
Does the afterlife theme relate to Colt's own brush with death? "Yes," he says. "It's pretty impressive that I came back."
"It's really kind of amazing," adds Whitcomb. "He wrote the music, the lyrics, the story. The world of the afterlife is playful, benevolent, bizarre and absurd. It's high comedy."