Luke Awtry
Cindy Parker
Commercial development in Burlington's South End is a study in consumer choice. If you like pizza with your beer, walk the west side of Pine Street (Pizza 44 and Queen City Brewery). If you'd prefer a sausage with your pint, cross the street (Zero Gravity Craft Brewery). A fan of New York-style bagels? East side of Pine at the Lakeside intersection (Feldman's Bagels). Prefer the Montréal mode? West side and a little further north (Myer's Bagel Bakery).
The latest South End locale to offer options mere footsteps apart is at the southwest corner of Howard and St. Paul streets. For motorists hustling through the five-way intersection there, the modest duplex at 463-465 St. Paul might be a blink-and-you'll-miss it scenario. But a double take reveals a new business — a barbershop called simply the Shop — right next door to South End Style hair salon.
"We're the hair Mecca" of the neighborhood, says South End Style owner Cindy Parker.
Two salons in the same duplex might appear too close for competitive comfort in a city as small as Burlington. Not so in this case, say all parties involved, including the Shop owner Algenis Garcia and landlords Al and Pam Longe. Before giving Garcia the keys to the storefront that Tomgirl Juice vacated last November, the Longes made sure that their 20-plus-year tenant Parker was open to having another hair cutter as a neighbor.
"Pam came in and said, 'I just wanted to talk to you about how you feel about him even coming in,'" Parker recalls. After meeting Garcia and seeing pictures of the work he does, she was reassured. "He does his own thing. I do my own thing. He has very nice customers. I'm glad he's here," she says. "I hope everything works out."
Hidden in Parker's welcome is a keen insight that she and Garcia share about the hair trade: A loyal clientele is the best hedge against competition. Visiting the salons makes clear that their customers are unlikely to overlap.
Parker, a 1976 graduate of the Sanford Beauty Academy in Florida, made her way to Vermont three years later and worked at area salons before opening South End Style in 1998. It was initially on the side of the building where Garcia's shop is located. Parker describes her services as "traditional" — haircuts, permanents and coloring. Though a small barber's pole is near her front door, only about half of her customers are male.
Garcia, a former bartender and baseball player in the Dominican Republic, started cutting hair on the side. After immigrating to the U.S., he apprenticed at Aras Hair Salon in Burlington from 2010 to 2011 and has since earned a reputation for his skill at cutting fades, line-ups, designs, Afros and flat tops. Garcia's clients are mainly — but not exclusively — people of color, mostly men and boys.
Parker's salon is a cozy, tranquil space where classical music plays on the radio and flowers, plants and wicker furniture conjure the ambience of a Sunbelt sunroom. Three vintage hair dryers, photos of her kids and grandkids, and art and craftwork by customers Cristina Mazzoni and Jill Kleinman enhance the homey effect.
By contrast, Garcia's studio is open, airy, brightly lit and sparsely decorated. White walls hold reminders of his journey — small paintings of beach scenes framing a banner that reads "Blessed," a poster showing popular hairstyles, flags of the U.S.A. and the Dominican Republic.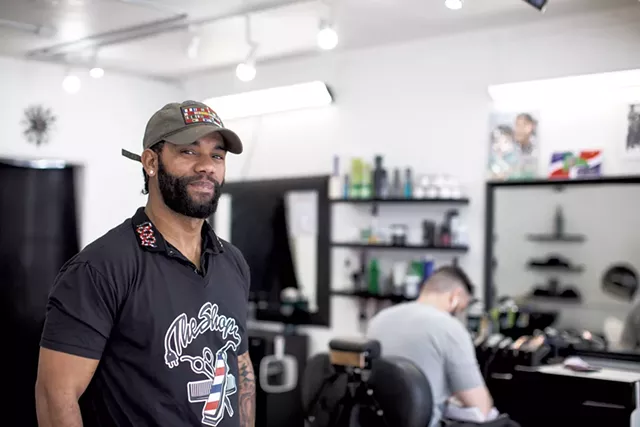 Luke Awtry
Algenis Garcia
Sometimes Spanish-language hip-hop scores Garcia's clipper work; sometimes it's the sound of an action flick playing on the wall-mounted TV. A couch and coffee table near the front window invite customers to sit and thumb through the pages of Men in Motion: 500 Styles or watch the comings and goings at Shy Guy Gelato across the street.
As the more established of the two entrepreneurs, Parker draws a healthy number of customers from the neighborhood, making them feel like "family," she says. That's certainly the sense one gets listening to her book an appointment with Pete Charbonneau, who lives nearby, as she asks him if "Mom" wants to come in. Charbonneau says he referred his mother, Marion Charbonneau, to Parker. The elder Charbonneau, in turn, referred another customer.
"She does a really good job," Pete Charbonneau adds. "She has a great reputation."
Parker rattles off a quick list of other regular clients — artists, a judge, musicians, an innkeeper. Some are august names to townies of a certain generation. She notes she's been cutting some of her customers' hair since they were born.
Though Garcia is the newcomer on the block, the initial months in his first self-owned business confirm the power of customer loyalty. He cuts hair by appointment only, but trade has been brisk. Clients from his previous gigs at Diversity Hair Salon and Metro Hair haven't hesitated to seek him out, he says.
"I followed him everywhere," says customer Precious Jagun, who is booked for a cut and a beard and eyebrow trim. Jagun's dreadlocks are someone else's handiwork — they're not in Garcia's repertoire — but the barber has earned Jagun's business, and trust, for the monthly visit. "I have to feel comfortable with who is cutting my hair," he says. "He makes everything easier."
Customers compliment Garcia for his pleasant, soft-spoken demeanor and for taking his time, making them feel valued. Though he's too modest to boast, he concedes, "I'm always busy everywhere I go."
Garcia's approach seems to work with clients of all ages. On a recent visit, he cuts a fade and flattop for a 3-year-old boy to replicate his father's hair. After the expected initial tears, the boy calms down. Some reassuring words, a lollipop and a kids' video on Dad's phone help.
On a different afternoon, Garcia cuts a teenager's hair but has to turn away another adolescent who's not on the schedule. For every two clients he serves, it seems, the barber has to tell one to call for an appointment. "Sounds like he picked a good spot," Jagun suggests.
That old maxim about location, location, location holds special meaning for Garcia, who suspects that race complicated his quest to hang his own barber's pole. He was interviewed for a Seven Days story on the Diversity salon in 2015. At the time, Garcia said he hoped to open his own shop within a couple of years. In his characteristic manner of letting his hands do most of the talking, he gestures to his bare arm and says, "When you're black," with a light shake of his head.
Garcia's former spouse, Sara Sudol, owns Aras Salon, now located in Williston. She puts Garcia's situation more sharply: "It was just a bunch of baloney," she says about being turned away from prospective sites. "We know what we're looking at here. We got 'the feeling.' It was difficult."
Sudol, a Burlington local, had an inside track on the five-corners spot through family connections to the Longes, whom she calls "good people."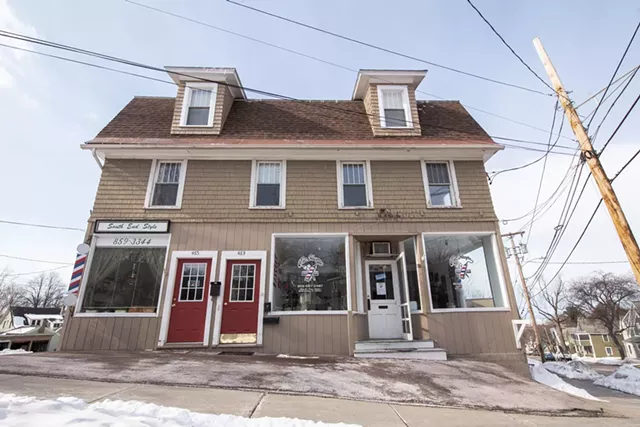 Luke Awtry
463-465 St. Paul Street
Even so, Garcia and the Shop had to wait for a bit. According to Al Longe, a high-end bakery was all ready to set up in the storefront. When the baker nixed the deal at the last minute, Garcia got the call.
Now, Longe sees bright prospects for Garcia's venture. He notes that the location's two most recent tenants, Lunaroma Aromatic Apothecary and Tomgirl Juice, thrived there before expanding into what he calls the Pine Street "Renaissance district." Longe thinks hair salons are a good fit with the neighborhood; parking is tight at the corner, but salons are "destination" businesses that don't generate a high rate of traffic. And when customers arrive, they settle in for a while.
Longe would know. For more than half a century, his family name was associated with a grocery store and butcher shop — Longe Brothers Market — in the spot next to Shy Guy. Neighborhood Market operates there now. Longe's father, Ed, purchased the 463-465 St. Paul building in the 1960s, and Al Longe knows its history well — well enough to know that history is repeating itself. He recalls another small grocery at 463, the Farm Store, where the proprietor made homemade ice cream. The address was also home to a barbershop called Walt and Dick's.
As for the future, Longe and Garcia may be thinking along similar lines. Longe sees plenty of elbowroom at 463 if Garcia wants to expand. The barber already has a second chair in place; on a recent afternoon, his younger brother Adonis was taking care of a walk-in. Garcia would like his brother to apprentice with him and hopes to bring him more fully into the business. That day could come in about a year, he estimates.
In the meantime, Garcia's clientele keeps growing. His friend Fernando DeOleo, who stops by for a chat, suggests that Garcia is not only highly skilled in specialized hairstyles but also relatable to local people of color, particularly immigrants.
"It's his personality. He's real friendly, approachable. People like his story," DeOleo says. He adds that Garcia's taste in music and interest in sports also helps him connect with customers.
Sudol agrees and regards Garcia as a positive role model in the community. "It's good for men of color to be running businesses," she says. "He's breaking the barrier on his own."
Whether or not one views a haircut through a racial, ethnic or cultural lens, hair remains a potent signifier of identity for almost everyone. As DeOleo observes, "A haircut is a personal matter as much as it is a business matter."