In the living room of a Shore Road home in Burlington's Ward 4, a city council candidate is calling for more business growth and control of school spending.
Is it Kurt Wright, the self-described "centrist" Republican state representative seeking to reclaim the seat he held for 10 years before making a third unsuccessful run for mayor in 2012?
Nope, it's Carol Ode, a first-time council contender who calls herself a "conservative Democrat."
The two sound more alike than different in Burlington's New North End, politically defined as Wards 4 and 7, which is the Queen City's closest approximation to a conservative enclave. But the area's politics have changed. Where four Republicans once represented the two northernmost wards on the Burlington City Council, more recently it's been just one. The council's sole Republican, Ward 7 City Councilor Paul Decelles, is not seeking reelection.
Wright, 58, is making his minority status a centerpiece of his campaign, saying he'll restore "balance" to a council dominated by Democrats and Progressives. "There's a real chance that if I'm not elected there will be no Republican voice whatsoever," he points out.
Democrats say the New North End is outgrowing its conservative image and the area would benefit from representatives who reflect the new political reality.
"Wright fits Ward 4 like a comfortable old suit," says Ward 7 Councilor Tom Ayres, a Democrat who after an unsuccessful run in 2012, clinched a city council seat in 2013. "Not to detract from Kurt's service to this part of the city and to the city as whole, but it's time for some fresh new perspective and fresh new eyes."
Underdog? 'Oh, definitely!'
Ode, 58, and her husband, Paul, raised their four children in Ward 4. Though she never ran for partisan elected office during that time, Ode did get involved in the politics of education. For 10 years, Ode served on the city's school board. She's also spent six years on the state board of education.
Since her last stint on the school board ended 14 years ago, Ode held a variety of volunteer and paid gigs — from teaching water aerobics to helping high school students write their college essays to coordinating lobbyists for Downs Rachlin Martin, where her husband serves as CEO.
Ode says people have prodded her for years to run for political office, starting with former governor Howard Dean. When he was a state legislator, Dean was impressed by a presentation Ode gave at a Neighborhood Planning Assembly meeting, she recalls. He suggested she run for city council.
Ode doesn't deny she picked a tough year to finally make a bid.
"Oh, definitely!" she responds when asked if she considers herself the underdog. But she also contends that her school board experience makes her uniquely suited to serve on the council, at a time when Mayor Miro Weinberger is pushing for more collaboration between the two entities.
While Wright is touting his "experience" and "institutional knowledge," Ode says she would bring "fresh ideas and new energy" to the council. At the same time, she says her views "track closely" with those of her opponent.
For instance: Both candidates point to the need for Burlington to grow its grand list of taxable properties by encouraging development and being business-friendly; the two support the waterfront development projects facing an up-or-down vote on Town Meeting Day; they also agree that the city's underfunded pension system needs attention.
Asked about how she differs from Wright, Ode pauses for a full half minute before saying, "I'm not so much a political being."
She does come across as more policy wonk than polished politico. In interviews and a candidate debate, Ode frequently turns to a notebook to retrieve figures about the school budget or city finances. And she shies away from saying anything overtly critical about Wright.
Her backers are less reserved.
"The benefit he brings to the table is more political than actual work," says Jean O'Sullivan, a state representative from the New North End who served on the city council with Wright. Sullivan says that unlike Wright, who serves four months in the legislature each year, Ode wouldn't have to juggle two jobs. She adds, "Having been both places, the hardest job I've ever done in politics is city council."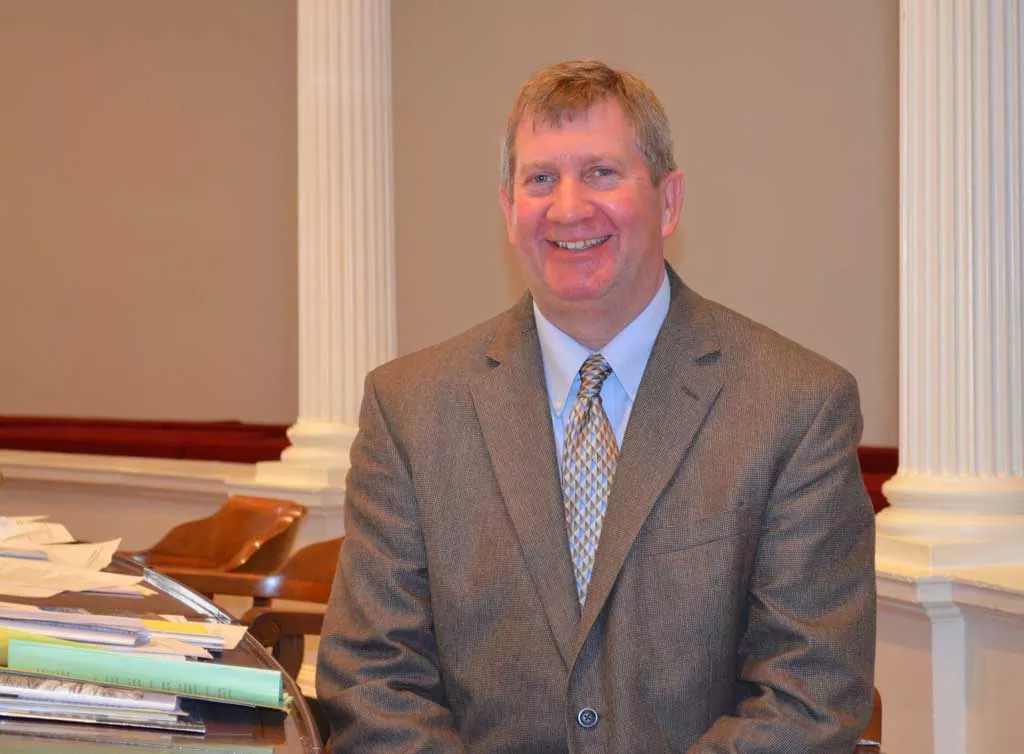 Courtesy of Alicia Freese
Kurt Wright
Wright Stuff
If Wright wins his city council bid, he'll represent his constituents in Burlington City Hall — and in Montpelier. He's served both roles at the same time in the past, arguing that it's "an additional benefit to have at least one member of the city council serve in the legislature."
He'd been on the Burlington City Council for a decade when he left to run for mayor in 2012. But even after losing to Miro Weinberger — his third failed mayoral bid — he remained an almost ubiquitous presence in Burlington politics, attending city council meetings and neighborhood forums and continuing to participate in behind-the-scenes policymaking.
"That shows commitment," notes Jane Knodell, a Progressive City Councilor from Ward 2 and longtime political ally of Wright's.
Last fall, during the council's protracted discussion of redistricting, Wright summoned Knodell and the four New North End councilors to his house one Saturday, where he says he worked with them to hash out a compromise plan.
Dave Hartnett (D-Ward 4) was there, and he too is backing Wright. The two have known one another for 30 years, and Hartnett has served as Wright's campaign manager. But Hartnett says he is endorsing Wright — to the displeasure of other Democrats, he adds — simply "based on the fact that he's done an incredible job representing Ward 4."
Hartnett says Ode has "really been absent from the local issues," and he questions her credentials as a fiscal conservative, pointing out that she, unlike Wright, is voting in favor of a proposed school budget that could raise taxes by almost 10 percent.
"Fiscally conservative would not be somebody who is supporting that budget," Hartnett says, adding that Ode's position puts her at odds with the majority of Ward 4 residents, who have voted against school spending increases in the past. Ode counters that voting "no" on the budget won't do much to buffer Burlington taxpayers, because statewide factors are driving a significant portion of the property tax increase. "It's unsustainable for the cost of education to rise faster than either the cost of living or the rate of inflation," Ode said, but she thinks cost-curbing efforts should start at the state level.
Both Ode and Wright promise to address rising property tax rates — a particularly contentious issue in the New North End, where many own their homes and directly feel the impact of rising tax rates. But Hartnett says it's significant that Ode is supporting the budget, while Wright stands in opposition.
"I think it shows a very clear contrast between the two. He's clearly more in touch with his constituents in the New North End."
Even Ode's strongest backers concede that most people — themselves included — like Wright as a person and appreciate his service to Ward 4, where the candidate and his wife, Kim Nuttall, have lived for roughly 25 years. Ayres said he's had to work to convince people that the outcome of the race isn't a foregone conclusion. He recalls a recent conversation in which the other person insisted, "But Kurt is the 'King of the New North End!'"
Wright, however, is careful not to convey entitlement. "I'm working as hard as I have on any campaign," he says, adding that he expects to have knocked on nearly every door in the ward before Town Meeting Day.
He's got an edge on fundraising, too. According to campaign finance reports filed Tuesday, Wright has raised $5,500 to Ode's $3,500.
Wright is trying to turn his last-R-left-standing status into a selling point. Knodell articulates it as well as he could: "I think it's important for the mayor to deal with a diversity of points of view, to have to put together coalitions to support his initiatives and not to have a guaranteed majority."
Will Burlington's New North End buy it? "They are both incredible campaigners so it's going to be a really tight race," predicted O'Sullivan. Ayres had a similar assessment: "I do think it's going to be close, and a lot closer than a lot of people are expecting."
UPDATE: There's a third candidate running in the Ward 4 city council race — Loyal Ploof, a Libertarian, who says he's the only true "fiscal conservative" in the field.
Ploof said he's running because "I think our city council is a mess. Instead of working on prioritizing finances, they are working on taking our rights away."
This is Ploof's second time waging a campaign in Ward 4, and before that he ran in Ward 3. Last year he went up against Democratic Councilor Dave Hartnett, winning 90 votes to Hartnett's 913.
Still, Ploof says his prospects are better this year, since it's a three-way race. Ploof, who runs a dog walking business and makes films, said he's lived in Burlington nearly his whole life. He served one term on the Burlington school board, from 2004 to 2006, and is currently doing his fourth stint on the city's housing review board.
In Ploof's view, the council has dropped the ball on addressing the city's underfunded pension system and remedying its lackluster credit rating. It should be spending its time on those issues, he said, rather than debating gun control measures.
Ploof said he opposed all eight items on this year's Town Meeting Day ballot, and if elected, he'd push to trim the city's budget and eliminate ordinances that obstruct business growth and development.
Referencing Wright's campaign pitch, Ploof said, "If people really want to balance the city council out, I'm the only one who will balance it out."