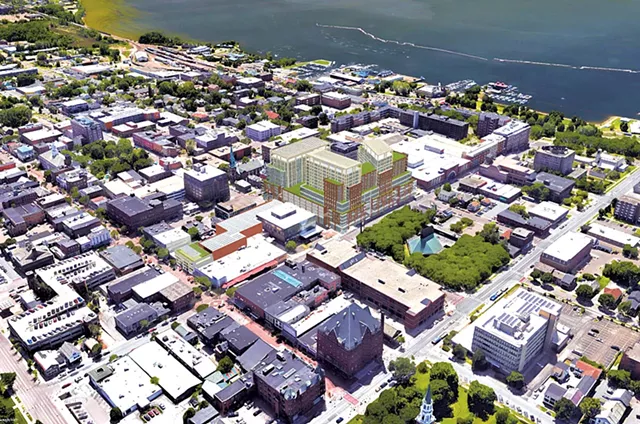 PKSB Architects
A rendering of the Burlington Town Center redevelopment
Last fall, flyers distributed by opponents of three 14-story buildings in downtown Burlington proclaimed, "Too tall!" The proposed residential and office development would tower above the Church Street Marketplace shopping mall.
Activists involved in the Coalition for a Livable City failed to convince Queen City voters in November to reject two ballot items that would allow the 165-foot-high project to proceed. But they did succeed in perpetuating the debate about how tall is too tall in a small city where no current edifice exceeds 124 feet.
Burlington's existential question may not have an answer. Judgments regarding height, as with beauty, are formed in the eye of the beholder. As former New York Times architecture critic Ada Louise Huxtable famously observed, "The skyscraper is Orwellian or Olympian, depending on how you look at it."
Genese Grill, a coalition leader and now a city council candidate, is continuing to campaign against the Burlington Town Center project, calling it "vertical sprawl." The structures would be "completely out of scale with their surroundings," she said. Plus, Grill pointed out, high-rises "have been found in some studies to be associated with isolation, depression and alienation for those who live in them."
One such study by Robert Gifford, a professor in the School of Environmental Studies at the University of Victoria in British Columbia, observed that high-rises "are not optimal for children, that social relations are more impersonal and helping behavior is less than in other housing forms, that crime and fear of crime are greater, and that they may independently account for some suicides."
The proposed buildings would be aesthetically ruinous to Burlington's natural as well as its built environment, warns Robert Herendeen, a fellow at the University of Vermont's Gund Institute for Ecological Economics. "They're going to block views of the incredibly beautiful lake and mountains," he said. "They'll be oppressive to people on the street because they'll cast more shadows."
Paul Bruhn, executive director of Preservation Trust of Vermont, agrees that 14-story buildings would be out of proportion with Burlington's cityscape — except where developer Don Sinex wants to put them. "That location is the one place in the city that taller buildings won't have a negative effect," Bruhn said.
He noted that the towers would be set back from Church and Cherry streets — and thus would not be intrusively visible from those perspectives. The design has been "significantly improved" in response to some of the objections lodged by opponents, Bruhn added. He cited other elements of the project as unequivocally beneficial for Burlington, especially the planned restoration of north-south traffic corridors through downtown via Pine and St. Paul streets.
Proponents also point out that the $200 million development will help ease Burlington's housing crunch. One-fifth of the residential units — 55 of 270 — are to be made available at below-market rates to qualified prospective tenants.
Michael Monte, an affordable-housing advocate and former director of the city's Community & Economic Development Office, offered a perspective similar to Bruhn's. "I'm agnostic on the issue of tall buildings," Monte said. "They obviously wouldn't be appropriate on the waterfront, but as they're designed, they make sense on top of a one-story building that's just a horrible use of land in the heart of downtown."
Jesse Beck, the project's architect, regards 14 stories as a reasonable height in principle for center-city Burlington. "I don't consider this very tall at all," he said. "It provides a perfect balance that enables the city to grow in a smart, environmentally positive way." Besides, Beck remarked, "it's not until you get up to the Hill Section that you'll see how tall these buildings are." Their height will be obvious from the lake, too.
For the past 20 years, Beck added, "the City of Burlington hasn't had the proper regulations to allow needed density downtown." As president of the Freeman French Freeman architectural firm, he noted, "I've worked with clients who haven't been able to find a way to get sound projects to pay for themselves.
"Burlington is a city that needs to grow up," Beck continued.
Other tall buildings will rise in downtown in the coming years and decades, Beck predicted, suggesting that such developments will be good for the city. Local urban planner Julie Campoli shares that outlook. Unless Burlington promotes urban-style growth, she warned, "it will become irrelevant." In addition to losing population, Campoli foresees a low-density Queen City "becoming an enclave for the wealthy." And the city can meaningfully grow only in an upward direction, she maintained.
These visions of a mid-21st-century downtown with a half dozen or more high-rises are the stuff of nightmares for Grill and others who worry that the Sinex project will set a precedent. "Once developers are able to build high, they'll build high, and the result will be oppressive," Grill foresees.
Huxtable, who died four years ago, wouldn't disagree. In her 1982 essay titled "The Tall Building Artistically Reconsidered," she observed, "From the Tower of Babel onward, the fantasies of builders have been vertical rather than horizontal."
Opponents of the 14-story Burlington Town Center plan emphasize that they aren't against greater density downtown. "I'd be OK with more six- or even eight-story buildings," said Charles Simpson, a member of the Coalition for a Livable City who, like Grill, is running against a Sinex project supporter for a city council seat. "It's good to have more people living and working downtown."
But Simpson believes that Mayor Miro Weinberger is moving too quickly and aiming too high in facilitating large-scale residential development. "We've got a developer mayor rather than a mayor with a background in development," he said.
Coalition members argue that it's possible to make Burlington a more densely populated city by constructing three- to six-story mid-rise buildings on parcels that today languish as parking lots or function as gas stations or single-story retail establishments. Projects of this sort, known as in-fill development, "would bring in a great deal of apartments even with existing zoning regs," Simpson said.
That generally isn't the case, countered David White, director of Burlington's Planning and Zoning Department. Current regs obligate developers to provide one off-street parking spot for each residential unit they build, he noted. That entails a per-parked-car cost of $20,000 to $40,000, raising the per-unit construction cost by as much as 30 percent, White said. "Depending on the size and configuration of the site, on-site parking requirements can be a deterrent to almost any kind of development," he wrote in an email.
But with the aim of making residential construction economically feasible, the city's zoning ordinance allows for some flexibility on the parking requirement. Developers can apply for waivers to the one-parking-space-per-unit rule while presenting a plan for how a project can be less accommodating toward automobiles. As a result of this process, reducing the parking obligation is "not an uncommon thing," White said.
The day will come, he predicted, when Burlington follows the lead of other cities around the country in eliminating parking requirements for downtown residential and mixed-use projects. But it won't be soon. Burlington last reformulated its zoning ordinance in 2008 — after a seven-year review.
For now, White said, the city's parking rule remains "a disincentive to development because it adds so much cost."
Campoli and Beck both suggested that voter approval for the Sinex project demonstrates a new willingness in Burlington to build up. The actual results could become clear within a couple of years. Approval by the city's Development Review Board represents the final regulatory step before construction can begin, and the board could give its OK sometime next month.
But even when the Town Center high-rises are in place for all to see and judge, the local debate over tall buildings will not likely subside. Amey Radcliffe, one of the activists opposed to projects of the Sinex scale, argued, "Density is better achieved without high-rises." Urban innovation and startups "tend not to occur in tall-building canyons but in mid-rise neighborhoods that spur interaction," she said.
One of Radcliffe's reference points is a 2012 article in the Atlantic by urban studies specialist Richard Florida. "You don't find great arts districts and music scenes in high-rise districts but in older, historic residential, industrial or warehousing districts such as New York's Greenwich Village or Soho, or San Francisco's Mission District, which were built before elevators enabled multistory construction," Florida wrote.
Burlington's Pine Street art zone can be seen as another such example. And so might Boulder, Colo., a prosperous and vibrant university city of 100,000 residents with some clear similarities to Burlington.
Boulder's building-height restrictions are even more rigorous than Burlington's. Two buildings that rise 10 and 12 stories, respectively, were constructed in that city prior to adoption of zoning regs that for the past several years have prohibited commercial buildings taller than 55 feet and residential development of more than 35 feet.
"The general concern about tall buildings is that they'll negatively impact the view of our unique mountain skyline," Boulder Planning Board chair John Gerstle told Seven Days. Some residents argue, however, that Boulder has to get taller because it's surrounded by publicly owned open space that allows for "very limited construction outward," Gerstle noted. "That position is absolutely worth considering," he said, pointing to Boulder's rapidly escalating housing prices and the fact that numerous tech firms have expressed interest in locating there. "There are a lot of shades of gray on the development issue," Gerstle acknowledged.
David Owen, author of Green Metropolis, offered a similarly ambivalent take on tall buildings as a means of achieving environmentally beneficial density. In a recent interview, Owen said he stands by his 2009 assertion in Time magazine that Manhattan is greener than Vermont. That's due in part to the much lower rate of car ownership among Gothamites, but it also reflects the energy-saving advantages of living in a high-rise rather than an unattached single-family home, Owen observed. He conceded, though, that tall buildings constructed with glass cladding consume plenty of power for heating and cooling.
"I can actually argue this issue both ways," he said.
Campoli's take: "Burlington is in denial about ... its status as an urban center." In her estimation, younger residents and Queen City natives tend to be "less fearful" with regard to vertical growth than are middle-aged and elderly former flatlanders who moved to Burlington 20 or more years ago. "They found a place they think is just right," she said. "They don't ever want it to change."