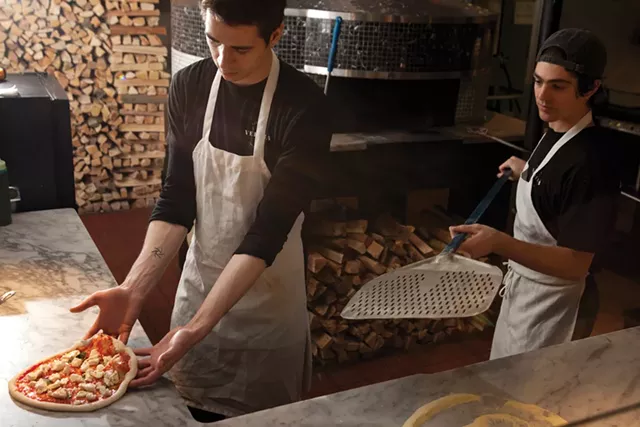 MATTHEW THORSEN
Pizzeria Verità
For a quarter-century, the wood-fired pies of American Flatbread defined what Vermont pizza could and should be. It was hard to believe anything could rival them — that is, until Pizzeria Verità opened a block away on Burlington's St. Paul Street.

Verità's pizzas are also wood-fired, but the bubbling and blistered pies that emerge from its blazing, 900-degree oven are paper thin. They cook in two minutes flat.
156 St. Paul St.
Burlington, VT
802-489-5644
Pizzeria and Catering
Co-owner John Rao spent years perfecting the Neopolitan-style preparation — in which only a handful of pizzaioli in the world offer instruction — until he settled on the right combination of superfine flour, San Marzano tomatoes and whole-milk mozzarella. He shipped his two-ton oven from Italy to Burlington. Once a livery barn, his restaurant strikes the perfect balance of cozy and elegant. A pile of logs — to feed the fire — sits between the front door and the sleek bar, which serves stellar cocktails.
Verità's pizza dough undergoes a long, lazy rise that makes it tastier. The fresh house fior di latte cheese is creamy heaven wherever it appears, be it on a Margherita pie accented with basil; a white pizza topped with curls of prosciutto; or the Cherry Amore, a circus-like pie dotted with dried cherries and drizzled with melted honey.
MATTHEW THORSEN
Pizzeria Verità
Even mozzarella-free pies — such as the salsiccia e rapini with fennel sausage, garlicky broccoli rabe and aged Grana Padano — are riotous with flavor.
Gluten-free? No problem — Verità's wheatless crusts are hardly distinguishable from the real thing, and they're even baked in a separate oven.
The menu offsets all that dough and cheese with gorgeous salads of peppery arugula studded with pine nuts, and crisp asparagus anointed with olive tapenade and an oozing, soft-boiled farm egg. Antipasto devotees can cobble together platters of marinated artichoke hearts, wedges of fior di latte, smoky ribbons of speck and even baked goat cheese — but they may not have room for the rest of the meal. A pro tip: Go easy on the antipasti.
There's really only one proper way to finish a meal at Verità: with pizza alla Nutella — hot, chewy dough folded over melted Nutella, drizzled with more melted Nutella and sprinkled with confectioners' sugar.
American Flatbread, there's a new pie in town. Rest assured, we have room enough in our hearts and stomachs for both of you.