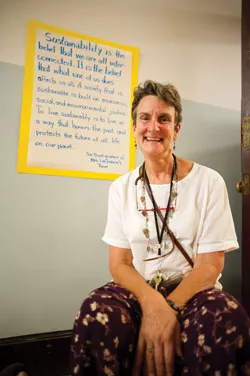 Abi Sessions had already retired from a long career in education when she was lured back in 2009 to helm the country's first elementary school with a sustainability theme. At the start of this school year, Sessions characterized her principal position at the Sustainability Academy at Lawrence Barnes Elementary in Burlington's Old North End as a "dream job."
Less than two years after she took the top jobs, Sessions is calling it quits. In a note sent home to parents on March 28, she suggested that her skill set isn't a match for the racially diverse, environmentally oriented school.
"The long and short of it is that I think you need a leader with a deeper base of knowledge and skill in the two areas that make us different — education for sustainability and working with a diverse community," Sessions wrote.
Her announcment coincides with an ongoing investigation of allegations made by an African American mother who says her 7-year-old son was mistreated after he had a pee accident on the playground — and that racism was the reason. In a widely circulated letter describing the January incident, Jaquana Tyler claims that school staff scolded her son, grabbed him roughly, and sent him outside coatless with a bucket and sponge to scrub the area where he had urinated.
"My son was sobbing because he was scared, freezing and left all alone outside," Tyler wrote in a letter emailed on January 18 to city and school officials, the Vermont Human Rights Commission, the ACLU and a dozen others. "I have no doubt that my child was treated this way because he is black. No way would this have happened to any of the white, middle-class children."
During an interview last week, Sessions says her decision to leave was "personal" and "totally voluntary," and entirely unrelated to that incident or the ensuing fallout. While stressing her passion for the "rightness of living sustainably," Sessions explains, "I don't have a grounding in the whole pedagogy of education for sustainability and I think it would have been useful for the leader of this school to have had that background."
Regarding diversity, Sessions offers, "This is my first experience in an urban area and working in an urban school is very different than working in a rural school. I'm looking out my window of my office right now, and the playground is full of kids who found their way here from all over the world. And it's wonderful."
Sessions is Burlington's second magnet-school principal to leave in the last 10 months. In July, Joyce Irvine was removed as principal of the Integrated Arts Academy at H.O. Wheeler after the school failed to meet No Child Left Behind standards. The Sustainability Academy is on the federal watch list, too, though Sessions says that had no bearing on her departure, either. She is scheduled to leave after the school year ends in June.
Last week, the Burlington School District named Brian Williams interim principal at the Sustainability Academy, effective July 1, while the district seeks a permanent replacement. He's the same administrator who became interim principal at the Integrated Arts Academy when Irvine was ousted. H.O. Wheeler's new principal is Trevor Christopher.
Sessions was Barnes' first principal after it transitioned from a neighborhood elementary school to a sustainability-themed magnet school, a move conceived in partnership with Shelburne Farms. Before coming to Burlington, she served as principal at Salisbury Community School in Addison County and Roxbury Village School in Washington County.
Like H.O. Wheeler, Barnes was a high-poverty school that was transformed into a themed magnet school in the hope of attracting a more economically diverse student body from around the city. Today, there's evidence that it is working. When the Sustainability Academy launched in 2009, the school's poverty rate, as measured by the number of students eligible for free or reduced-priced lunch, was 95 percent. Now it's just over 75 percent. Districtwide, Burlington schools have a 50 percent poverty rate.
Ethnically, the Sustainability Academy is one of the most diverse schools in Vermont. English is a second language for almost a quarter of the school's 180 pupils, who collectively speak 17 different tongues. By contrast, in Burlington overall, 17 percent of students are nonnative English speakers; statewide, it's less than 2 percent.
Anne Tewksbury-Frye, the academy's sustainability coach, says Sessions has been a "champion of diversity." Under her leadership, the school held a naturalization ceremony in which 19 immigrants became U.S. citizens. It was part of a unit on immigration that featured music and speeches from the kids, Tewksbury-Frye recalls.
"She has always been a proponent of the idea that diversity makes us stronger," Tewksbury-Frye says.
But it presents unique challenges, too, as Sessions has discovered in the process of dealing with Tyler's complaint and its aftermath. In her letter, Tyler described two separate meetings with school officials — one of which she tape recorded — and how she left each one feeling alienated and disrespected. She has since taken her son out of the school.
"Throughout the meeting the three school staff continuously gave each other coded looks, alienating any hope of building trust and understanding," Tyler wrote of a January 12 meeting. "They essentially presented that my son had lied," she wrote, adding that neither she nor the boy had been interviewed for the one-page report compiled by school staff on the incident.
Tyler's claims have already resulted in two Sustainability Academy community meetings; a third is scheduled for May 5. City Councilor Vince Brennan, who has a fourth grader at the school, says the meetings are important for "healing" the school community — regardless of what actually happened with Tyler's son.
"Whether it happened [as Tyler described it] or not, she felt it was a racist act," says Brennan, adding that others should give Tyler the benefit of the doubt rather than trying to "poke holes in her story."
So far, Burlington school officials aren't saying much about the incident. Superintendent Jeanne Collins says the district hired an independent investigator to look into Tyler's claims, and the Vermont Human Rights Commission is also on the case. Collins says she can't discuss the situation for two reasons: because it remains under review by the school and human rights commission, and that federal student-privacy laws prevent her from talking about it.
"The district takes the allegation of racial discrimination very seriously," Collins says, adding that the district is providing "significant training" for faculty at all Burlington schools — but particularly at the Sustainability Academy — around issues of "cultural competence" and school policies that might be discriminatory. As part of that plan, Collins says all administrators are reading the book Courageous Conversations About Race: A Field Guide for Achieving Equity in Schools and holding monthly discussions about it.
For her part, Sessions described the incident with Tyler's son as "an upsetting event for everyone in the community," but would not discuss it further because it remains under review. Sessions, who maintains a home in Cornwall with her husband, U.S. District Court Judge William K. Sessions III, says she's retiring for good this time.