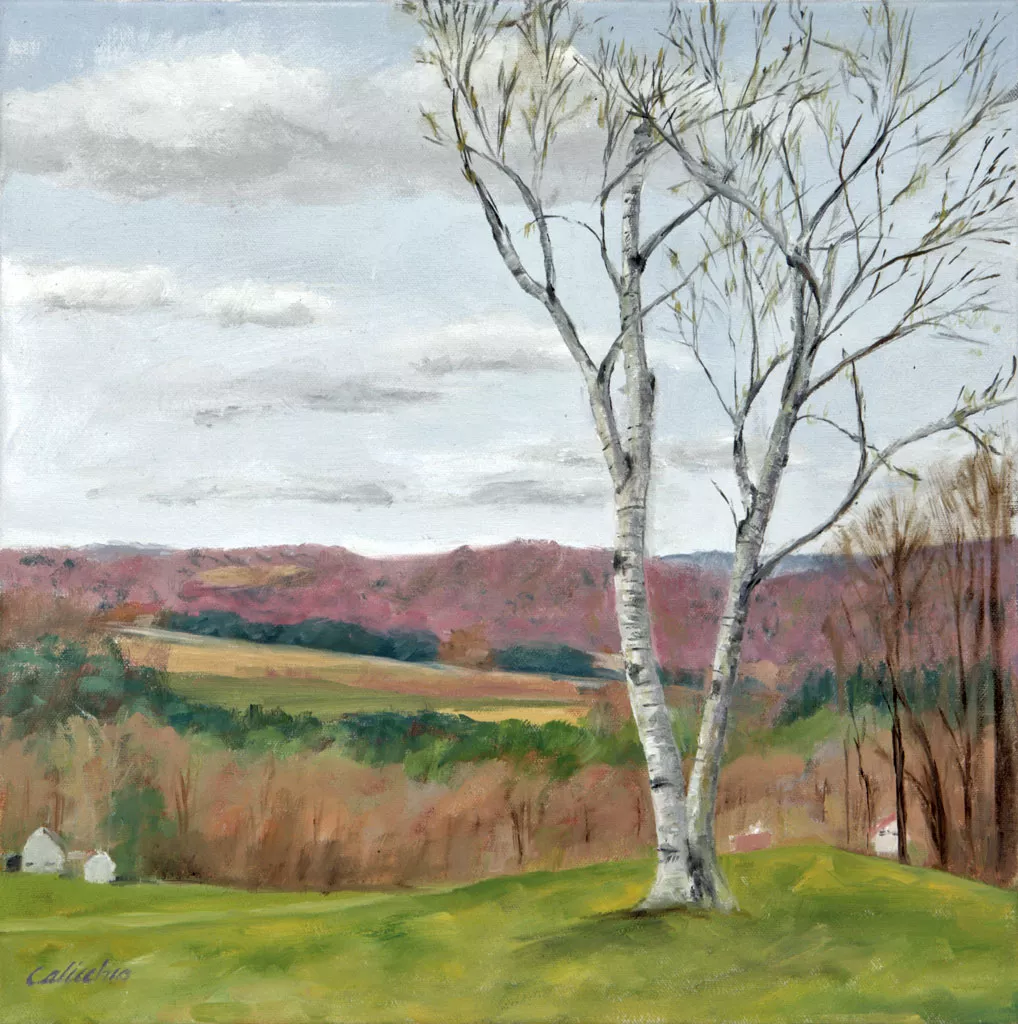 Courtesy of David Schutz/Governor's Gallery
"Early Spring at Gray's Farm" by Nancy Calicchio
The Governor's Gallery is back! Where has it been? Well, on the fifth floor of the Pavilion Building, right outside Gov. Peter Shumlin's office, just as it's been for more than 40 years. But the space has been art-free and unavailable to the public since an unfortunate security incident back in November 2014. That's when members of Rising Tide Vermont breached security and entered the gallery to protest a proposed natural-gas pipeline in Addison County.
As a result, access to the fifth floor was closed, Susan Bull Riley's paintings were moved to exhibition space in the Statehouse, artist Elizabeth Billings lost her January-to-March slot, and, um, security people set about improving the security system. Oh, and 64 protestors were served with trespassing violations.
It was originally estimated that the Governor's Gallery would be closed "at least a year," state curator David Schutz told Seven Days at the time. However, just four months later, it has reopened — with an exhibit of plein-air landscape paintings by Westminster West artist Nancy Calicchio — and will resume a quarterly exhibition schedule. "We're very happy the Governor's Gallery is back in business," says Schutz. But, he cautions, "One must come with a photo ID or you won't get in."
When the Vermont Creative Network rolls into Burlington this Thursday, it will mark the sixth such community forum around the state, with four more to come. According to the Vermont Arts Council's outreach and advancement guy, Zon Eastes, the VCN has been greeted with enthusiasm — not to mention hundreds of Facebook likes. Just what is this network? It's a new and evolving statewide initiative intended to "advance the entire creative sector" by increasing "communication and planning, advocacy and funding opportunities, individual and organizational capacity and effectiveness in engagements with other sectors," Eastes says.
In other words, the VCN takes a strength-in-numbers approach to giving artists and arts organizations a leg up through, well, networking — sharing knowledge and resources, collaborating, community building, that sort of thing. And it's one of the arts council's responses to the legislature-designated but unfunded Vermont Year of the Arts. One VCN partner is the Department of Libraries, so public libraries have been the venues for most of the community meetings.
The vision for the network "is something like the farm-to-plate network," says Eastes — "a strategic plan with high-level goals to move the entire state forward." By contrast with the typical model of artists or organizations facing the world from their "silos," a network of working groups would approach problems and issues collectively. "What's really interesting to me is how energetic the conversations are and how broad the thinking is," Eastes says of the forums.
Meanwhile, the VAC is asking for nominations for Vermont's next poet laureate. The gracious Sydney Lea has filled that role since 2011; his term concludes this year. The position comes with a modest $1,000 honorarium and requires participation in "official ceremonies and readings" around the state and nationally. The governor makes the appointment based on the recommendation of a panel of judges. Put in your own name, if you're an awesome poet. If you're not, nominate someone who is — by May 1.
Speaking of poets: Phoenix Books Burlington is celebrating National Poetry Month this Thursday with readings by Green Mountains Review founder/editor Neil Shepard (latest book: Hominid Up); Burlington poet David Cavanagh (latest book: Straddle); and Carol Potter (latest book: Some Slow Bees). Word.