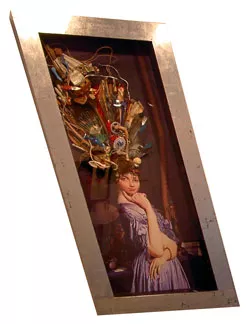 "Specimen #56" by Jennifer Koch
Bugs, yarn, shoes and portraits purloined from art history appear in "Specimen & Marriages of Reason," a solo exhibition by Jennifer Koch at Burlington's Firehouse Gallery. Koch has a tough row to hoe: An artist who creates shadow boxes filled with incongruous stuff inevitably invites comparisons to American surrealist Joseph Cornell (1903-1972). But by thinking beyond the content of each box to consider the negative spaces around her iconic images, Koch is forging a new vision of what box constructions can be.
The title "Specimen & Marriages of Reason" represents two bodies of work. The latter segment, installed in the west gallery room, is a series of collaborative woodblock prints executed by Koch and her husband Gregg Blasdel. The large-scale prints were created as part of the 2004 "Print Project Six" at the Firehouse. Each piece in this series juxtaposes relatively minimal organic and synthetic forms. "Indigo Spill," for example, is a vertical 40-by-30-inch print in which an elaborate indigo and green mass, which includes an Asian-looking ocean image, floats above a spill of black ink. In the black-and-white "Slip Up," the natural-vs.-artificial dichotomy is more obvious. At left is a drawing of a segment of muscle or ligament, and at right is a nonobjective series of fine lines forming a similar shape. The prints are technically masterful, and the compositions are strong.
The exhibition's main event, however, is Koch's "Specimen" series, filling the Church Street side of the Firehouse. "I'm inspired by a number of collections, from entomological specimens and archaeological collections to religious iconography," notes Koch in a posted statement at the gallery. Her works are embedded in the natural history tradition, an aesthetic she's pursued for nearly a decade.
Beetles have become Koch's signature media, often encrusting portraits appropriated from art history, as in "Specimen #43" from 2002. It's a straightforward box piece, containing a collage of two sisters in 19th-century garb spangled with red-spotted beetles. The girls also wear headdresses of white bone, doll parts and plastic detritus. While entertaining, it's not a particularly original piece. But Koch does demonstrate some real growth in this exhibition: Her 2007 works on display are brilliant.
The recent pieces have abandoned the typical Joseph Cornell scale and are built on angles. The 60-by-7-by-32-inch vertical rhomboid "Specimen #56" is based on Jean-Auguste-Dominique Ingres' "Portrait of Louise de Broglie, Countesse d'Haussonville" from 1845. A somewhat distorted, large-format copy of the painting rests inside the glass-cased box, and a 3-foot-tall cornucopia of strange objects — wire, forks, spools, dice — seems to explode from the top of the countess' head.
But a subtle, curious aspect also appears in the work. Koch's portrait is a reversed mirror image of the original, so the composition of "Specimen #56" leans to the left. One reason is that a right-leaning companion piece of a male in uniform — an Ingres portrait of the Duc d'Orléans from around the same time, entitled "Specimen #57" — hangs beside it. The gentleman also has a mountain of junk flying off the top of his head, including a trombone. Together, the side-by-side boxes form a strong V shape. Koch's scale and negative space leave Cornell boxes in the dust.
Another new angled work is the free-standing, 6-foot-tall, 9-by-9-inch-square "Specimen #58." It's a leaning tower filled with a jumble of silver women's shoes. This original, playful image further demonstrates that Koch is productively evolving — and that includes an evolution beyond the strictly frontal image.
Koch was the winner of the 2007 Barbara Smail Award, which is administered by Burlington City Arts and includes use of BCA studio facilities for a year, along with a modest cash grant and a solo exhibit. It's wonderful for a mid-career artist to be given run of the venue, and Koch has made memorable use of the time and space. The Firehouse has kicked off 2008 very well.